STURTEVANT — On March 15, in a bombshell announcement, Cree reported that it had sold off its entire lighting business for $310 million, a business that employs about 1,000 people here.
The reaction at Cree Lighting, 9201 Washington Ave., was applause, company Director of Operations Brian Kinnune said last week. Cree Lighting was going from a publicly traded company based in Durham, N.C., to fourth-generation-owned Ideal Industries of Sycamore, Ill. — Ideal's 20th company.
The same day, Meghan Juday, vice chairman and part-owner of Ideal, told The Journal Times that her company would continue to invest in Cree Lighting and try to help it reach maximum profitability. She said Ideal's philosophy is one of "patient capital" — meaning it invests for 10 years, 15 years, even for a generation.
Ideal has been true to Juday's word. It is in the midst of investing more than $8 million in the local Cree Lighting, an investment expected to create about 100 new jobs: It is increasing component manufacturing and final assembly, currently performed externally, as part of a larger expansion effort that began last year.
In a news release, Craig Atwater, general manager and senior vice president of Cree Lighting, explained the rationale: "Vertically integrating manufacturing operations is an important part of the Cree Lighting strategy. By further investing in our industry-leading manufacturing capabilities at our (Sturtevant) facility, we can better serve our customers by reducing our lead times for these manufacturing processes from weeks to a matter of days."
Cree Lighting grew, in a somewhat crooked path, from the former Ruud Lighting. It now has about 354 salaried and 635 hourly employees at its roughly 700,000-square-foot Sturtevant offices and plant. There, the company manufactures on three shifts, five days a week and produces close to 80% of Cree Lighting products.
Cree Lighting also builds some products in Florence, Italy, for the European market. That is done to reduce lead times to customers.
Cree Lighting also has a distribution center in Pleasant Prairie; it ships its lower-end product line, e-conolite, from there, Kinnune said.
"(Econolite) actually was started as part of Ruud, so it's got a long history with us," he said. "It's always been kind of our bellwether protection against the undercut/low-cost (competition)."
Innovative new product
You have free articles remaining.
Cree Lighting says it was "the first company to bring LED lighting to the masses, deliver warm white light without compromise, break high-efficiency performance barriers and first to offer a one-button sensor-integrated intelligent lighting platform." In 2008, with the LEDway, Cree Lighting's foray into streetlighting, the company helped the City of Racine become the first in Wisconsin to install LED technology on its roadways.
About half of Cree Lighting's engineers are in Sturtevant and the other half in North Carolina, Kinnune said. Late last year it announced a new product, the architectural-grade Cadiant Dynamic Skylight which re-creates the experience of being under a natural sky with remarkable realism. Using advanced lighting control and color changing technology, separate sun and sky panels create the east-to-west arc of the sun to create the sensation of natural sunlight and blue sky in interior spaces.
Cree Lighting says Cadiant "provides a valuable sensory connection to the outdoors in spaces where access to natural lighting through windows is improbable, impractical or impossible."
Continuous improvement
On the manufacturing floor, Kinnune said, the focus — seemingly nearly an obsession — is on continuous improvement. All company leaders meet in the plant at 8 a.m. every day, walk the floor for an hour and talk about all the different areas, he said: "Every single day."
A never-ending emphasis on becoming more efficient means that Cree Lighting ships five to six times more product volume from the plant now than it did in 2011, according to Kinnune — and with about half the staff.
Surprisingly, almost all of Cree Lighting's products are made by hand — not robots. "We use automation when it's critical to quality, reliability or repeatability," Kinnune said. "We don't use robots to replace a human."
In one case, starting in this past October, he said, "we were talking about an automated line; we were going to spend $400,000 on an automated line. (Instead), we spent $2,500 on a fixture and moved some benches and got better just by how we put things together. And did that instead."
The result of that project was an increase, in about 2½ months, from 156 products per 8-hour shift to 367.
Panoramic camera
PANORAMIC CAMERA: In 1896, Burlington's Peter Angsten invented a camera with a spring-propelled pivoting lens that captured 180-degree images. The Al-Vista camera was built at Angstens Multiscope and Film Co. in Burlington until 1908, when the Kodak Co. ceased making film for it. Angsten sold his interest in the camera for $3,400, and various forms of the camera have been made since.
Malted milk
MALTED MILK: Everyone knows the Horlick Malted Milk Co. developed the process to dehydrate milk, but did you know what William Horlick's motivation was for the product? No, it wasn't creamy milk shakes. It was to provide a food for babies and sick people that could be shipped without spoiling. The granulated infant food was patented in 1883 and later became the impetus for an entire soda fountain industry.
Automobile
AUTOMOBILE: According to the "Grassroots History of Racine County," the first automobile in the world — that's right, the world — was made in Racine. It was a steam-powered vehicle called The Spark. Dr. James W. Carhart built it and was driving it around the Belle City in 1873.
Carhart was invited to show his creation at a 1908 exhibition of automobiles in Paris, but the car had been dismantled and used for other purposes. At the exhibition, Carhart was addressed as the father of automobiles. The oldest car at the Paris show was 16 years old; Carhart's would have been 35.
The local auto heritage continued with cars made by the Mitchell Co. and the J.I. Case Co.
Blender
BLENDER: Think blender and the names Osterizer and Waring come to mind. While both products were first made here, the inventor was Steven J. Poplawski. In 1922, he came up with the idea of putting a spinning blade at the bottom of a cup to make soda fountain drinks. That idea was turned into a commercial success in the late 1930s by big band leader Fred Waring, who marketed the Waring Blendor, and Racine inventor Frederick Osius.
Universal motor
UNIVERSAL MOTOR: It's hard to imagine, but when electricity was in its infancy, there were battles over what type of current would become the standard in American homes. Racine inventor Chester Beach saw the sparks flying and invented the first motor that ran on both alternating and direct current. With Louis H. Hamilton, Beach developed a fractional horsepower motor that would eventually power just about every kitchen convenience product. Just after the turn of the century, Hamilton Beach's Home Motor was being attached to sewing machines. By 1919, several attachments turned the motor into a grinder, buffer, fan and mixer.
Blenders, sewing machines, mixers, vacuums, toasters and irons are just a few of the products Hamilton Beach made available to the world.

Manual and electric hair clippers
MANUAL & ELECTRIC HAIR CLIPPERS:In the early 1920s, Racine inventors must have been thinking a lot about grooming habits. Hometown entrepreneurs Mathew Andis and John Oster developed a hand-operated hair clipper to touch up the popular bobbed haircuts of the day. Soon barbers everywhere were clipping away with their sartorial device. Andis also developed an electric clipper that remains the industry standard. The Andis Co., 1800 Renaissance Blvd, Sturtevant, still makes clippers today.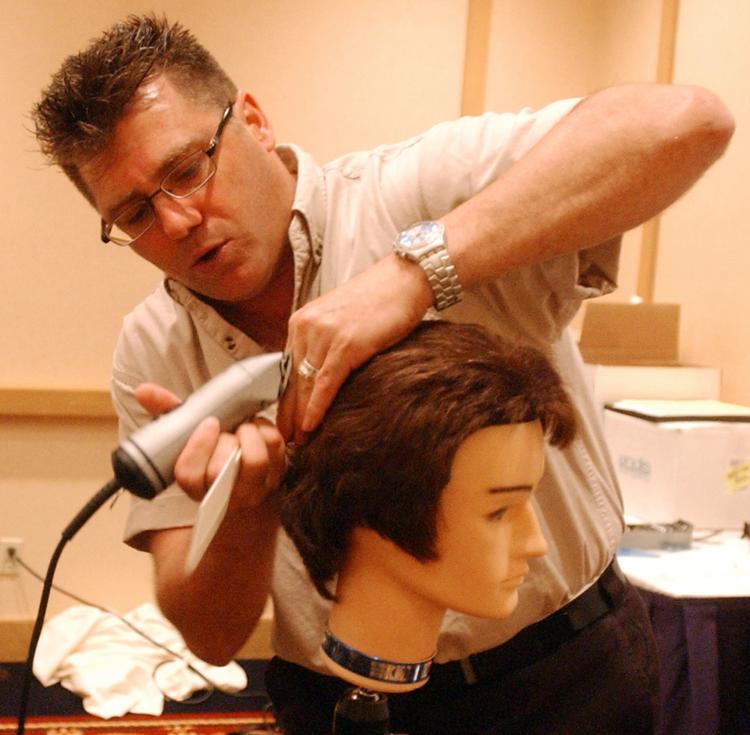 Portable vacuum cleaner
PORTABLE VACUUM CLEANER: Until Frederick Osius came along, vacuum cleaners were monstrous machines built into the basements of large buildings, using hoses to reach into individual rooms. Osius used a small electric motor being developed in Racine to make the first portable vacuum cleaner. He sold his business in 1910 for $300,000 to the McCrumb-Howell Co. and started the Hamilton Beach company. He went on to develop a name brand known around the world for home labor-saving devices. The national vacuum cleaner museum in the Pacific Northwest recognizes Racine as the home of the first easily portable vacuum cleaner.
Lollipop machine
LOLLIPOP MACHINE: When an East Coast candy maker wanted to find a way to put hard candy on a stick in 1908, the Racine Confectioners Machinery Co. answered the call. The local company invented a machine to automate the process of making suckers, fast becoming a favorite candy treat. The machine could make 40 lollypops a minute, and the candy company figured it could produce in a week all the suckers it could sell in a year.
Power mower
POWER MOWER: Albert J. Dremel's name is usually associated with small rotary grinding tools still sold under the Dremel name in Racine. But perhaps more significantly, the local inventor is credited with designing the first lawn mower integrated with a specific gas-powered motor. After designing the first wringer as chief engineer for the Maytag Co. in Iowa, Dremel moved to Racine in 1921 and created his mower.
He sold the concept for the reel-type mower to Jacobsen Manufacturing Co. and the 4-Acre mower was produced. Named because it could mow four acres of grass in a day, the machine sold for $275 and was used mainly on golf courses and large estates. Jacobsen went on to produce the first mower for the masses in 1939. Homeowners could buy the Lawn Queen for $87.50.
Garbage disposer
From his basement workshop, local architect John W. Hammes built his wife the worlds first kitchen garbage disposer in 1927. After spending 10 years perfecting his device, Hammes sold 52 handbuilt disposers during his first year of business in the late 1930s. From his invention grew the In-Sink-Erator Manufacturing Co. Half of the homes in America have a garbage disposer. Half of those disposers are In-Sink-Erators.