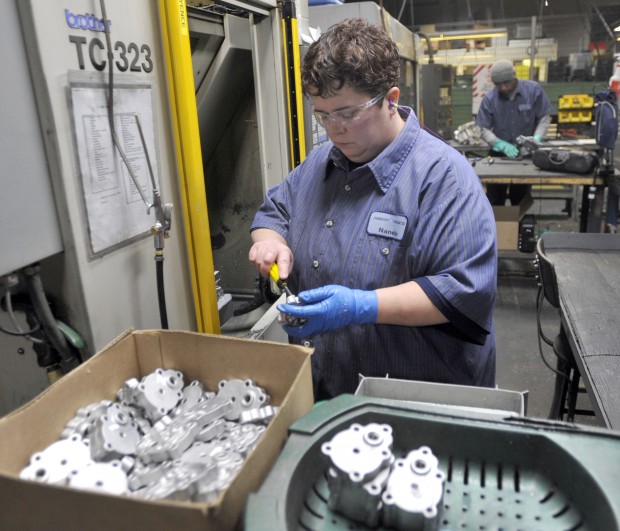 RACINE COUNTY — The challenge of finding good employees is so long-standing and pervasive that Racine Metal-Fab has revised its hiring approach.
"If we see behaviors we don't like, we fire faster and hire slower," said company President and Chief Operating Officer Scott Lucas.
Area companies are doing what they can internally to cultivate and preserve the best possible workforce, while some talk about what else can be done to offer companies better candidates.
At Poclain Hydraulics, 1300 N. Grandview Parkway, "For every 20 resumes, we maybe bring in five to eight people," said Tom Shinners, vice president of finance and human resources. "Of those, we probably hire 40 percent. We might get two or three hires from 20 resumes."
"Years ago you had apprenticeships, companies that would bring you on and train you," said Andrew Beere, human resources manager at Pioneer Products, 1917 S. Memorial Drive. "And we have kind of gone back to that. If they have some experience, we're willing to train."
To increase the likelihood of finding good employees, Great Northern Corp., 1800 South St., has a five-step screening and interview process that ends with a test by an industrial psychologist, said Jerry Becker, who just retired as vice president and general manager.
All the applicant screening in the world won't improve the pool of potential hires, employers know. For years they've been crying out for anything that will improve their options.
David Hall, co-owner of Nelson Bros. & Strom, 2137 Roosevelt Ave., thinks one problem is overly generous unemployment compensation.
"I think the federal government and state have made unemployment compensation, its wage and duration, kind of a living wage," Hall commented. "People are working the system and bouncing around for 18- to 24-month intervals. They have adjusted their lifestyles to live off unemployment compensation."
Some do cash jobs on the side while collecting unemployment, Hall said. And those who hire them, he added, "They're not reporting it, and they don't have to pay benefits."
Some observers say the nation and schools have overemphasized college as a postsecondary option.
"There are no young people going into the trades," Hall said. "The push for college prep is so prevalent in the high schools that the talented young people who are good working with their hands are being told, 'You have to go to college to get good jobs,' and that's just not the case anymore."
The shortage of technically prepared employees "goes back to (President Ronald) Reagan," said
Richard Meeusen, chairman, president and CEO of Racine Federated's parent company, Badger Meter. "We have presidents and leaders who say every child should have the opportunity to go to college.
"Unfortunately, it sends the message to parents that if they don't send their kids to college, they're failing."
"Now we're saying, 'Where are our electricians, auto mechanics, HVAC (heating, ventilation and air-conditioning) workers and CNC (computer numeric control) operators?'" Meeusen said.
He added, "We've ripped out all the shop classes and replace them with calculus."
Racine Unified School Board President Dennis Wiser agreed students in this district are given scant exposure to the trades. A glaring example, he said, is the abundant, ongoing need for welders, as shown by job postings.
"We have no courses related to that, and we have not even considered them," Wiser said. "I'm sure we could come up with many other examples."
"We have far too many kids in the college track," Wiser said, "and I can't really figure out where it's coming from except kids don't see a lot of examples of people in the technical areas. Typically they don't have relatives in those workplaces."
So, Wiser added, youths see certain kinds of jobs on TV and workers at McDonalds — but not much else.
"I think we need to put more technical education in the middle schools," Wiser continued. When Unified cut a period from the middle schools, that was a "huge hit" to technical education. "And we haven't done anything to remedy it."
In Beloit, he said, once a year middle school students take a field trip to see several manufacturing plants. "We have the resources" to do that also, he said.
Hall commented, "I don't think (stressing technical careers) is on Racine Unified's agenda. I don't sense any urgency in it."
State Rep. Thomas Weatherston, R-Caledonia, said he's working with other legislators to address the shortages in technical careers.
"Our high schools, they don't have good technical education programs mainly because of the price," said Weatherston, an adjunct professor in motorcycle safety at Gateway Technical College. "But technical colleges do have that equipment.
"So I would like to see us find a path that would allow high school students to spend part of the day at a technical school, so they can learn a skill while still in high school."
Wiser said Unified can share students with Gateway. "We have the money and will make arrangements."
Sharing students that way could keep technically inclined students more engaged in school and reduce dropping out, Weatherston said.
Meeusen recounted an experience in Stuttgart, Germany, that he'd love to see replicated here. Ten-thousand people turned out for an industrial park open house, something done every three years.
"Parents took their children into factory after factory," Meeusen recalled. "CNC operators were telling (young children) how they program the robot that they operate," as children listened avidly.
"We need our children to be excited about manufacturing," Meeusen said. "... Somehow we have to change the message in this state."