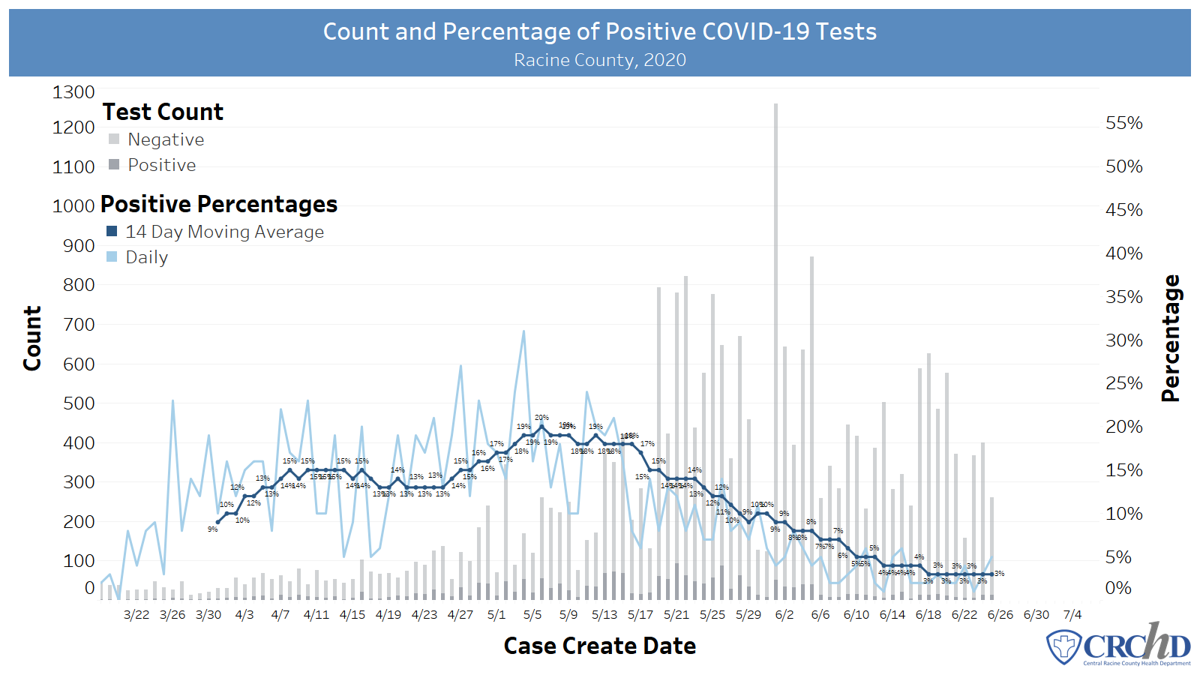 RACINE COUNTY — Some good news for Racine County on the COVID-19 front: The number of new infections has gone down dramatically from where it was a few weeks ago and the majority — 90% — of Racine County cases are classified as "recovered."
As of Friday, the total number of confirmed cases in Racine County has reached 2,144 out of 26,287 tests conducted, an 8% confirmation rate.
That percentage is already pretty low, but the news gets better: according to the Wisconsin Department of Health Services, an estimated 90% of those cases are considered "recovered," which means the case meets at least one of the following conditions:
Documentation of resolved symptoms
Documentation of release from public health isolation
30 days since symptom onset or diagnosis.
The DHS stated that according to its data, "the vast majority of cases who recovered did so within 30 days."
Also, new infections have decreased significantly. According to a chart from the Central Racine County Health Department, the 14-day average percentage of positive cases from June 18 through June 26 held steady at 3%.
The 14-day average for Racine County peaked in early May when it hit 20% but has steadily decreased since.
Not out of the woods
While the news in Racine County has improved, Central Racine County Health Officer Margaret Gesner reminded people that the pandemic is ongoing.
"While we are pleased to see a decline in positive test percentage and case counts, the COVID-19 pandemic is still very much ongoing and Racine County's case rate continues to be higher than much of the state," said Gesner.
In early June, Racine County had the highest infection rate per capita in the state; now it's No. 2. Dane County, which has seen a fairly steady decline in infection rates over the past several months, just this week had it's highest one-day rise in COVID-19 cases. In neighboring Kenosha County, officials stated this week that, despite projections the county would continue on a downward trend, the county has seen a steady, consistent number of new cases crop up.
"It's crucial that residents adhere to strict social distancing guidelines, wear face masks, and practice good hygiene so we can protect our most vulnerable and prevent a rise in cases," Gesner said.
Concerned about COVID-19?
Sign up now to get the most recent coronavirus headlines and other important local and national news sent to your email inbox daily.