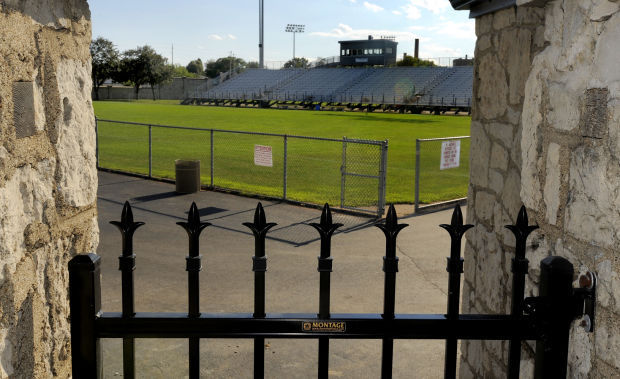 RACINE — Maybe you don't pay a lot of attention to the ancient place at 1648 N. Memorial Drive, as you drive past. Maybe it's just another structure in what used to be a thriving industrial section of Racine.
But if this place could talk, the stories it would tell would be as captivating as they were endless. For within the stone wall confines of Horlick Field, a great deal of history has been made during the past 100 years, some of which has been on a national level.
We take you back to Nov. 19, 1922, when players representing a three-year-old franchise we know today as the Green Bay Packers filed into Horlick Field to play the Racine Legion. The man lining up at halfback for the Packers was a 24-year-old player-coach with a name that might ring a bell — Earl Louis "Curly" Lambeau.
Before a crowd estimated at 3,000, the Racine Legion, which would fold after the 1924 season, fought to a 3-3 tie with an organization that would go on to make so much history.
You have free articles remaining.
We take you back to the dark days of World War II, when many of the most high-profile players in the major leagues were sent overseas to defend their country. To replace the vacuum of talent, Chicago Cubs owner Philip K. Wrigley had a brainstorm of creating a league of female players known as the All-American Girls Professional Baseball League. One of the charter teams was the Racine Belles, who won championships in 1943 and '46
Some 50 years after the Belles were born, a major Hollywood production about those days — "A League Of Their Own," starring Tom Hanks, Geena Davis, Madonna and Rosie O'Donnell — would gross more than $100 million.
We take you back to September 1928, when two brand-new high schools in Racine met in a football game for the first time. The city kids from Park and the country boys from Horlick (which was then on the northern fringe of town) played to a scoreless tie in the first game of an annual rivalry that is still going strong to this day.
And then we take you beyond the realm of sports into the world of drum and bugle corps that heightened Horlick Field's profile to iconic proportions. During the peak era of drum and bugle corps, which lasted from 1962-78, Horlick Field was the host for more shows that any venue in the country.
It's a glorious, yet largely forgotten, era that has been remembered in a book released this year by Alan R. Karls titled, "Racine's Horlick Field: Drums Along The Foundries."
Since Hammes Field at Case High School opened in 1999, Horlick Field hasn't been used as extensively as it once was. But the old place, built on a parcel of land donated by William Horlick more than 100 years ago, holds its own among Racine's historic structures.