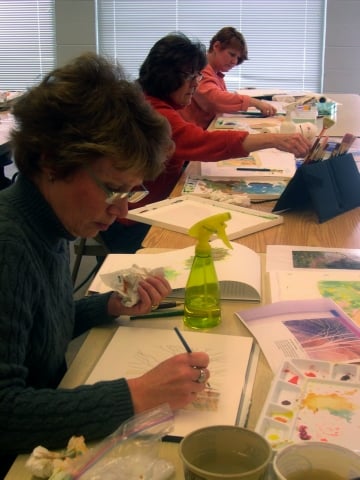 The coming spring brings thoughts of renewal. It's almost time to dust off winter's gray film and let in the season's bright sunshine. And it isn't just windows, closets and garages that can benefit from such restoration and illumination.
Spring is also a great time for refreshing the mind by learning new things and sharing ideas. Continuing one's education in later life can not only help keep the brain sharp, it can boost one's physical health and establish valuable relationships, according to Nancy Merz Nordstrom, author of "Learning Later, Living Greater: The Secret for Making the Most of Your After-50 Years" (www.learninglater.com). And the possibilities for doing so here in southeastern Wisconsin are plenty.
Nearby colleges and universities offer continuing education courses - both for-credit and non-credit - and museums and other nonprofit organizations can also be good sources for lifelong learning opportunities.
With a little research, chances are you'll find something that not only piques your interest, but fits your budget. Here are a few suggestions to get you started.
• Mini Courses at the University of Wisconsin-Parkside: These non-credit classes - which range in duration from one session to six weeks - focus on topics ranging from bookbinding and soap-making to estate planning, everyday law, landscaping, Web page design, language, Pilates, culinary arts and small business planning (just to name a few).
Cost typically ranges from $30 to $100 and most classes take place on the UW-Parkside campus, 900 Wood Road, Somers. Registration is required in advance and can be done online or by phone.
For more about these and other continuing education opportunities at UW-Parkside, go to www.uwp.edu and enter the keyword "continuing education." You can also call (262) 595-2307.
• Adventures in Lifelong Learning: This program, which is offered in partnership with UW-Parkside, consists of mostly retired people from throughout southeastern Wisconsin who are committed to reaching out to older learners and providing them with educational, creative and social opportunities through lectures, classes, focus groups, day trips and special events.
Members have access to twice-monthly lectures and programs on campus covering a variety of subjects from current events, history, travel, health and the arts, given by experts in those fields. In-depth classes, on a range of topics, are also offered (for a small fee) and focus groups are formed for members with common interests.
Annual dues are $40 and membership is open to all seniors with a commitment to learning. Guests may attend two sessions to see if they are interested.
Contact the ALL office at (262) 595-2137 for details. Information is also available at www.uwp.edu
• Enrichment and Continuing Education at Carthage College: Designed to meet the needs, interests and concerns of today's society, this program offers for-credit (undergraduate and graduate) courses in fields including education, social work, criminal justice and video production, as well as personal development classes ranging from sign language to yoga.
They include weekend workshops and weekly classes and the spring session will being in mid-March and run until May. Summer and fall sessions are also offered.
• Racine Art Museum/Wustum Museum of Fine Arts Classes: RAM offers a range of adult classes and workshops at its Wustum campus, 2519 Northwestern Ave., year round.
Topics vary, according to session, and include everything from different styles of drawing and painting to basketry, ceramics, fibers, glass and art metals/jewelry.
Classes last from one day to eight weeks and fees fall mostly in the $50 to $150 range. For details and registration, go to www.ramart.org or call (262) 636-9177.
• Spectrum School of the Arts: Located in the historic DeKoven Center along Racine's lakefront, Spectrum has been offering arts education classes to the community for 30 years.
Class size is small, allowing for individualized instruction, and subjects taught include photography, ceramics, watercolor, cartooning, and matting and framing. Family workshops are also offered.
For more information call (262) 634-4345.
• Look to other, less obvious, sources for educational opportunities as well. For example, Downtown's HOPES Center on Sixth Street hosts a series of adult Spanish classes taught by Dixie Van Remmen. A longtime educator, Van Remmen uses the TPRS (storytelling) method, which she described as communicative in nature and easy to learn. "Adult brains thrive on this kind of learning because it is creative and activates the brain," she said.
Classes are currently held on Thursdays from 9:30 to 11 a.m. (some Spanish required) and from 4:30 to 6 p.m. (advanced class). Van Remmen said she is willing to start a beginning-level class.