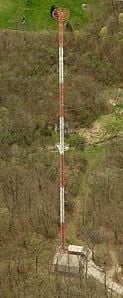 The Lakeshore Repeater Association will soon be transmitting from a new location at the South Shore Fire Department on Old Green Bay Road on one of its two frequencies in Racine County. Lakeshore's VHF 2 Meter repeater (KR9RK) had operated for the last 40 years on 147.27 MHz from the recently sold American Red Cross Building at the corner of Taylor Avenue and Meachem Road.
A repeater is essentially an amplification device. Licensed radio amateur operators can access the repeater with less than a watt of power. Subsequently, that signal is amplified approximately 50 times. Ham radio operators are free to use the repeater for non-commercial transmissions; but the repeater becomes an essential part of emergency response when natural or man-made calamities strike.
The term "repeater" originated with Morse code telegraphy, referring to an electromechanical device used to regenerate telegraph signals. Use of the term has continued in contemporary telephony and data communications.
When conventional 21st century communications systems are disrupted, ham radio operators are able to stay on the air with their portable transceivers communicating with repeater systems configured with auxiliary power, thus delivering a public service during severe weather, as well as assisting in disaster relief operation.
The Lakeshore Repeater Association is a nonprofit organization founded on Dec. 23, 1975, to support local amateur radio communication. It is one of several local organizations in the Retired & Senior Volunteer Program (RSVP)-Racine County Disaster Preparedness project, including the Racine County Sheriff's Patrol Substation, the Blood Center of Wisconsin, the City of Racine Health Department's Medical Reserve Corps and three other amateur radio organizations: Amateur Radio Emergency Service, the Racine Megacycle Club and the Quarter Century Wireless Association.
Thanks to the help of several Lakeshore Repeater Association members and South Shore Fire Department personnel, the bulky, heavy repeater equipment was hauled up a steep flight of stairs to its permanent home on the second floor of the South Shore Fire Department. When fully operational, the repeater will radiate from an antenna perched upon the roof of the fire station, backed up with auxiliary power from the fire station.
Throughout the transition of the 147.27 repeater, the Lakeshore Repeater Association has continued to operate its other repeater at 442.00 MHz, whose antenna is near the top of the 500-foot communications tower at Wood and County Line (KR) Roads. The complementary signals of the two repeaters blanket most of Racine and Kenosha County and sections of northeastern Illinois.
Both frequencies can be heard on public service radios, i.e. "scanners." Prospective amateur radio operators can look forward to working repeater frequencies with the FCC's entry-level amateur radio (technician) license. Members of the Lakeshore Repeater Association met this past month for the first time away from the Red Cross Building at the Volunteer Center of Racine County Inc., grantee of the RSVP-Racine County project.
Be the first to know
Get local news delivered to your inbox!