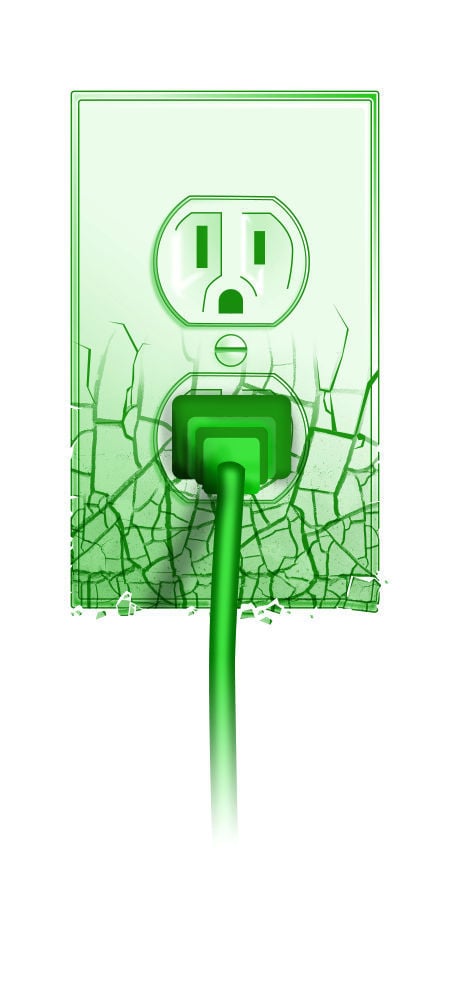 Even when plugging or unplugging an appliance, many of us don't pay much attention to our home's electrical outlets — until there is a problem. But knowing the condition of your electrical outlets, how they should be used and when they should be updated could prevent serious consequences, such as an electrical fire.
While more home electrical fires involve unclassified wiring, six percent of such fires involve outlets or receptacles, according to the National Fire Protection Association (www.nfpa.org).
An outlet with a cracked or broken face, or one that is loose in the wall, for example, could mean exposed electrical contacts and a potential short or shock hazard, according to Gary Sondergaard, certified master electrician with Sondergaard Electric Inc., Racine. And a receptacle with a burned or brownish appearance might be a sign of a previous short circuit or a loose electrical connection, which could cause a plug to overheat, Sondergaard said.
Another sign that an outlet is worn out is when it will no longer hold a plug tightly, according to Gerry Pofahl, chief electrical inspector for the City of Racine. Ten to 20 years of everyday use can take its toll on the spring mechanisms inside an outlet, Pofahl said.
"If the plug keeps falling back out of the receptacle, it's telling you its time to change it," he said.
When replacing outlets in older homes, it is important to remember that two-prong outlets with no ground wire should be replaced with the same kind of 2-wire receptacle, Pofahl said. "If you are missing the ground wire, you can't put a three-prong receptacle there," he said. "It does make a difference."
Not sure if an outlet is grounded? You can find out by plugging a receptacle tester (available at home supply stores for about $10) into the outlet. It will tell you if a ground wire is present, and if the outlet has proper polarity, Pofahl said. If you still aren't sure, or don't feel comfortable using a tester, have a licensed contractor take a look, he said.
Another option when replacing two-prong receptacles is to install a ground fault circuit interrupter, or GFCI, in place of the two-prong outlet, according to Pofahl. Typically used in bathrooms, kitchens and outdoor areas (where water and electricity are in close proximity), GFCIs are designed to protect people from electric shock by constantly monitoring the flow of electricity in a circuit, and switching off power when current is lost.
Keep in mind, too, that the 2008 National Electrical Code requires that new and renovated dwellings have tamper-resistant receptacles, or TRRs. Designed to prevent children from inserting objects into outlets, TRRs have spring-loaded shutters that close off the receptacles' contact openings (slots). When a plug is inserted straight into the receptacle, both springs are compressed and the shutters open. But, if someone attempts to insert an object into only one opening, the shutters do not open and there is no contact with electricity.
Instructions for replacing an electrical outlet are easy enough to find, especially in the Internet age. But experts recommend hiring a qualified electrician to do the work.
"People often think they know how to do it, but they may not be doing it the correct way," Sondergaard said.
Depending on the type and amount of work you plan to do in your home, electrical permit and code requirements may apply. Such information for buildings in the City of Racine can be found on the city's website, www.cityofracine.org (click on "Building" under the "Work" heading).
Something everyone can do to keep their electrical outlets working properly is to use them with care. When unplugging an appliance, for instance, firmly grasp the plug and pull it straight out, rather than yanking on the cord, Sondergaard said. "Don't wiggle the plug back and forth," he said.
It is also important not to overload an outlet. The number of appliances that can be plugged into each outlet depends on what the circuit for that outlet can handle, as well as the wattage of each appliance, Sondergaard said. Whether it is too many appliances or multiple heat-producing appliances, drawing too much electricity from the outlet can cause it to overheat.
"The problem often lies in situations where people plug six-way power-block adapters directly into the outlet," he said. "The circuit there may be able to handle that much, but the load may be too much for that particular outlet."
Instead, Sondergaard recommends using a six-way surge protector power strip, which requires only one cord to be plugged into the outlet. Such power strips are safer and meant to handle multiple items such as televisions, DVD players, cable boxes and stereos, he said.
When using heat-producing appliances, some circuits may be able to handle multiple items in the same outlet, but Sondergaard's general recommendation is to limit them to one per outlet. "I wouldn't plug a toaster and a griddle into the same kitchen outlet."
Be especially careful with space heaters, he said. "I get called a lot for tripped circuits or blown fuses caused by space heaters. People don't seem to realize just how much current they draw."