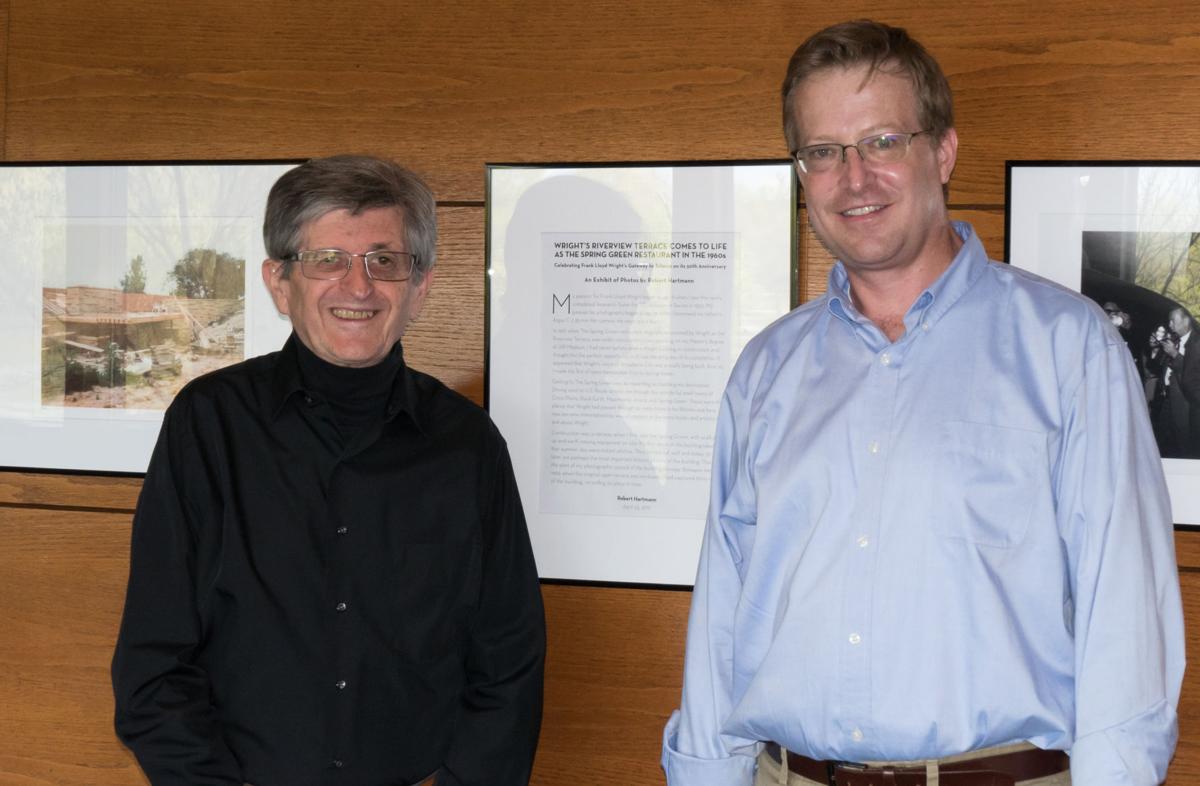 Fifty years ago, Bob Hartmann was in the right place, at the right time, to capture some important cultural history on film.
Hartmann — an architectural designer in Racine for more than 30 years — was a 25-year-old graduate student and assistant professor at the University of Wisconsin-Madison when the first restaurant designed by Frank Lloyd Wright was constructed, near the architect's Taliesin estate in Spring Green. And while he may not have realized it at the time, young Hartmann shot a collection of rare photographs of the restaurant's construction.
During breaks from working on his thesis in environmental design, he visited the construction site often and "I was never without my camera."
This year, his never-before-seen photos are being exhibited in the building he photographed, which now serves as the Frank Lloyd Wright Visitor Center, 5607 County Road C, in Spring Green. Hartmann's photo exhibit is part of Taliesin Preservation's 50th anniversary celebration for the building, which housed The Spring Green restaurant for 25 years. But, if not for a bit of serendipity, his negatives might still be on a shelf in his Racine home, waiting to be printed.
Significant contribution
Hartmann — who's had a lifelong interest in Wright's work and has served as president of Frank Lloyd Wright Wisconsin — was visiting some of his favorite FLW-related websites late last year, when he came across an announcement about the building's 50th anniversary in a prairiemod.com newsletter. The website had published a notice from Erik Flesch, director of development at Taliesin Preservation Inc., which said the organization was looking for memorabilia and/or artifacts from The Spring Green restaurant for the anniversary celebration.
Excited for the chance to revisit his experience with the building, Hartmann said he called Flesch immediately and told him he had 36 black-and-white and color negatives of the restaurant's construction from 50 years ago. He began making prints right away and, when he met with Flesch and other Taliesin Preservation representatives in February, he was told "these are priceless."
Hartmann's response to the inquiry was the most significant one the organization received, Flesch said. His photo collection not only records the building's initial construction in 1967, but a renovation done a couple years later.
Along with being a wonderful addition to the anniversary celebration, the 24 framed prints on display throughout the Visitor Center have been useful to the organization in its research, Flesch said.
"Bob has an eye for architectural design and knows what is important to photograph," Flesch said.
'Great story'
His photos tell a "great story," Flesch said. And this year — which is not only the 50th anniversary of the building designed as the "gateway to Taliesin," but the 150th anniversary of Frank Lloyd Wright's birth — they likely will be seen by people from around the world who come to visit the Taliesin estate.
"We get an average of 25,000 visitors a year, and are expecting many more this year," he said.
For Hartmann, printing and framing the photos was a labor of love — one he had long thought he'd get around to after he retired. A grant, given to Taliesin Preservation by the Spring Green Area Arts Coalition, covered the cost of materials for the project, and Hartmann donated his time and effort to the cause. He also plans to donate the photographs to Taliesin Preservation's archives when the exhibit closes.
"I like the idea of being able to pass this on to future generations," Hartmann said. "I think that's kind of neat."
This exhibit is also dear to Hartmann's heart because of the many fond memories he has of meals enjoyed in the elegant, river-view supper club called The Spring Green — including one of the first meals he shared with his wife of 45 years, Jill. He and Jill plan to attend the 50th anniversary celebration that Taliesin Preservation will hold on Sept. 22, and Bob has been asked to give some remarks there.
"This is very special for me," he said. "And I think it might be interesting for people here in Racine, so many of whom are interested in Frank Lloyd Wright, to know this story."