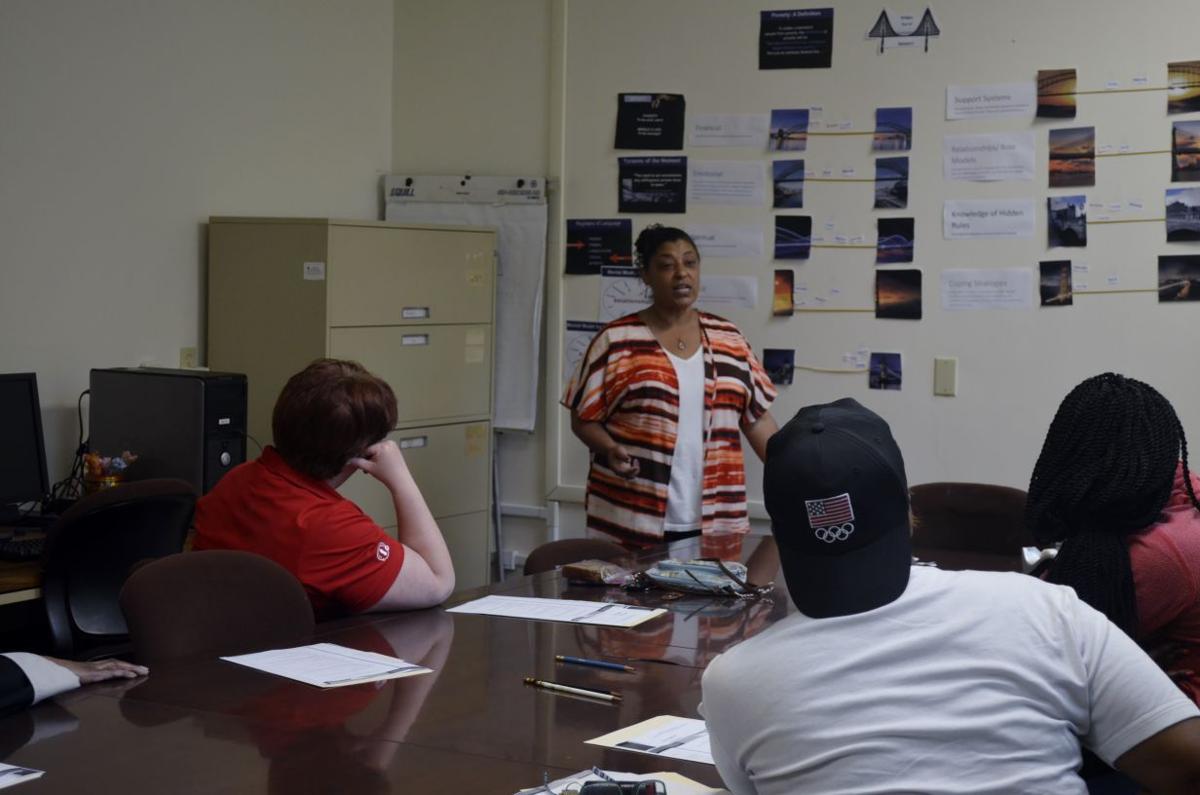 The ivy-like plant that winds around a window in Karen Harrison's home serves as a reminder of the power of having the right environment in which to heal.
When Harrison acquired the plant from a neighbor while staying at Racine's Bethany Apartments, it was just a single vine with two leaves — the others having been picked off by young children. While she didn't know much about growing plants then, Harrison said all it took was some care and cultivation to revive it. Before long, she was trimming the plant back and sharing cuttings with friends.
Today, the plant's roots fill two large pots and its many strong vines are covered with leaves. And its revival reminds Harrison of her own journey to independence, which was made possible with the care and cultivation she received at the Bethany Apartments — a transitional housing facility for women and children who have suffered domestic abuse.
A mother of grown children, Harrison came to Bethany following a stay in the Women's Resource Center of Racine's shelter, where she landed after fleeing an abusive relationship that she'd endured for 20 years. While excited for her future, she was also "petrified" upon arriving.
"I didn't know what to do, or what to expect, " she said.
Finding safety
What Harrison found at Bethany was a place of healing and learning — one where she felt safe enough to do so.
"Bethany teaches you how to start your healing process," she said. "When you learn how to empower yourself, you can begin to heal."
Harrison's personal challenges included realizing that everyone in the world isn't mean, and learning to stop feeling sorry for herself.
"I wanted to have a pity party," she said. But you can't heal if you are feeling sorry for yourself."
Bethany's programs helped her take a good, hard look at herself, and to learn to listen with her heart, Harrison said.
"A person has to learn to step out from the behind the shadow and be themselves," Harrison said. "By no means is it easy. But it is all worth it when you have peace."
Today, Harrison is in school, nearing completion of her bachelor's degree in criminal justice, having already earned an associate paralegal degree. She is very active in her church, volunteers her time working with first-time juvenile offenders and serves proudly on Bethany's board of directors. And she hopes to soon apply to law school.
Harrison is also happy and very thankful for the many people who have helped her get to this place in her life, she said.
"Bethany saves lives," Harrison said. "I have nothing but love for Bethany."
Meeting a need
Harrison's is one of many success stories that Sister Evelyn Lins said she has seen come out of the Bethany Apartments and its programs in its 25 years serving Racine County.
Lins is one of several Racine Dominicans who founded the apartments after witnessing a need for transitional housing while working as volunteers at the Women's Resource Center, which runs an emergency shelter for victims of domestic violence.
"We observed how many of the women kept coming back to the shelter, and we realized that their 30-day stay there was not long enough for them to really rebuild their self-esteem and to become independent financially," said Lins, who served as Bethany's first executive director.
Creating a place where domestic abuse victims could find sanctuary and time to rebuild their lives fits well with the work of the Domincans, whose guiding principle is "committed to truth, compelled to justice," Lins said.
"As a community, one of our goals is to stand with the oppressed and poverty stricken," she said. "And, as a community of women, we are committed to standing with women who need support."
Since opening its doors to the first residents in late 1990, Bethany Apartments have served nearly 300 women and 400 children.
"There are women out there today with strong self-esteem, in healthy relationships and taking care of their children because of this program," Lins said.
Life skills
In addition to its 12 apartments, the program offers support services including classes aimed at building independent living skills — with topics ranging from nutrition and cooking to communication and parenting of children who have been exposed to domestic violence.
"We can't forget the impact domestic violence has on children," said Pam Handrow, Bethany's executive director since early 2016. "We form relationships with those children, too. All of that impacts the entire community."
Bethany's overall goal is to help residents become self-sufficient, and having 12 separate apartments allows residents to be independent, Handrow said.
"We work with each woman to establish goals and to get her the services she needs to reach those goals," she said.
Often it is just little steps that are taken, Handrow said. "But each one of those steps is a celebration, and rightly so."
The end result can be powerful, as expressed in a letter written by a former resident who ended up on Bethany's front steps with two small children, after finding her 4-year-old son severely beaten by his father.
"That day changed my life forever," the letter reads. "We found ourselves in a shiny new, three-bedroom apartment — and the best thing was, it was mine and my children's. He was no part of it. There were no more reminders of him in every room."
She goes on to talk about the comfort of just knowing that she wasn't the only one her situation.
"I soon learned that the women and children of Bethany shared a relationship that few people do, or care to. To walk down the halls in the quiet of the night, and feel an emotional arm around my shoulder, knowing at any time I could knock on a door and talk, cry or just sit and be understood was so powerful and healing."