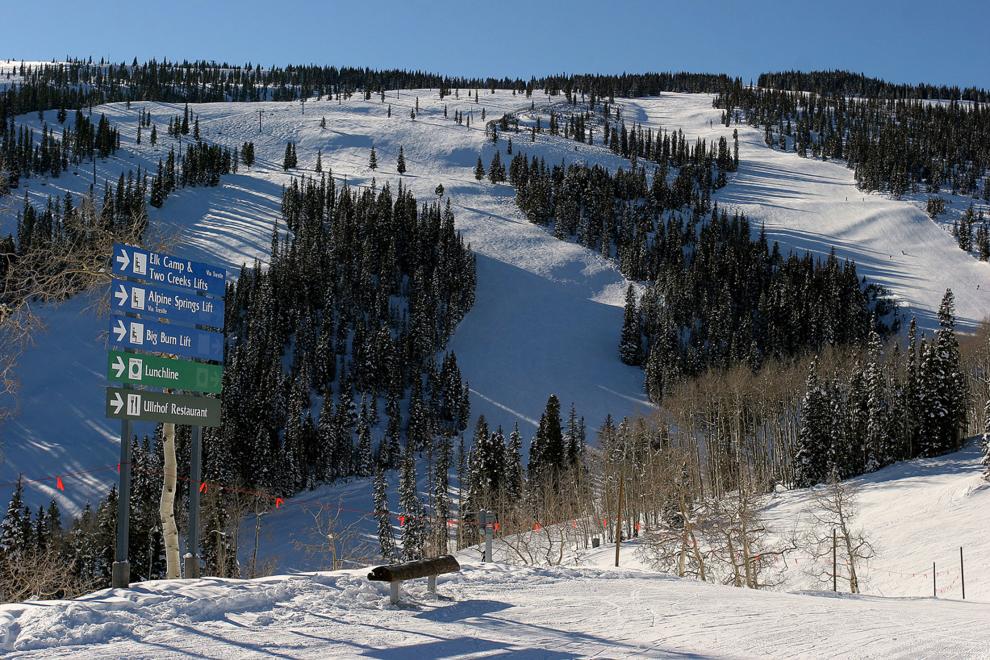 Casual skiers visiting Aspen, Colo., are spotting something unusual on the slopes.
The locals are going the wrong way, or so the newcomers think.
"Some people look at it and think this is stupid," says one of those locals, Ted Mahon. "Like this is crazy."
But residents with Aspen Snowmass' four mountains in their backyard don't need a lift. All they need is leg muscle and sheer will.
The uphill movement in Aspen can't be called a movement anymore.
"It's just ingrained in our culture," says Tucker Vest Burton, a Snowmass spokeswoman.
On each mountain's designated route, "skinning" is as normal to daily life as breakfast. The two tend to go hand in hand in the dim hours before work, when residents drive to the east side of Buttermilk Mountain, parking in the lot made for Tiehack, an uphill route.
They'll power up the lung-busting pitch, picking up about two miles and 1,700 vertical feet. They'll catch the glorious sunrise and scarf down a bagel or burrito. Then they'll pick their pleasure coming down: fresh powder here, speedy corduroy there.
"It's combining a lot of people's favorite things," says Kaitlin Piosa, into her second ski season since moving to the valley. Uphilling seemed odd, until she learned it to be "a nice winter alternative" to trail running, a cardio test paired with a ski run.
Another thing she's learned: "It's definitely a community event."
Under a full moon, Tiehack is the place to be. On Fridays with the sun still low, friends and families of the "breakfast club" make their way to the top for the food served in the restaurant. The day before at 7 a.m., GR Fielding's coworkers meet in the parking lot — because what builds camaraderie better than a workout and a bonus lap?
People were skinning when Fielding moved to Aspen 12 years ago. "Now, it's just totally exploded," he says.
So much so that Aspen Ski Co. has Mahon, the seasoned mountaineer and instructor, hosting guests uphill. It's not too often a tourist expresses interest. But nearby rental shops are happy to supply the gear in the continued celebration of the sport here.
Resort and town leaders share a common goal: to make Aspen the country's uphill capital.
"It's interesting to see the number of ski areas out there that don't want to deal with it," Mahon says, "and I think that's really crazy because this is one aspect of the sport that's definitely growing."
Snowsports Industries America counted 14.7 million skiers in its 2018 participation study, down 4 percent from 15.3 million in 2017. Snowboarding dipped 7 percent.
But skinning is a different story, industry representatives say.
"It's really opened the door for growth in the market," says Eric Henderson, an SIA spokesman who also represents Dynafit, a leading brand in backcountry touring equipment.
SIA's latest retail reports show the demand for that equipment rising, with bindings sales more than double year-to-year. People always have trekked up snowy mountainsides, but trade insiders credit resorts for bringing the activity into the mainstream.
Unlike in the backcountry, participants need not make a major time commitment with the quickly accessed slopes, nor do they need to fret about avalanches, SIA president Nick Sargent notes.
"Just watch out for the snowcats and follow the designated uphill routes," he says. "If you can walk up a flight of stairs, you can ski uphill at your local ski resort."
The industry anticipates more resorts joining the 53 percent that allow uphill travel, according to the National Ski Areas Association. Skinning requires a pass at many of those areas, while Aspen keeps it free with only a few guidelines to minimize conflicts.
Tiehack can be skinned at any time, as can Snowmass, though dogs aren't allowed during operational hours at any of the four mountains. At Aspen Highlands, uphillers are asked to be above the Merry-Go-Round restaurant by 9 a.m. to continue.
They have to be down by first chair at Ajax, popular among locals for the beastly 3,000-plus feet of vert. That's Mahon's go-to before work.
"Get home, jump in the shower, and you already skied a run and got an exercise in," he says. "It's a great way to start your day."