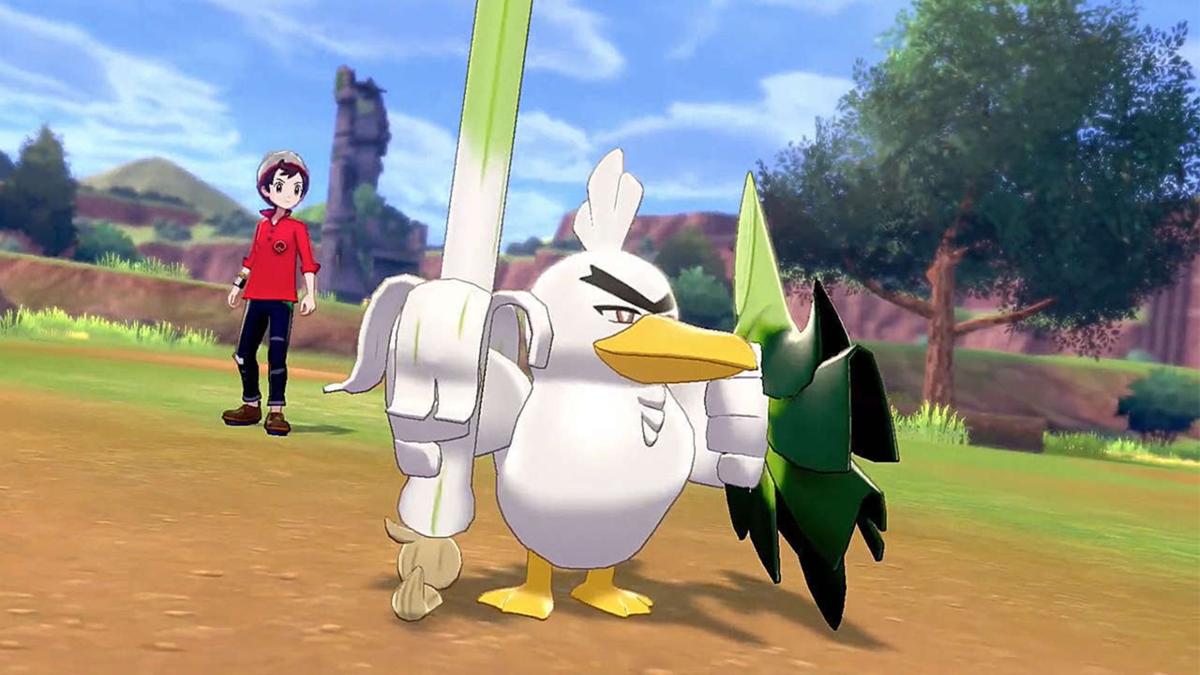 Parents need to know that Pokemon Sword/Shield are adventure role-playing games exclusively for the Nintendo Switch. This game brings a pair of young Pokemon trainers across a new region as they attempt to become the champion of the land, defeating rivals and amateur collectors to prove they're the best in the land. Combat is the focus of the game, and Pokemon launch a variety of attacks at each other in combat ranging from punches and breathing fire to blasts of energy and jets of water. But enemies, when defeated, either fade away or disappear into a shimmering pool of light, and no blood or gore is shown. Some female characters wear tight or revealing clothing, but otherwise, no inappropriate content is included in the game. Parents should know that there's a larger focus on teamwork and cooperation in this game than previous titles in the series, and players can partner together with other gamers to defeat Pokemon or trade creatures between each other.
Pokemon Sword and Shield are the newest games in the long-running Pokemon franchise, set in the new region of Galar. You take on the role of a young kid who wants to embark on a journey to become a Pokemon trainer along with your best friend and next door neighbor Hop. Your eventual goal, of course, is to become the best trainer in the land and have the chance to challenge the undefeated Champion, Leon (who just happens to be Hop's brother). But before you can reach him, you've got to fight your way through the leaders of gyms to prove that you belong. That means selecting an initial Pokemon to start with, but traveling into the wilderness to gather a sizable collection of Pokemon along the way. You can also potentially trade creatures with friends and townspeople to expand your roster. Getting the right mix of beasts for your team will be crucial, especially because you can face off against difficult challenges in the form of Dynamax Pokemon. These giants dwarf the battlefield with their size, strength and new abilities. Fortunately, you'll be able to call up to three human or AI trainers in to help you during these fights known as Max Raid Battles.
With lots of new features that keep your adventure interesting, this is one of the easier, yet more engaging chapters in the long-running franchise. Pokemon Sword and Shield starts out with a familiar plot for Pokemon fans of becoming the best trainer in a new land, fighting gym leaders to prove that your squad is stronger in combat. Fortunately, Sword and Shield eases the labor of fighting for hours to improve everyone in your party by sharing experience across all the monsters after a fight. What's more, players can easily swap their party members in the wild without having to head back to town, which is a massive time saver.
On your journey, players will uncover a mystery surrounding legendary Pokemon that have disappeared, and the cause behind the special ability known as Dynamaxing, which transforms Pokemon into gigantic versions of themselves. You'll unlock this power, which gives you the option to transform one of your roster into one of these massive creatures. Dynamaxing provides lots of gameplay twists and also highlights an improved multiplayer focus of Sword and Shield. Players can partner up with three other trainers (human or computer controlled) to fight giant beasts in Max Raid Battles, group combats that are clearly inspired by Pokemon Go's raids. The result is that you have a sense of being supported by both the game and other players in your quest to become a champion. Pokemon Sword and Shield may be easier than earlier games in the franchise, but the journey is fun from beginning to end.
Recommended for ages 8 and older
Positive messages: 4 out of 5
Positive role models: 3 out of 5
You have free articles remaining.
Violence and scariness: 2 out of 5
Platforms: Nintendo Switch
Developer: Nintendo of America
Release date: November 15, 2019
ESRB rating: E for comic mischief, mild cartoon violence