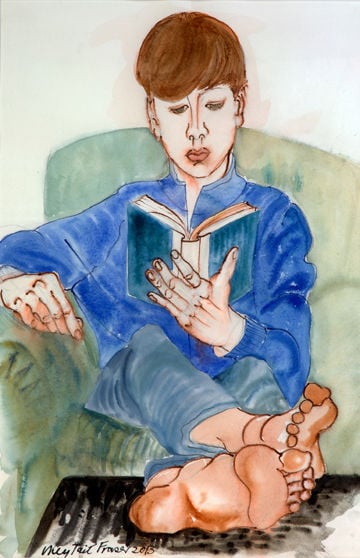 An opportunity to peek inside the minds of some of southeast Wisconsin's most creative thinkers awaits visitors at the Wustum Museum of Fine Arts, 2519 Northwestern Ave. There, in the "Racine and Vicinity Show: All Media Juried Competition," are the visions of 99 artists from throughout Racine, Kenosha and Walworth counties, carried out in media ranging from transparent watercolor and photography to clay, steel, silk, wood and collage.
The 132 pieces shown were selected from 433 submitted works of art by 180 artists. And among them are interpretations of places near and far; social commentaries; realistic and abstract portraits; functional and wearable works of art; pieces that will make you laugh; and those that might make you cry.
Together they offer an overview of how area contemporary artists (all work had to be completed after 2011) are reacting to what is going on in the world around them, according to Lena Vigna, curator of exhibitions at the Racine Art Museum, of which Wustum is a part. Even though each artist may have created their work in solitude, some common threads can be found among their collective work, said Vigna, who organized the show after selections were made by juror Wally Mason, formerly director/chief curator of Marquette University's Haggerty Museum of Art and now director of the University of Nebraska-Lincoln's Sheldon Museum of Art.
While some works are connected by subject matter, others may have similarities in color, patterns or form, Vigna said. In one gallery, for example, viewers can find pieces that focus on organic forms, while another gallery features work that reveal the artists' sense of humor.
Mystic wonder
There's even a section where fantasy and fairy tale art is highlighted, including two pieces by Racine artist David Holmes. One of them, Holmes' "Mystic Wonder for Pubis," is a colorful, imaginative portrait made of acrylic paint and collage that earned one of four $200 Merit Awards given out for this show.
A complex piece, with much to explore, its central figure is one that Holmes described as a pervert with a maniacal smile. And, as in some of Holmes' other work, the figure is adorned with a somewhat bizarre collection of found and/or mechanical objects — each of which cleverly brings meaning to the piece.
A devoted gleaner of found objects who rarely throws anything away, Holmes said the impetus for his work may come from a single object or a portrait that he comes across. From there, he allows his imagination to play out, as he works with the pieces at hand.
"I play and fabricate things, and the piece really builds itself," said Holmes, a professor emeritus of art at the University of Wisconsin-Parkside. "It all really comes out of what the pieces tell it to be. I'm just the guy who assembles them together."
He enjoys the artistic process, and hopes that his work makes viewers think. "Art is therapeutic for me and I think it can be for others, too," he said. "I hope they can see the whimsy and crazy stuff in there."
Artist's journey
Another of the $200 Merit Award recipients, Jerry Belland, focuses on scenes from everyday-life Racine in his piece "Memorial Drive Journal." Done in the style of an artist's journal — incorporating text with images — the painting depicts Belland's observations of human interaction during the daily drive to his studio. The scenes are from his own memory, rather than based on photographic images, Belland said. And they represent his realization that even though his trek to work follows the same stretch of road each day, it is still an interesting journey.
"Each day there was something new to see," Belland said. "The more I looked the more I felt like I'd become a tourist in my own town."
While the artist heard some concern from viewers that his painting might seem a bit racist, Belland said he certainly did not intend it that way. Instead, he said he found his work on the painting inspirational.
"My mood had been low before starting this painting. I had wondered if living in Racine had diminished my life in some way," he said. "Making 'Memorial Drive Journal' helped me realize that Racine is a fascinating place."
Belland's second piece in the show, "The Suitor Scorned," features a larger-than-life pin-up girl and a snazzily dressed, anxious suitor knocking on her door. A remake of a previous painting titled "The Cruelty of Nature," this version shifts the scale of the figures so that the girl looms over the male figure, making him appear much more helpless and defeated in comparison, Belland said. "The painting at its most basic level has to do with the innate injustice and cruelty of the mating process, not just with humans, but all of nature," he said.
Rich diversity
The other two Racine artists who received $200 Merit Awards for their work are potter Alex Mandli, for his earthenware piece "Carrara: From the Italianate Series," and sculptor Bill Reid, for his painted steel creature "Honey Badger Apiartist." Mandli also has two other earthenware pieces in the show — "Etruscan Vase 2014: From the Italianate Series" and "iTruscan Bowl: #overconnected."
Two $100 Merit Awards were also issued: one to Ney Fraser for the watercolor "Boy Reading," and one to Dennis Markley for "Urban Landscape: One," made of digital inkjet print on silk, with stainless steel, acrylic and wood.
Because this is a group show, Vigna recommends revisiting it in order to truly appreciate its rich diversity. "There is so much to see in each piece, and each presents the distinct persona of the artist," she said.
Be the first to know
Get local news delivered to your inbox!