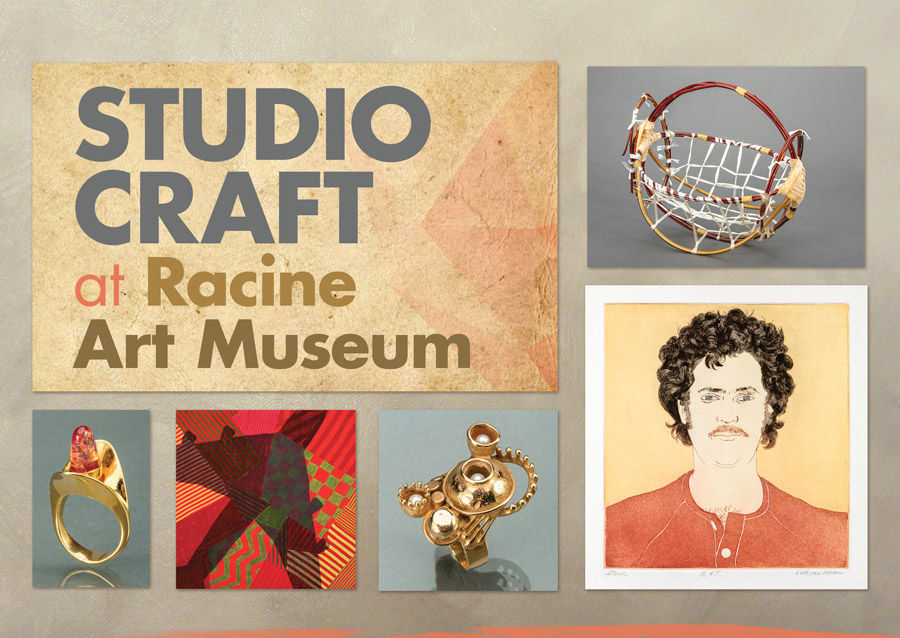 RACINE — Racine Art Museum (RAM), 441 Main St., will present "Objects Redux: Studio Craft in Context, 1960-1985" and "Objects Redux: Small-Scale Studio Craft of the 1950s and 1960s" through Feb. 2.
These shows are the last of the four concurrent exhibitions in RAM's fall exhibition series, "Objects Redux." Drawn primarily from the museum's collection, this series offers a look at how craft was developing in the last part of the 20th century.
In some ways, art can be seen as a reflection of both the artist and the time in which it was made. Personal perspectives can inform, and be informed by, greater social and cultural influences and dynamics. This fall, all of the galleries at RAM will be filled with works made between approximately 1960 and 1985, reflecting the tone and aesthetic of that time period. During those years, many artists were challenging function and expanding the boundaries of how craft had been defined — what processes were used and how, what materials, what form the work took, and how artists saw themselves and where their work fit in the world.
The largest RAM exhibition, "Objects Redux: 50 Years After Objects: USA Defined American Craft" focuses directly on the celebration of "Objects: USA," a landmark exhibition that traveled across the country and overseas beginning in 1969. "Objects: USA" — really the presentation of a collection assembled for SC Johnson by art dealer Lee Nordness and then Museum of Contemporary Crafts (now known as Museum of Arts and Design) director Paul Smith — showcased "the American object maker."
You have free articles remaining.
In the late 1960s, as society was undergoing social upheaval, studio craft in the United States was pushing boundaries in terms of influences, subjects, scale and scope, intent and material exploration. On some level, studio craft shifts marked societal shifts and the handmade object and its maker marked a tactility, passion and intimacy that stood in response to mass-production, machines and disposability. The issues and concerns that were impacting artist's daily lives were impacting the work they produced and the context in which it would be shown.
Accompanied by a substantial book with images and artist biographies — as well as a sales catalogue entitled "Arts/Objects: USA" and an hour-long movie — "Objects: USA" toured over 20 U.S. and 14 international venues. Before being disassembled in the way of gifts to several institutions, the exhibit introduced a broader public to the possibilities of media most often associated with function, and not intellectual, aesthetic or material investigations, and offered a new way for understanding those works and their makers.
"Objects Redux: 50 Years After Objects: USA Defined American Craft" at RAM investigates the legacy of this powerhouse project. While it could be argued that other things certainly helped to outline craft within the field, the entirety of the "Objects: USA" project helped to articulate what craft could mean to those not yet versed in the conversation. Utilizing works borrowed from area lenders as well as work from RAM's collection, "Objects Redux" at RAM blends works — for the first time — from the original exhibition with pieces by many of the same artists produced as part of the accompanying selling program, "Arts/Objects: USA."
This is a juxtaposition that underscores the complicated dynamic between craft's history as multiple, functional objects and its shift to include content-driven singular works. At its core, "Objects: USA" marked a historical moment that involved artists and issues still relevant today. To provide reference, a section of this RAM exhibition features historical photographs and articles as well as a continual screening of "With These Hands," the movie produced by SC Johnson that documents eight of the artists included in the exhibition. In addition, the "Objects: USA" book is highlighted in the galleries and is available for sale in the RAM Museum Store.
In order to frame this conversation on a broader level, RAM's other galleries are filled with the museum's collection works from the time preceding the "Objects: USA" tour as well as those made almost a decade after. While "Objects Redux: Clay, Glass, and Metal" looks at comparisons and contrasts in approaches with certain media, "Objects Redux: Small-Scale Craft" turns the clock back even further and focuses on function-based objects produced in the decades leading up to "Objects: USA."
Establishing a framework for understanding relationships between different approaches and materials, "Objects Redux: Studio Craft in Context" blends craft with two-dimensional paintings and works on paper throughout the galleries, including works by Dale Chihuly, Ruth Duckworth, Arline Fisch, Elsa Freund, Sheila Hicks, Michael Jerry, Cliff Lee, James Lovera, Joel Philip Myers, Harry Nohr, June Schwarcz, Arthur Secunda, Art Smith and Toots Zynsky.