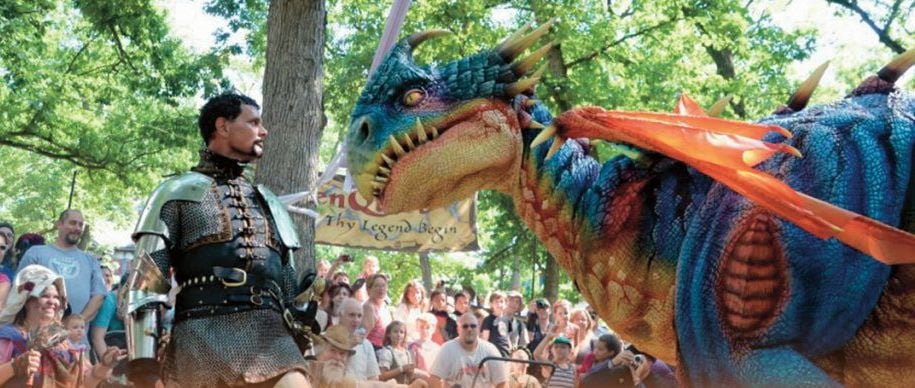 KENOSHA — The 32nd annual Bristol Renaissance Faire will be open rain or shine from 10 a.m. to 7 p.m. Saturday through Monday, Aug. 31-Sept. 2. The grounds are located at 12550 120th Ave., just west of Interstate 94's Russell Road.
This summer's faire promises the same perennially popular compliment of 16th Century merriment, music, food and games.
Craft brews, ciders, cocktails, teas and other beverages complement one of the dozens of items offered throughout the shire including vegetarian and gluten-free options and, of course, the iconic turkey leg.
Kids' Kingdom provides a welcome respite for families to escape the bustle of the main lanes and enjoy a fantasy world specially designed for little hands and curious minds.
The 16 entertainment stages feature nonstop music, feats of daring stunts and an eclectic assortment of comedic performers who invite their audiences to become part of the act. Joining Faire favorites, including Dirk and Guido, the comedic sword-fighting duo known as The Swordsmen, ropewalker, juggler and foolish mortal MooNiE the Magnif'Cent, fire whip artist Adam Crack, the Barely Balanced acrobatic comedy troupe, the Sturdy Beggars Mud Show, the trained rat and confused cat show, and the gut-busting antics of the Washing Well Wenches. Musical guests are also featured.
Bristol's Marketplace features nearly 200 artisans offering wares ranging from swords and handmade chain-maille to Scottish kilts, handcrafted leather masks, tapestry wall hangings, sterling silver jewelry, hand-caned brooms, bamboo flutes, Steampunk adornments, soaps, costumes befitting royal or knave and floral wreaths for the hair. Many artists will demonstrate their work.
Tickets cost $25.95 for adults, $11.50 for children ages 5-12. There is no charge for children ages 4 and younger. Discount tickets are available in advance at renfair.com, all Menards stores or by calling 847-395-7773.