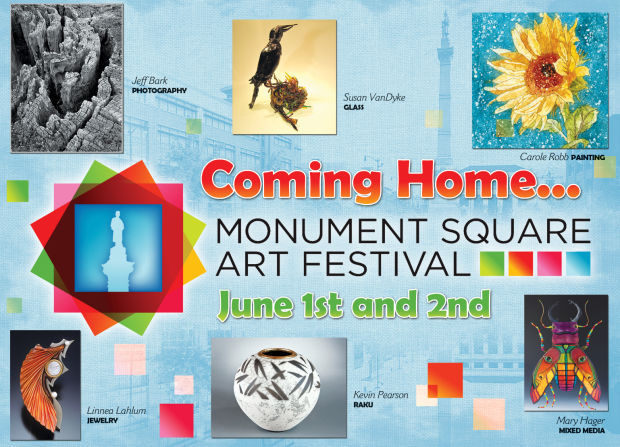 Art on Monument Square has come full circle. On June 1 and 2, the new Monument Square Art Festival will bring at least 60 artists and their creations — as well as live entertainment and activities for young artists — to Downtown's historic square. And, in doing so, this year's revamped art fair carries on a city tradition whose roots were first planted on the square in 1962.
Originally organized as a way to attract people to Downtown businesses, the MSAF started out on Monument Square; later moved to the YMCA on Lake Avenue; and then returned to Monument Square, before heading to its most recent home at Festival Hall. After many years at the festival site, the nonprofit organization running the fair ceased operations last summer, citing economic difficulties that included keeping up with the site's rental fees. Soon after, several local artists — Jeff Shawhan, Chris Sklba and Marj Lacock (with husband, Roger) — joined forces with the Racine Arts Council to recreate the fair and expand its scope to become the Monument Square Art Festival.
The result will be two days of art and arts activities on and around the square for the entire community to enjoy. In addition to its displays of juried artwork in a variety of media — by artists from throughout the Midwest and beyond — the festival will include performances by musicians Mark Paffrath, Serita Cheeks, Matt Haeffel, Carol Christensen, the Belle City Brassworks and student ensembles from the Racine Unified School District.
There will also be a special "MSAF for Kids" area on Fifth Street, where organizations including the Racine Theatre Guild and the Racine Art Museum will provide free, hands-on activities. Fifth Street will be closed to traffic for the event, according to Denise Roberts McKee, executive director of the RAC. And kids of all ages are welcome to join the RTG in theater warm-up exercises, or express their creativity with projects from the art museum's RAM on the Road team.
Also in the kids' area, the Arts Council's LINK Musical Instrument Petting Zoo will offer the opportunity to learn about various musical instruments. Members of the Racine Symphony Orchestra will be on hand to share their knowledge of the instruments, as well as their experiences as musicians, McKee said. There will also be student artwork on display, and young artists from the RUSD will do interactive chalk drawings.
The overall goal of the new festival is "to promote a sustainable Racine, inviting art-fair enthusiasts of all ages from throughout Racine County (and beyond) to visit our beautiful Downtown and experience a weekend celebration of the arts," according to organizers. And it has been a coordinated effort by many people that has made the event viable, according to McKee.
In addition to the core group of local artists working with the Arts Council, there are many others who have contributed to the festival. Local artist Ken Cimbalnik, for example, created all of the new promotional graphics "out of the goodness of his heart," McKee said. And more than two dozen area businesses, organizations and individuals helped sponsor the new event, with either funding or in-kind services (full list of sponsors at www.monumentsquareartfest.com).
"We are really fortunate to have had such tremendous support from community sponsors," she said.
Organizers are also grateful to the former Monument Square Art Fair organization, which donated funds left in its account to the new festival, according to McKee. "We earmarked those funds as seed money for this event," she said. "And it was with their help that we were able to give birth to this new event."
Some longtime participating artists are glad to see the art fair get new footing, as well. Don Vander Leest, who has been exhibiting paintings at the MSAF since 1970, said he appreciates the new organizers stepping forward to handle the event. The MSAF not only has a record of being a beautiful show, but a successful one, said the artist who specializes in depicting area historic sites. "I consider it one of my best shows."
While he and other area artists say they will miss some of the Festival Site's advantages — being under cover and having on-site parking — they seem grateful for the chance to still be involved in one of Racine's longest-running art traditions.
Metal sculptor Bill Reid said it is kind of exciting to see the fair return to Monument Square — a move he thinks might give the event more of a local identity. In addition to being a good venue for showing and selling art, the MSAF is a great social event, where Reid says he is able to connect with people he may only see that one weekend each year.
"I'm happy it's still happening, and I hope the community will come out and support it so that it can continue and grow," he said.
---
WHAT: Monument Square Art Festival
WHEN: 10 a.m. to 5 p.m. Saturday, June 1 and 10 a.m. to 4 p.m. Sunday, June 2
WHERE: Downtown's Monument Square, along Main Street between Fifth and Sixth streets. An "Art Pick-Up" area will be available along the Main Street side of the square, where MSAF patrons can drive up to retrieve artwork purchases.