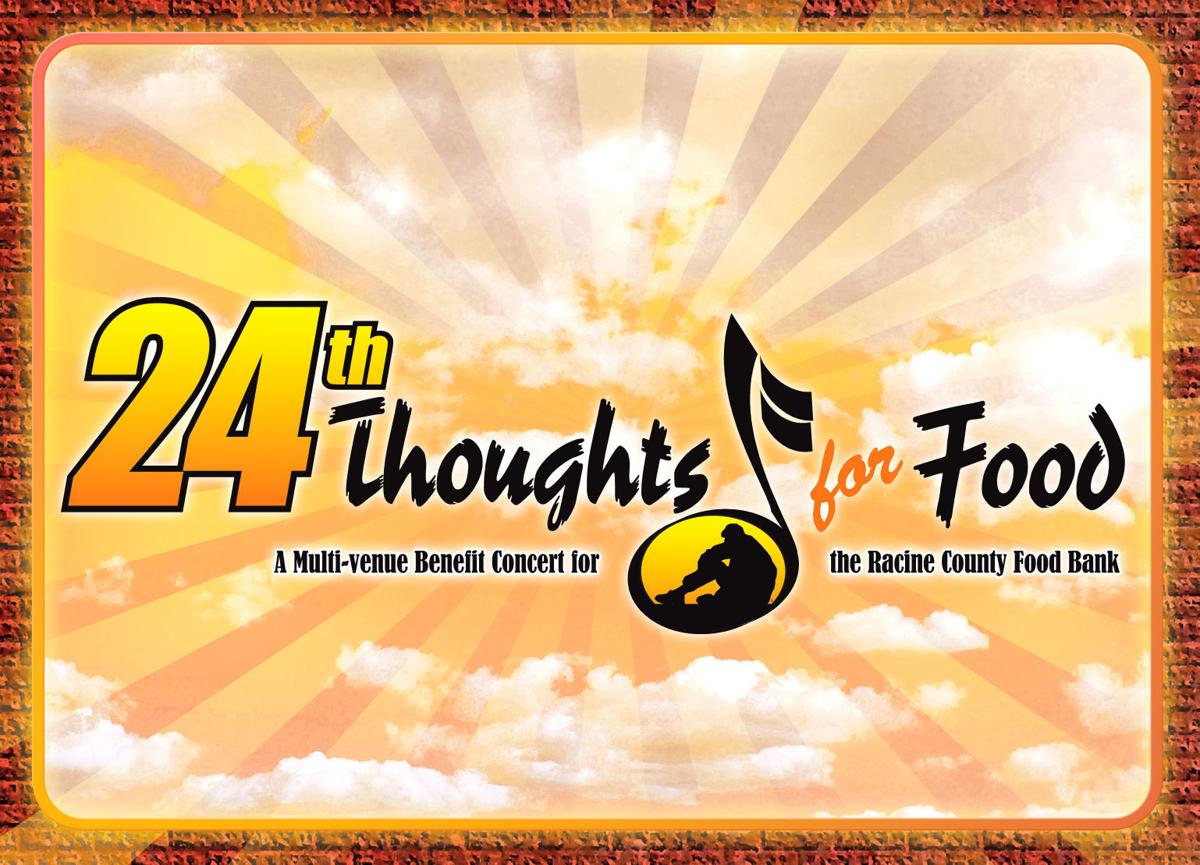 They've done it again. Organizers of Racine's annual Thoughts for Food event have managed to pack close to 50 different musical acts into one night of entertainment and goodwill on Saturday, March 5.
From 7:30 that night until the wee hours of the next morning, music fans can hear everything from rhythm and blues to folk, jazz, country and just about any kind of rock music at the 15 participating TFF venues in the Downtown and Rivernorth areas. And those who purchase their tickets before noon on March 4 will get admission into all 15 venues, all night long, for just $10, plus two nonperishable food items.
Even those tickets purchased on event day, at a cost of $15 each, are a bargain. In addition to the entertainment, every ticket holder also gets a bonus of knowing that the money they've spent will go toward reducing hunger in our community.
Thoughts for Food is the single largest fundraising event each held for the Racine County Food Bank, according to Dan Taivalkoski, executive director of the RCFB (www.racinecountyfoodbank.org). Last year, more than $15,000 was donated to the Food Bank by Thoughts for Food, bringing the total amount of funds raised by the event since its inception to nearly $390,000.
And one of the reasons TFF can be so generous is that almost everyone involved — from the performers and sound technicians to the ticket takers and the organizing committee — volunteers their time and energy to the cause.
Worthwhile work
The charitable component of Thoughts for Food is what Mike Boldus, co-chair of the TFF planning committee, said has kept him involved with the project for the last 18 years. While some people like to write a check, Boldus said he prefers doing hands-on charity work.
"And heaven knows the Food Bank is a worthwhile charity," said Boldus, a Vietnam veteran who first connected with TFF through the local veterans chapter which helped found the event. "There is a profound need for this kind of thing in our community."
It is a need that Boldus co-chair, Ruth Thielen, said she can relate to personally.
"At one time in my life, when things were rough, I got a food basket from a friend and that really moved me," said Thielen, who has volunteered with TFF for more than 10 years, usually working the door at George's Tavern.
She said she feels honored to be part of the team of more than 100 people who come together and give their time to help combat hunger each year.
"We have six or seven volunteers at every venue, plus all the bands who are donating their time," she said.
Volunteer opportunities with TFF range from once-a-year event commitments to serving on a committee, and anyone interested can connect with organizers through the website at www.thoughtsforfood.org (click the Volunteer button).
"If you are motivated and willing, we will find a spot for you," Thielen said.
Time to listen
This year's TFF lineup features three acts at each venue (a couple have more), with each one performing a 90-minute set. Introduced a couple years ago, the longer play times by each group have brought positive feedback from both performers and listeners, said Tracey Larrin, head of the TFF band/sound committee.
People seem to enjoy having more time to hear each band, Larrin said. And if there are two groups you want to see who playing at the same time in different venues, the longer sets make it possible to catch both.
"With everything being so close together, you could easily see two bands in one time slot," she said.
Those who don't want to walk between venues can take advantage of the free TFF shuttle service. Four yellow school buses will run among all venues throughout the night, and the only requirement to ride is a TFF wristband, and — as the website requests — that you "Sit down and behave!"
Thoughts for Food's outdoor eatery will also be available to patrons, on Hamilton Street between George's Tavern and the Eagles Club. That portion of the street will be closed off to traffic, and Captain John's Sammys & Such will be cooking burgers, brats and more for sale.
Younger music fans can also get in on the TFF action on Friday night, March 4, with the All Ages Event, which will run from 5:30 to 10:30 p.m. at the Eagles Club, 319 Hamilton St. It will feature seven acts and admission is $5 plus two nonperishable food items (see accompanying box for details for details).
For more information about TFF, including a map of venue sites and the most-up-to-date schedule, go to www.thoughtsforfood.org.