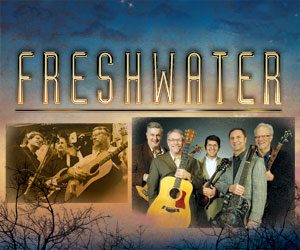 Bluegrass is what brought the musicians of Freshwater together. The five-piece band, which will celebrate its one-year anniversary this week, consists of area musicians who share a passion for the form of American roots music that grew out of songs played by Scottish, English, Welsh and Irish immigrants. 
Harvey Riekoff, Ryan Hanley, Doug Clum, Bill Garvey and Dennis Waltman each fell in love with bluegrass at different points in their lives. And they bring years of various musical experiences and influences together in Freshwater, which they say plays "contemporary and traditional bluegrass music, as pure as a mountain stream."
The group - which will be featured at the Yardarm Bar & Grill on Saturday night, Dec. 17 - is somewhat of an off-shoot from Cream City Bluegrass, a southeastern Wisconsin band which both Riekoff (banjo) and Hanley (mandolin) played with until its recent disbandment. Looking to do something a little different in the bluegrass realm, the two began rounding-up musicians with similar interests and the result is a band whose vocal harmonies, creativity and devotion to its craft are its hallmarks.
"One of the things that makes it work is that there is a lot of balance between us," said Hanley, who is originally from Baltimore and now lives in Milwaukee. "We do a lot of harmonies and, at any given time, everyone sings lead. We are able to showcase different people at different times. And we really take pride in mixing it up vocally and instrumentally."
Riekoff, who has been playing banjo for more than 40 years, said he likes the fact that Freshwater not only plays traditional style bluegrass, but more contemporary music as well. "We really take some chances with some of the songs," he said.
When one of them suggested they include the '70s hit "Ride Captain Ride" in their repertoire, for example, Riekoff said his first thought was "How in the world are we ever going to make this work in a bluegrass band?" Yet, that's exactly what they did, much to the delight of their audience.
"We want to do stuff that's fresh and challenging and fun," said Riekoff.
"It's not just fun for us, but for the audience, because they recognize the song," said Hanley, whose love for the mandolin dates back to his college days in Chicago.
Whether they are playing traditional bluegrass or more contemporary tunes, music isn't the only thing holding this group together. Each brings his own set of set of talents to the mix, and there is a chemistry between them that all five truly appreciate.
"This is my dream band," said Clum, the bass player who, having performed mostly jazz, rock and classical music in the past, calls Freshwater his chance to "come out of the bluegrass closet."
"I knew these personalities would click," he said.
A principal in the Racine Unified School District, Clum is one of three educators in the band - the other two being Riekoff, a retired RUSD teacher and coach, and Hanley, a university professor in Milwaukee. They, along with Garvey, who works in pharmaceutical sales, and Waltman, who is employed by Harley-Davidson Inc., all come from different backgrounds. Yet when they get together to play music, everything seems to "fall into place," said Garvey, Freshwater's guitar player, whose been "hooked" on bluegrass since his high school days.
"We all do arranging, and every song we do kind of has an evolutionary life to it," Garvey said. "This is a collaborative effort."
"Everybody pulls his weight in this band," said Riekoff.
And while Freshwater takes its music seriously, its members also bring a healthy sense of humor to their rehearsals and performances.
"It's usually at the banjo player's expense," said Waltman, a Waterford resident who plays a vintage, resophonic guitar (Dobro) with the band. "Doug has a lot of banjo player jokes."
"Kidding around with this band is really easy, because everyone has so many faults," Riekoff shot back with a smile.
Such good chemistry isn't always easy to come by in a Bluegrass band - especially in Wisconsin, where there just aren't many bluegrass musicians available, said Hanley, who has also played in bluegrass bands in Chicago and Minneapolis.
"To put together musicians who play all the instruments is one thing," he said. "To also put together musical personalities with this kind of chemistry is fairly unique."
If you can't make this weekend's Freshwater show in Racine, the band will also play Paddy's Pub, 2339 N. Murray St., in Milwaukee on Friday, Dec. 23. They have also been booked to play at the East Troy Bluegrass Festival, in East Troy's village square, in September 2012. And, in the meantime, they are starting to play other points north and west of Racine, Riekoff said.
Look to future editions of Out & About for more info on these and other shows, and check the band's website at www.freshwaterbluegrass.com.
WHAT: Freshwater bluegrass band
WHEN: 7 to 11 p.m. Saturday, Dec. 17
WHERE: Yardarm Bar & Grill, 930 Erie St.