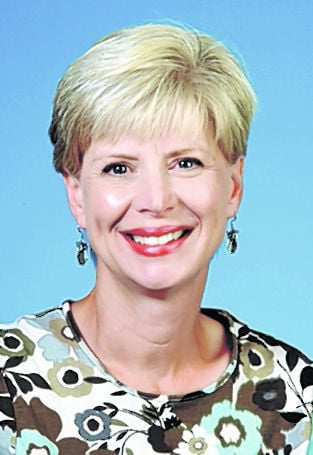 My home has a long needle pine tree that has lost an excessive number of needles this season compared to previous years. I noticed that there is a white scale on the needles — both last years' and the current growth. Is this responsible for the needle loss? A neighbor across the street has a needle loss issue too, but his tree is not showing this white scale. Is there something that I can do to treat the scale? — Mike, Mount Pleasant.
Pine needle scale is an interesting little insect that feeds continuously on the sap of the pine needles. It is commonly found on eastern white pine, mugo pine, Austrian pine, and Scots pine, but a less preferred host is spruce trees. If white flecks/spots are seen on an evergreen's needles, there is a good chance it is pine needle scale.
What you are seeing is the insect's white scale shell that is formed once it finds a good location to insert its feeding tube into the host plant tissue. Once it starts feeding, the insect stays in that location until it dies and its babies crawl out in the spring. While the plant is dormant and the temperatures are mild, not below freezing, not above 50 degrees, the pine can be sprayed with either an ultra-fine oil or lime-sulfur. These products will penetrate and/or seal the scale shell which kills the insect underneath, but if the infestation is heavy, some will survive.
The second time to treat is in spring when the crawlers, the baby scale insects, emerge from under the mother insect scale and start moving around to find a new home of their own. These crawlers are very susceptible to a number of different pesticides. An organic option would be insecticidal soap, but the spray must be timed to coincide with the crawlers actively moving around on the plant but before they set down their scale shell. Insecticidal soap works well if it comes into direct contact with the crawlers, but does not have any residual.
Other organic insecticide products that work are those that contain pyrethrin. The synthetic versions of that insecticide are those containing permethrin, bifenthrin, cyfluthrin, deltamethrin and others. Another option would be to use the systemic insecticide imidacloprid. This chemical is used for borer infestations, so can be found in a number of ornamental plant products. It is imperative that you read the label carefully before purchasing any product to make sure "pine" and "pine needle scale" are on the label. Follow all label directions for the best effectiveness and for safety.
You have free articles remaining.
Insects are strongly influenced in development by temperature, or more accurately, the accumulation of "heat" or "growing degree" days as spring progresses into summer. These units of heat or growing degree days are calculated based on the high and low temperatures each day throughout the year, and those units coincide with flowering, leaf emergence, and insect development. One of the scientific techniques we use to teach people when the best time to apply insecticides called "phenology" which is the science of climate influence on recurring annual phenomena in animals and plants.
It so happens that the crawlers for pine scale emerge about the time that bridal wreath spirea (Spirea x vanhouttei) is in full bloom, or about 250-500 degree days. You can look up growing degree days on line for your particular location, you can scout for the crawlers on your pine tree, you can watch for the bridal wreath spirea to bloom, or do a combination of all three to determine when to apply an insecticide.
The second time to apply an insecticide is when the second generation of crawlers emerge much later in the summer. If this generation hatches, it would be around 1,600 to 1,700 growing degrees which coincides with the 'Grandiflora' hydrangea flowers turning from white to green. You can read more about diseases, insects, phenological indicators, and control measures in the UW-Extension Bulletin A3597, "Woody Ornamentals Pest Management in Wisconsin" found at the Learning Store website: http://learningstore.uwex.edu/Assets/pdfs/A3597.pdf.
You can read more about trees and insects on our UW-Extension Wisconsin Horticulture website at http://hort.uwex.edu.
More questions?
Master gardener volunteers serving as plant health advisers are able to answer your questions at mastergardeners@goracine.org or by calling the Horticulture Helpline at 262-886-8451 (Yorkville).
Dr. Patti Nagai is the Horticulture Educator for Racine County UW-Extension. Submit your questions for The Journal Times Q&A column to Dr. Nagai at Patti.Nagai@goracine.org and put "Question for RJT" in the subject line.