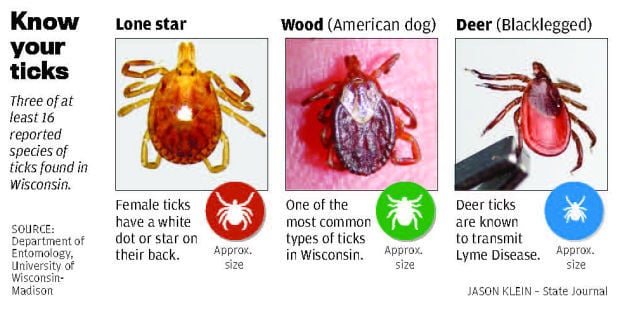 MADISON — An aggressive tick that can cause a disease marked by fever, fatigue and possibly an allergy to meat is showing up this year in Wisconsin like never before, a UW-Madison entomologist said Monday.
One human case of the disease has been reported, in northwest Wisconsin's Barron County, health officials said. It's a type of ehrlichiosis that is relatively new to the state.
A dozen of the ticks, known as lone star ticks, have been reported this year despite no formal effort to find them, UW-Madison entomology professor Susan Paskewitz said.
"It says to me there actually must be thousands and thousands of them out there," Paskewitz said. "I'm really suspicious now that we may have established populations that are capable of making it through some of our winters."
The Barron County resident sickened in May is Wisconsin's third confirmed case of a type of ehrlichiosis associated with lone star ticks, said Diep Hoang Johnson, vector-borne epidemiologist with the state Department of Health Services.
The other cases were in Chippewa County in 2008 and in Eau Claire County in 2011. Other recent cases of ehrlichiosis in the state have been a type of the disease associated with deer ticks, which can also transmit Lyme disease, Johnson said.
Given the Barron County case and Paskewitz's findings about lone star ticks, the lone star type of ehrlichiosis "is definitely an emerging disease in Wisconsin," Johnson said.
Ehrlichiosis can cause fever, fatigue, headache, muscle pain, confusion and a rash, among other symptoms. In about 2 percent of cases, the disease is fatal, according to the Centers for Disease Control and Prevention.
Symptoms generally appear one to two weeks after a tick bite, the CDC says. The disease can be treated with antibiotics.
In rare cases, the infection is thought to cause a meat allergy, called alpha-gal, that can result in a dangerous hive-like rash or anaphylactic reaction, according to research presented last year at the American College of Allergy, Asthma & Immunology's annual scientific meeting.
Alpha-gal is a carbohydrate found in beef, lamb and pork.
Johnson, the state health department epidemiologist, said she didn't know if any of Wisconsin's cases involved the meat allergy. The link between the disease and the meat allergy is based on preliminary research, she said.
Unlike wood ticks or the deer ticks that can cause Lyme disease, lone star ticks don't sit on vegetation waiting for humans to brush up against them, Paskewitz said.
"The lone star ticks are actually hunting," she said. "They take off running for you."
The ticks' name stems from their abundance in Texas, the "Lone Star State," and other Southern states, Paskewitz said. Also, the female tick has a white spot on the back. They're also found in the Northeast.
UW-Madison's first report of a lone star tick in Wisconsin was in 2006, with one reported in Dane County two years later and one to five reported statewide each year since then.
Paskewitz said she was looking for deer ticks this summer in Price County, in north central Wisconsin, when she found a lone star tick in rural swampland. The discovery challenged the notion that the ticks only get here by hitchhiking on people or pets that travel south.
"I couldn't believe it, out in the middle of nowhere," she said.
Paskewitz found another lone star tick on her daughter's arm a few weeks ago, likely picked up in Madison, she said.
Adult and nymph-stage lone star ticks have been found in Madison. If larva-stage ticks are also found in the same area, it would show that the ticks can survive a winter here, Paskewitz said.
Deer tick and wood tick populations are also up this summer in Wisconsin, she said.
Lyme disease, ehrlichiosis and other tick-borne diseases, such as anaplasmosis, involve many of the same symptoms, so it's important that medical providers consider each condition when testing patients, Paskewitz said.
"We worry that doctors aren't really thinking about (ehrlichiosis) as a possible condition," she said.