There is no denying that 2020 hampered activity levels. With Zoom meetings, Netflix binges and virtual cocktail hours, increased sitting is a pandemic-driven reality for many. And studies abound citing the myriad health risks of prolonged sitting.
But there is good news. Despite all that sedentary time, with as little as 11 minutes of movement a day, you can increase your life span, a recent study has found.
Past studies, including a popular study from 2016, had originally put the daily exercise target at 60 to 75 minutes for mortality benefits. However, that study was based on self-reported data, which this latest study, published in the British Journal of Sports Medicine, found to be flawed due to people not remembering their actual activity levels.
Taking a more objective approach, scientists at the Norwegian School of Sports Medicine based their research on the use of activity monitors to track exercise versus sedentary time. The results showed that participants who exercised 35 minutes per day saw the biggest statistical difference on life span. Yet just 11 minutes of moderate exercise — equivalent to a brisk walk — still had a noticeable positive impact. What's more, both time frames were positively impactful, regardless of the amount of sitting.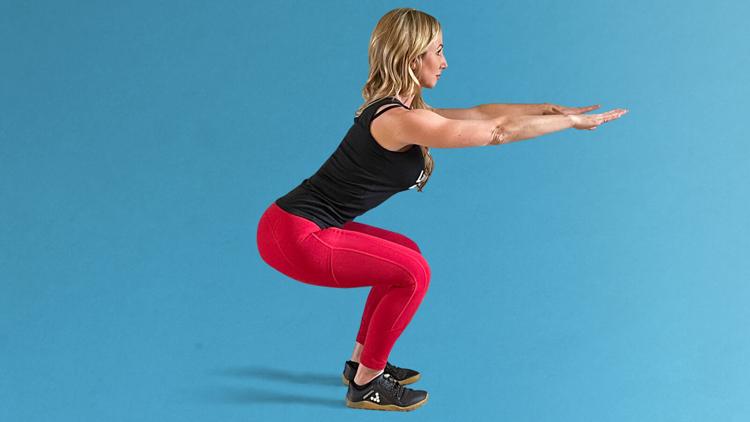 While 35 minutes of exercise daily is better for your health, a lower barrier to entry makes it easier to get even the most inactive among us moving.
The simplest way is with a walk outside or on the treadmill at your local gym. Walking is one of the best exercises. With winter weather keeping people inside and COVID-19 regulations limiting access to public gyms, more creative, accessible means may be necessary to effectively get in your 11 minutes at home. Below are a few ways to consider.
Important note: If you experience pain while performing any of the exercises, stop immediately. Check with your doctor before beginning any new exercise program.
Do 4 sets of a 3-minute body-weight exercise sequence
Four rounds of three minutes add up to 12 minutes, but it's OK: You can handle the bonus minute. Depending on the exercises you use, you may go at a slightly different pace during each round, making it about 11 minutes.
When selecting your exercises, try to pick a sequence of movements that will equate to a full-body workout of moderate effort. For instance, avoid doing only upper-body movements unless you plan to do lower-body movements the next day.
Ideally, do a combo, like the example below, determining the number of repetitions for each exercise based on your fitness level and maintaining a three-minute sequence for the time frame.
Sample three-minute exercise sequence:
10 to 25 push-ups
25 to 40 body-weight squats
One minute of jogging in place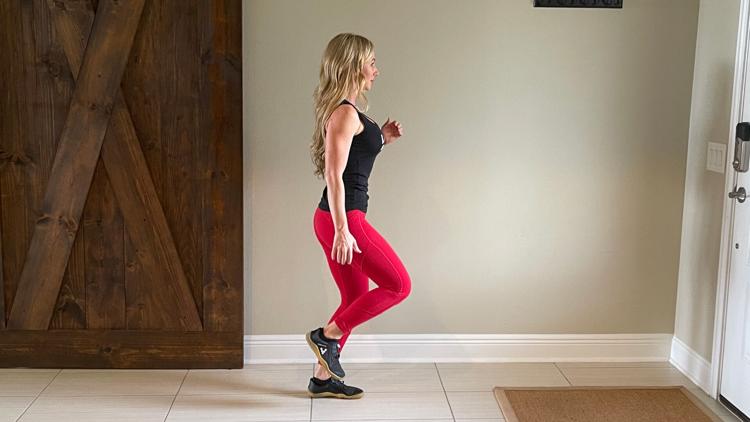 Practice a yoga flow
Yoga can be a great way to get your body moving while also relieving stress and fostering your mind-body connection. If you've been practicing yoga for a while, you should be able to unroll your mat, set a timer for 11 minutes and go through some sun salutations or any number of combinations of your favorite yoga poses.
If you're newer to yoga, no worries. A quick search of "11 minutes of yoga" on YouTube offers multiple free options for you to follow along.
Avoid 5 common mistakes when working out at home
Exercising at home? Here are five ways you might be screwing up your workouts — and how to avoid common pitfalls, courtesy of the Chicago Tribune.
Overtraining
"What we observed over the quarantine period is that a lot of people resort to randomized programs — stuff they see on social media or stuff their friends are doing — that they simply aren't ready for," said Clifton Hempstead, personal trainer and co-founder of Anthos Training Clubs.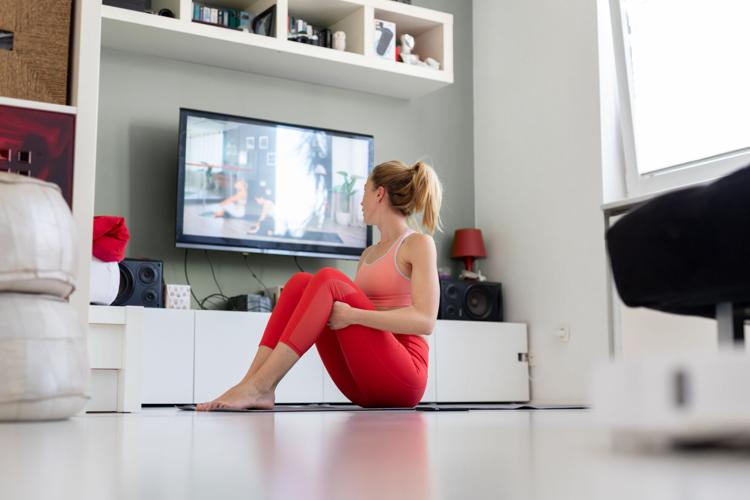 Hempstead said a lot of these programs are high-intensity and designed to make you feel exhausted. Instead, he said you should seek out a program that is working toward a goal, with exercises you're capable of doing.
"A lot of people shouldn't be jumping around and moving side-to-side," Hempstead said. "They're doing all these exercises that they haven't developed the prerequisites for."
Training beyond your limits can result in injury, he said: "You might develop tendinitis in the knees; you might hurt an ankle," he said. "Those (high-intensity) workouts are meant to beat you up, and that's fine every once in a while, but to do that constantly ... can be a recipe to hurt yourself."
Weightlifting
Alysha Bazan, trainer and fitness director at CrossTown Fitness, said weightlifting is one of the most common exercises she sees performed incorrectly — especially deadlifts, in which people will sometimes round their back while lifting.
"Take your time and don't rush through the movement. Make sure that you're stabilizing your core," she said. "Make sure you're doing the form properly without the weights first before loading it up."
Home exercisers may not know how to plan a workout either, Bazan said: "Like, not knowing the proper exercises to pair together, especially if they're loading up the weight, or how many reps and how many sets that they're doing."
Bazan said you can lift safely at home, and it might not require as much equipment as you think. "It seems like a lot of people have like one or two pieces of equipment at home — which is great and you can do a lot of things with the one piece of equipment," Bazan said. "Especially if people have one dumbbell or one kettlebell, you can do a lot of single-sided exercises."
Watch your form
A lot of home workout programs that don't require equipment include exercises such as planks, squats, push-ups and sit-ups. But having bad form can lead to injury, said Alex Nsiah-Kumi, trainer and owner of Paramount Personal Training.
When doing squats or lunges, your knees and toes should be going the same direction. "So that, long term, your knees don't start bothering you," he said. "Rep after rep, doing it wrong adds up."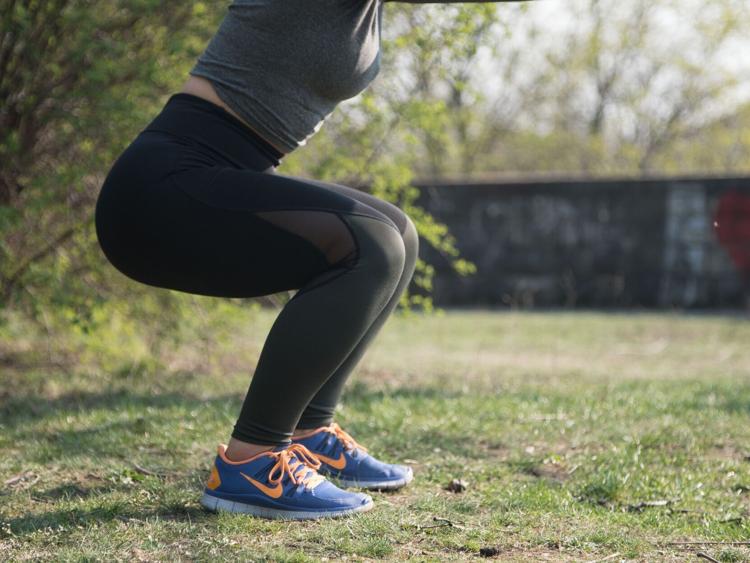 Planking can be hard on your lower back if you're not doing it right, Nsiah-Kumi said. "Make sure it's not going into your lower back at all. It should be more of a core thing. There should be no lower back tightness or pain."
If you can't perform an exercise, find a variation that scales it back to a point where you can have less pain, he said.
Yoga
Yoga is best done in the presence of an instructor, said part-time Chicago yoga instructor Whitney Katz. But that's not always possible, even in in-person classes, she said: "Not being watched properly by a teacher has hurt me more than it's helped me."
Katz recommends making live, virtual classes part of your at-home yoga practice, especially if you're a beginner. Even over the internet, having an instructor watching can help you tune the poses to your body.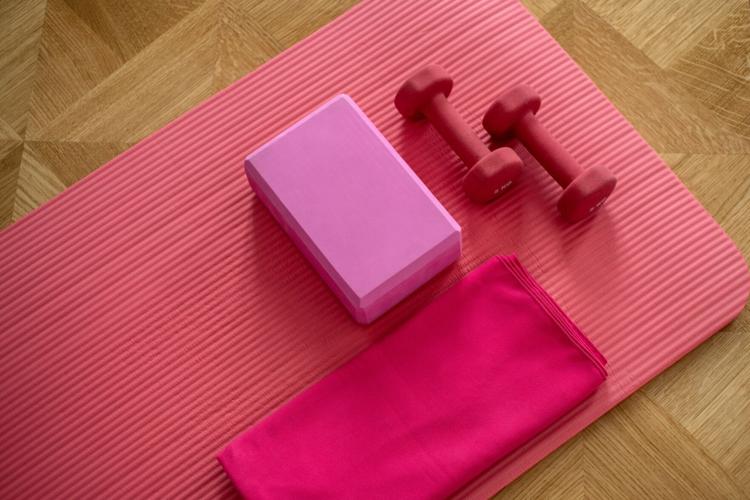 "There's not an ABC of bodies," she said. "We all have different anatomy, and what might feel great for one body might feel horrible for another."
But if you'd rather learn yoga through YouTube videos, Katz said it's important to take it slow. "'Beginner' doesn't always mean gentle," she said. "You can get into some pretty complicated things in a beginning class."
Katz said many video classes don't offer modifications of poses that might make them work for different bodies.
"If something doesn't feel right, and you're taking a prerecorded class, back off," she said. "Don't go as far."
Listen to your body
"You certainly are at risk for injury any time you exercise," said personal trainer Shane Schroeder. "You want to check with your doctor to make sure it's safe to start an exercise program."
Schroeder also recommends getting a trainer who can help you virtually. His service, Train With Shane, delivers his programs to clients through an app and he follows up with weekly coaching calls. People who use a free online program for fitness should do so with caution, he said.
"Listen to your body," Schroeder said. If the pain goes beyond normal muscle burn or fatigue into joint pain, you might be injuring yourself. "Let your body be your guide."
How much every state spends on public health
#24. Arkansas
#20. Pennsylvania
#19. New Jersey
#18. Alabama
#17. Delaware
#16. Michigan
#15. South Carolina
#14. Mississippi
#13. Vermont
#12. Iowa
#11. Connecticut
#10. Wyoming
#9. Missouri
#8. Virginia
#7. Utah
#6. New Mexico
#5. Washington
#4. Oregon
#3. Hawaii
#2. Washington D.C.
#1. Kansas
#51. Arizona
#50. Indiana
#49. Idaho
#48. New Hampshire
#47. Minnesota
#46. Tennessee
#45. Illinois
#44. Louisiana
#43. Nevada
#42. South Dakota
#41. West Virginia
#40. Maine
#39. Georgia
#38. Alaska
#37. Nebraska
#36. Florida
#35. Colorado
#34. Montana
#33. North Dakota
#32. Rhode Island
#31. Maryland
#30. Oklahoma
#29. North Carolina
#28. Massachusetts
#27. Texas
#26. California
#25. Ohio
#23. New York
#22. Wisconsin
#21. Kentucky
The-CNN-Wire
™ & © 2021 Cable News Network, Inc., a WarnerMedia Company. All rights reserved.