Farmer and agronomist Jay Ruskey defines fringe as being "on the edge, but still connected." To tailor and apply the term to his burgeoning Southern California network of coffee farms, he aptly decided to change the spelling to FRINJ.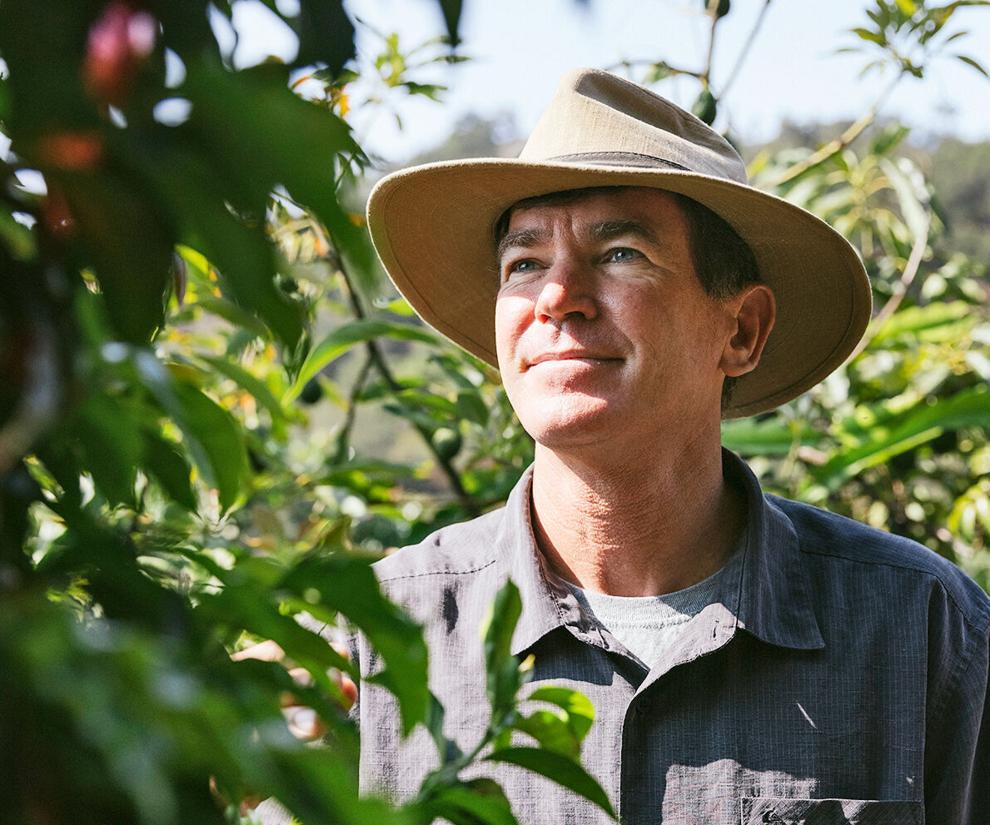 "We're growing coffee outside its traditional region and implementing new technologies to produce it," he explains. "We push ourselves to the cutting edge of the industry, so I think 'FRINJ' is a good description for what we're doing."
Today, Ruskey runs Good Land Organics, home of FRINJ Coffee, the first commercial coffee farm in the continental U.S. How did he pull it off? A little bit of science and innovation, and a lot of avocados.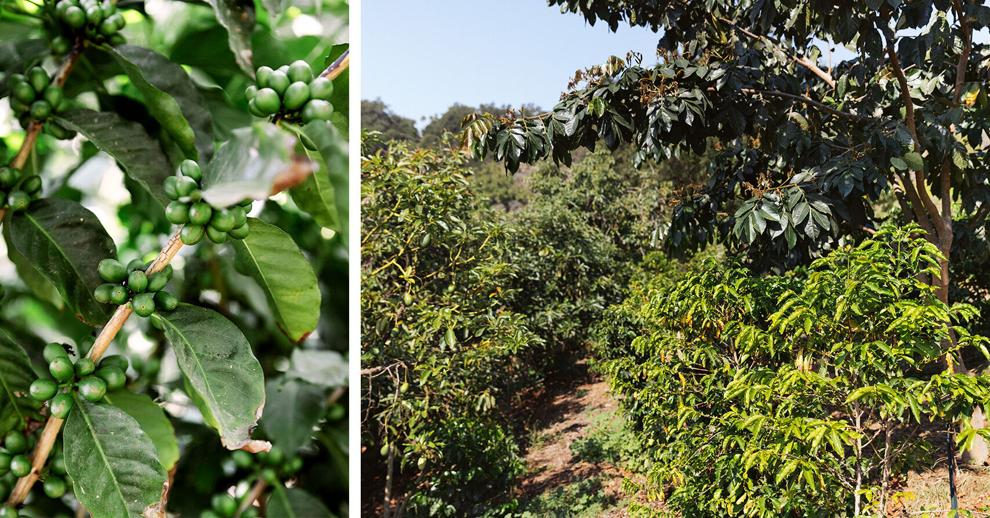 ---
The origins of California coffee
Coffee trees traditionally require a consistently humid, tropical climate to thrive, putting most of the United States out of consideration for planting. However, with a degree in agriculture from California Polytechnic State University in San Luis Obispo and a family farming background in growing rare and exotic fruits like cherimoyas, passion fruit and caviar limes, Ruskey embraced the challenge.
"I was always a tenacious young kid who loved growing anything!" he laughs.
While participating in a lychee adaptation study through the University of California small farm extension service back in 2002, Ruskey was responsible for bringing in crops and placing them at local farms. During the study, adviser Dr. Mark Gaskell gave Ruskey some coffee plants he'd propagated. Ignoring the cynics who told him growing coffee in California was next to impossible, Ruskey started interplanting the shrubs with avocado trees on his Good Land Organics farm near Goleta.
"Coffee and avocado have a lot of the same soil nutrition needs and irrigation requirements, so it made sense to plant them together," he says. "It's really one of the first successful companion cropping systems I've seen in California."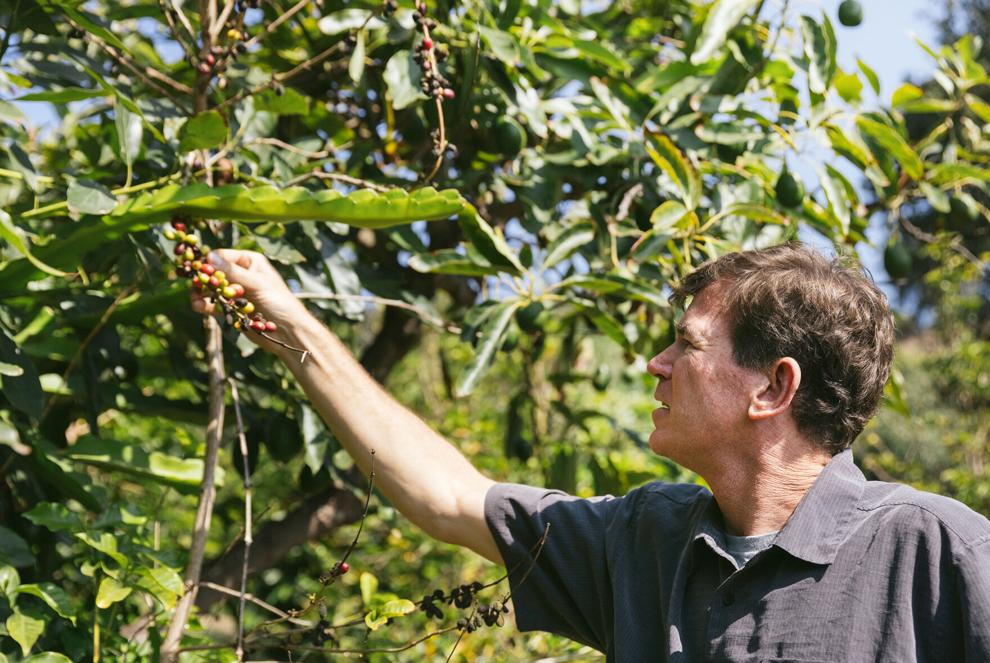 ---
Growing a new industry
After some trial and error, Ruskey's coffee crop started to flourish. In 2017, he officially established FRINJ Coffee, Inc. His overriding goal? To establish Southern California-grown coffee as a profitable niche crop and a high-quality consumer product.
As the coffee has grown, so has Ruskey's network of farms. FRINJ now counts more than 70 California producers among its ranks devoting 100 acres in total to coffee on spreads located between the Central Coast and San Diego. Ruskey himself provides consultation on the benefits of complementing each farm's existing portfolio with a value-added coffee crop. While counts vary by farm, there are on average 1,000 coffee trees per acre.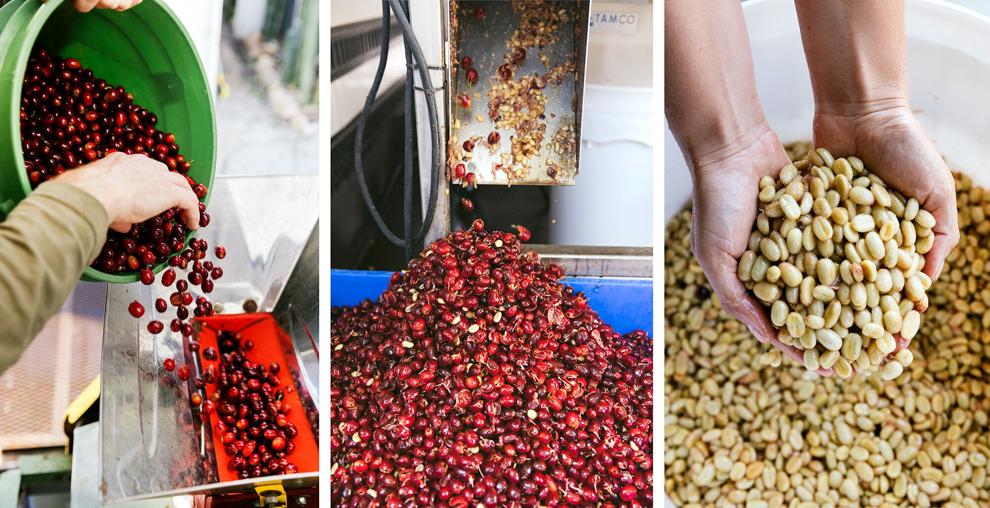 In 2020, FRINJ farmers harvested just over 20,000 pounds of coffee cherries, which processed down to 2,000 pounds of green coffee beans ready for roasting. Santa Barbara, San Diego, Ventura and Los Angeles led the charge as the main counties of origin.
The coffee plants are propagated in a nursery; once in the ground, the first viable crop happens in year three or four with the trees reaching full maturation in year five. The trees flower in the summer, with the fruit — coffee is a member of the cherry family — ripening throughout the winter until harvest the following year.  
"It's unique to California that we harvest in the summer, and the tree is also flowering in the summer," Ruskey says. "The long maturation period results in a very sweet fruit."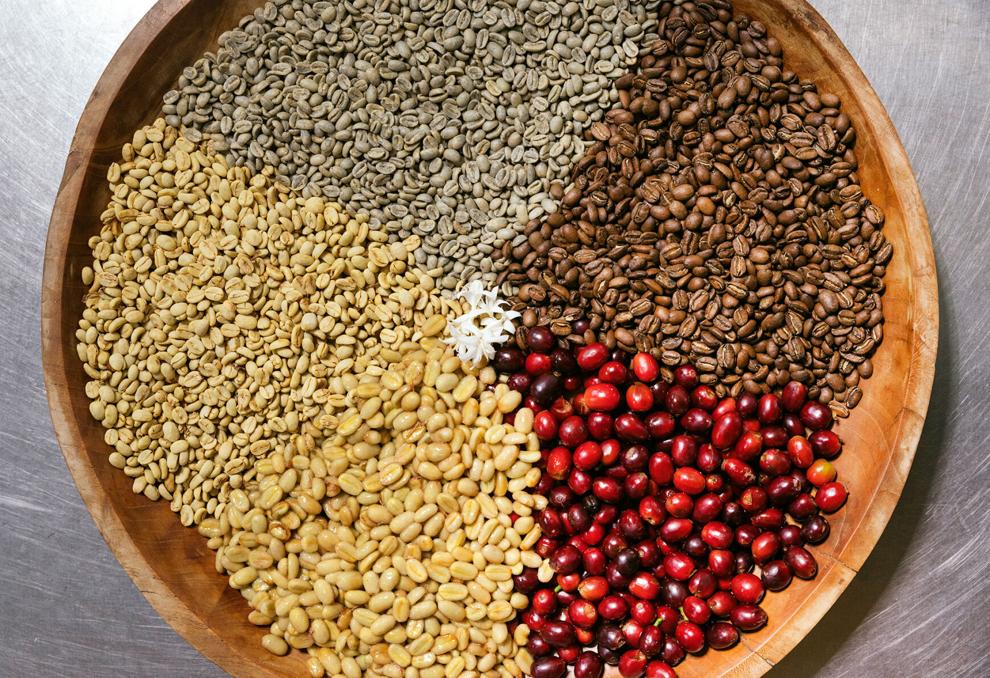 ---
Spilling the beans
FRINJ growers work exclusively with coffee trees in the Arabica species, including Geisha, Pacamara, Pacas, Yellow Caturra, Red Caturra, Red Catuai, Puerto Rico, Typica, Laurina, Bourbon and other varietals.
"Most of my farmers grow the Geisha varietal, one of the more unique cultivars from the Arabica line," Ruskey says. "It's not as refined as other varieties, but it offers some really distinctive tasting qualities. The Catuai, for example, is more refined with stronger, higher-yield plants. We try to grow at least two or three cultivars per farm per variety; making sure the farmers have opportunities to diversify their blend helps us achieve our goals of high return on investment."
Ruskey points out that FRINJ operations position the grower as the largest beneficiary in the value network system. Compared to the 5% global average coffee growers usually earn for their efforts, FRINJ growers receive over half of their coffee's final sale price.
Unlike lemons, avocadoes and other commodity crops that don't fluctuate much in price, coffee is strictly a specialty product. The higher the quality of the coffee, the more money the farmer stands to make growing and selling it.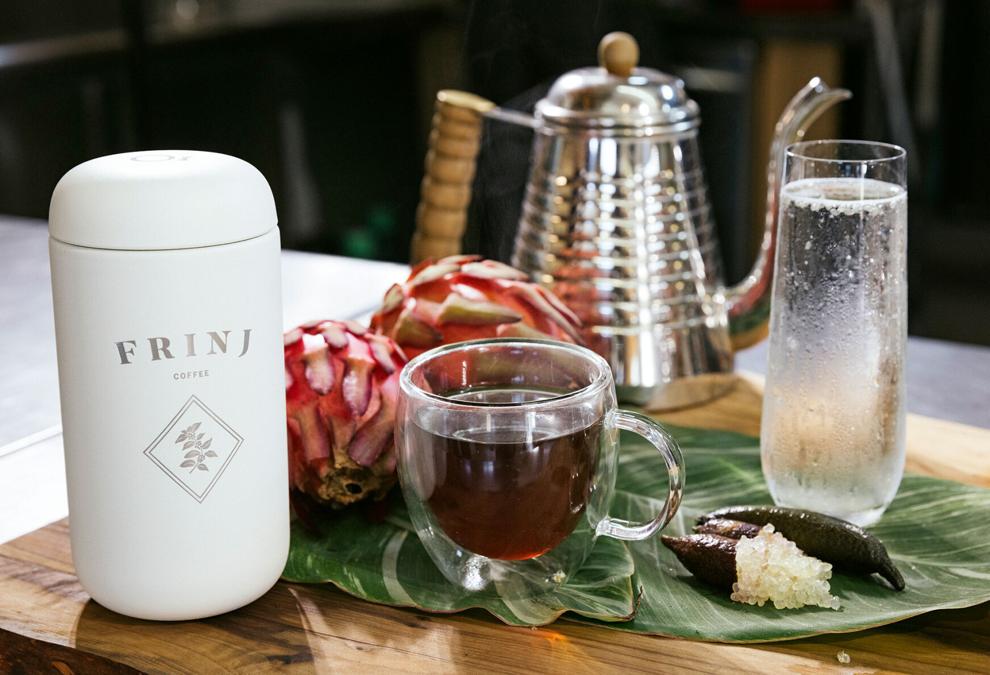 ---
Looking forward
Although the trees are taking off and harvests are increasing, Ruskey's path to California coffee growing has had its fair share of bumps including tree losses and low-yield seasons. Still, he's keeping his eyes firmly on the road ahead, finding parallels between his coffee-growing efforts and the early years of the California wine industry.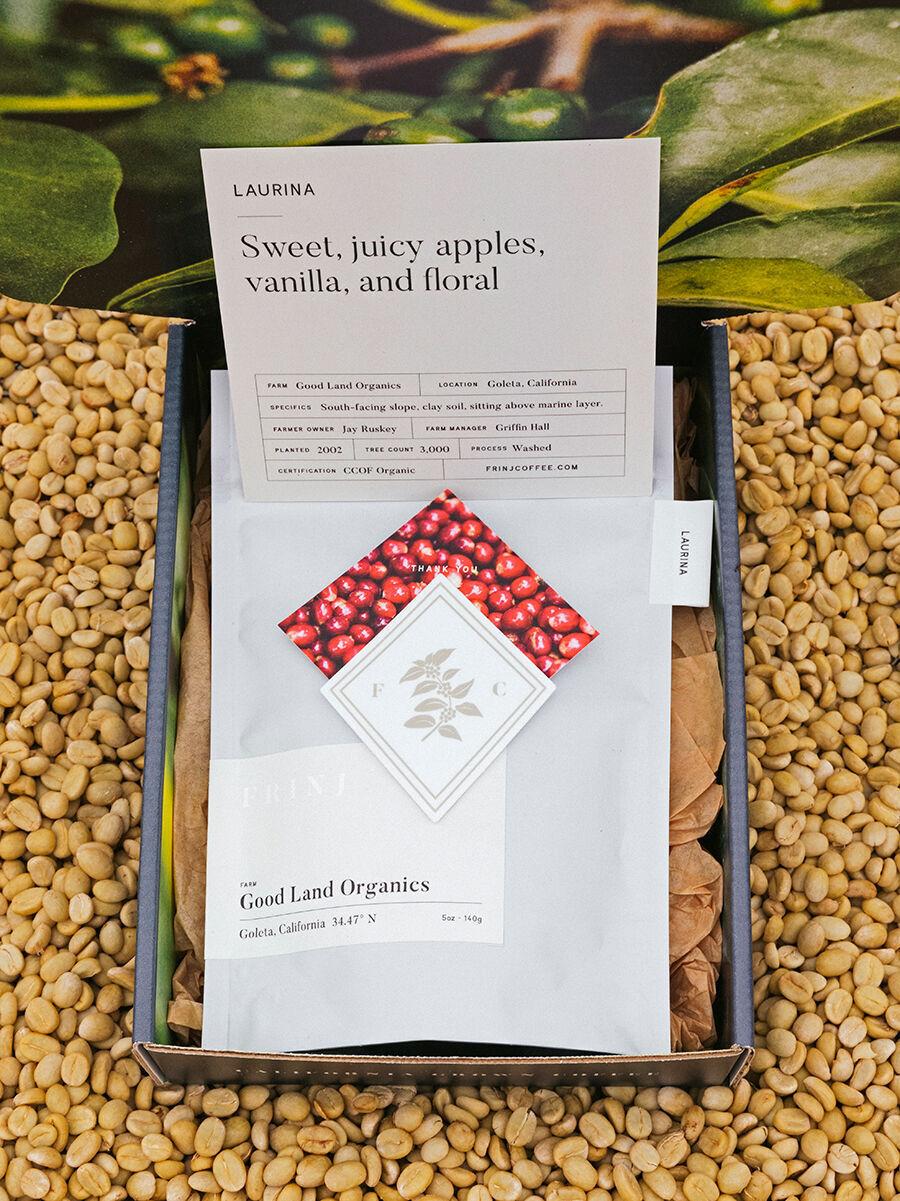 "It took a good two decades for wine to really get established in California," he explains. "Coffee is somewhat following in those footsteps. We've got wonderful culinary demand right in our own backyard, and there's a great opportunity here to increase respect for California-grown coffee."
Ruskey even put a winemaker in charge of his post-harvest coffee production, overseeing the entire process from picking, milling and fermentation to washing, drying and curing the beans.
"It takes at least four months to go from crop to cup," he explains. "It's a lot of monitoring and requires tight quality control. The post-harvest process takes far more time in handling as compared to producing some of the finest wines in the world."
Ruskey harbors no desire to become the next Starbucks, but he does envision establishing a series of tasting rooms on his growers' properties to give customers the authentic experience of sampling high-quality coffee directly at its point of origin. And he hopes to continue growing his partnership network of farms.  
In the meantime, he's happy to keep experimenting and learning. 
"I really enjoy doing hand pour-overs," he admits. "They're time-consuming, but I learn so much about the coffee that way — how it blooms, how the water reacts. I like to manipulate and explore my coffees by adjusting the grind and the ratio. It gives me a minute to relax, and it's just a pleasant mindful break in my day."