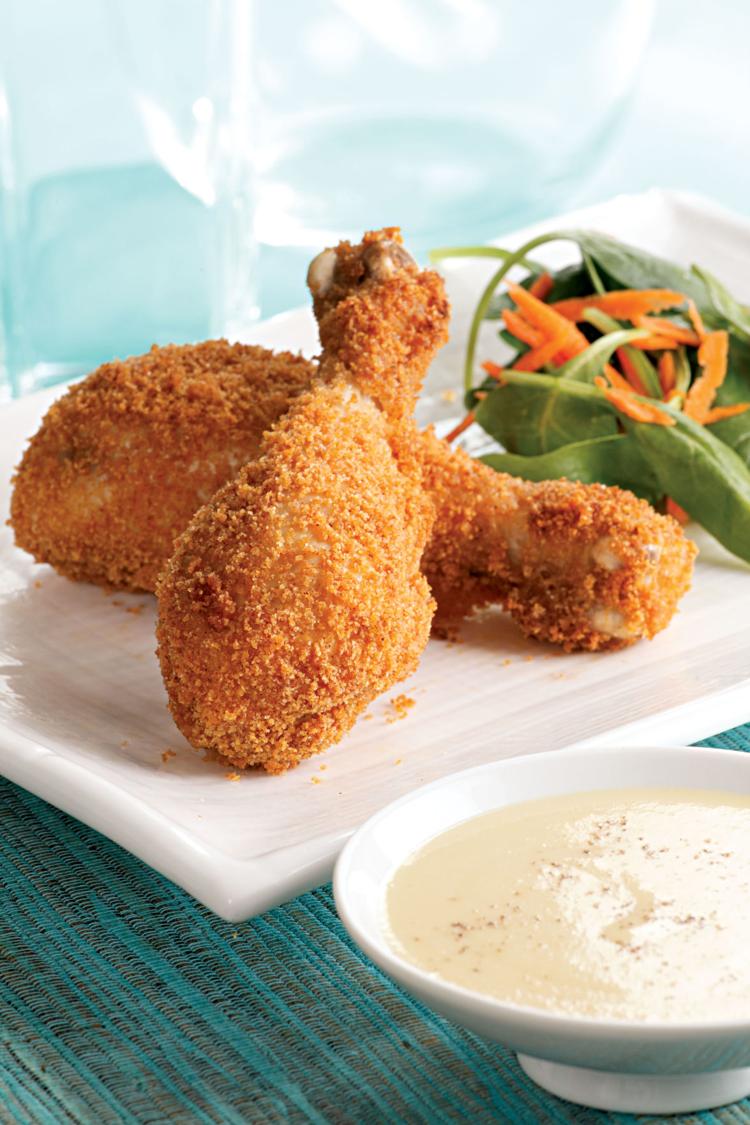 These baked chicken drumsticks are crispy-crunchy outside and succulent and juicy inside. Serve with sweet potato fries and spinach salad.
Crispy Baked Drumsticks with Honey-Mustard Sauce
2/3 cup fine dry breadcrumbs, preferably whole-wheat
1/2 teaspoon paprika
1/2 teaspoon onion powder
1/2 teaspoon salt
5 teaspoons canola oil
1 large egg
8 chicken drumsticks (about 2 pounds total), skin removed, trimmed
For the honey-mustard sauce:
1/4 cup nonfat plain yogurt, preferably Greek-style
2 tablespoons Dijon mustard
2 tablespoons honey
Freshly ground pepper to taste
1. Preheat oven to 475 F. Coat a wire rack with cooking spray and set it on a large rimmed baking sheet.
2. Mix breadcrumbs, paprika, onion powder and salt in a shallow dish. Drizzle with oil and mash with a fork until the oil is thoroughly incorporated.
3. Lightly beat egg with a fork in another shallow dish. Dip the drumsticks into the egg, then press into the breading mixture until evenly coated on both sides. (Discard any remaining mixture and/or egg.) Place the chicken on the prepared rack.
4. Bake the chicken until golden and an instant-read thermometer inserted into the thickest part of a drumstick without touching bone registers 165 F, 25 to 30 minutes.
5. To prepare sauce: Combine yogurt, mustard, honey and pepper in a small bowl. Serve the sauce with the drumsticks.
Make-ahead tip: Cover and refrigerate the sauce (Step 4) for up to three days.
How-two: To make your own fresh breadcrumbs, trim crusts from whole-wheat bread. Tear bread into pieces and process in a food processor until coarse crumbs form. To make fine breadcrumbs, process until very fine. To make dry breadcrumbs, spread coarse or fine breadcrumbs on a baking sheet and bake at 250 F until dry, about 10 to 15 minutes. One slice of bread makes about 1/2 cup fresh breadcrumbs or about 1/3 cup dry breadcrumbs.
Recipe nutrition per serving: 299 Calories, Total Fat: 11 g, Saturated Fat: 2 g, Cholesterol: 131 mg, Carbohydrates: 20 g, Fiber: 2 g, Total Sugars: 10 g, Added Sugars: 9 g, Protein: 29 g, Sodium: 510 mg, Potassium: 345 mg, Folate: 19 mcg, Calcium: 51 mg
(EatingWell is a magazine and website devoted to healthy eating as a way of life. Online at www.eatingwell.com.)
Satisfy your cravings
With our weekly newsletter packed with the latest in everything food.