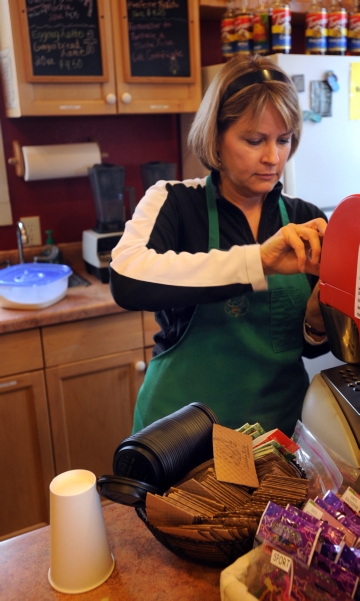 Sue and Scott Brucker take their coffee seriously. When the Racine couple decided they wanted to own and operate a coffee shop, they signed up for Alterra Coffee Roasters' "coffee college" where they learned about everything from bean varieties to how to "pull a shot" of espresso.
And when it comes to serving their customers, the owners of the Mocha Lisa Coffeehouse, 2825 4½ Mile Road, are devoted to making their coffee experience the best it can be. Everything from grinding the beans and tamping the grounds to steaming the milk (and cleaning the wand after every steam) is done by hand with individual attention, the couple said.
"Ours is a very hands-on approach," said Scott.
"This is not an automatic kind of operation." said Sue. "We pull every single shot."
They also try to make sure no customer waits long for his or her beverage.
"We have two baristas on duty at all times," said Sue, who is on site most days. "And everyone who works here is trained to make everything."
The couple, who took over operation of the coffeehouse from original owner Susan Kennedy in September 2009, also credits Kennedy with getting them to where they are today.
"She has been absolutely wonderful," said Sue, who worked for the Racine Unified School District for 10 years prior to running Mocha Lisa. "This was a whole different career for me and Susan was very patient with us and gave us a lot of insight."
A little more than a year later, Sue Brucker seems right at home in the 100-year-old farmhouse-turned-coffee shop. Every customer she serves gets a smile and easy conversation along with whatever beverage they desire.
Lattes and mochas are some of the coffeehouse's biggest sellers, Sue said. And, at this time of year, the Candy Cane Mocha is very popular, along with the eggnog and gingerbread lattes.
In addition to its coffee - which is supplied by Alterra and available in strong, mild and decaf every day - Mocha Lisa offers hot chocolate (made with Ghiradelli cocoa), chai lattes and a variety of teas. Cold beverages, including fruit smoothies and iced coffees are also served. And Mocha Lisa's baristas welcome suggestions for new beverage combinations.
"We will build whatever drink you want," Sue said.
Those looking for something to nosh with their beverage might consider one of the coffeehouse's muffins which are made by the Wild Flour Bakery in South Milwaukee. While some customers are partial to the blueberry, others love the coffee cake muffins.
"And we always have bran," said Sue. "They are one of our most popular."
Wild Flour usually provides a seasonal flavor as well. "The biggest seller right now is the Chocolate Covered Cherry muffin," she said. "Everyone raves about it."
Mocha Lisa also carries other baked goods - biscotti, bagels, scones and cookies - supplied by Alterra. And they are planning to add pasties to their menu in January, in response to customers requests for lunch items. The pasties, which will come from a Michigan supplier, will be available in beef, chicken and veggie varieties. They are also considering a breakfast pasty, Sue said.
"We are really excited about being able to offer pasties."
Because they don't have room to expand their kitchen area, the Bruckers probably won't add other lunch items to their menu, she said. The couple does, however, hope to eventually add some musical entertainment to their offerings, which already include a summer "Art in the Yard" show on their lawn, as well as regular exhibits of work by local artists on their cafe walls.
In this season, it is the cozy interior of the farmhouse which draws customers. Its series of brightly painted rooms offer some privacy for individuals and small groups. And the friendly, homey atmosphere is perfect for visiting with friends or family gatherings, said members of the Svoboda family, who met at Mocha Lisa recently for coffee, goodies and catching up.
The group of women - one from Racine, one from Oak Creek and one from New York - found a comfortable spot in the couch room to enjoy their holiday escape, complete with chocolate cherry muffins, a North Pole coffee drink (with dark chocolate and peppermint), a Mandarin orange smoothie and more. Even one-year-old Clara seemed to be having a good time.
"I love this place," said Kim Svoboda.
"The fact that they serve Alterra coffee is a huge draw," said Andrea Svoboda. "And I appreciate the fact that it's not a chain."
Mocha Lisa regulars John Cammack and Larry Norton said they come for the camaraderie as much as the coffee. Most mornings, the retirees share news of things like the Packers game or local and national happenings. And even when their discussions turn political, the two Caledonia residents with opposing political views still manage to keep it friendly.
"It is a nice, relaxed place to come and have cup of coffee," said Cammack.
For Peter Martin, a retired English professor, Mocha Lisa is a good place to sit and sip coffee while doing the puzzles in the newspaper or reading his copy of Literary Review. He, too, is a regular and will offer his opinion on subjects he can't resist.
Like many Mocha Lisa customers, Martin appreciates that the Bruckers left well enough alone when they took over the coffeehouse. Everyone seems to enjoy the casual comfort of the old farm house, right down to the slightly-creaky original wooden floors, the owners said. And they do too.
While they take their business seriously, the Bruckers also know how to have fun with it. You can tell by the way they talk about Mocha Lisa and its customers.