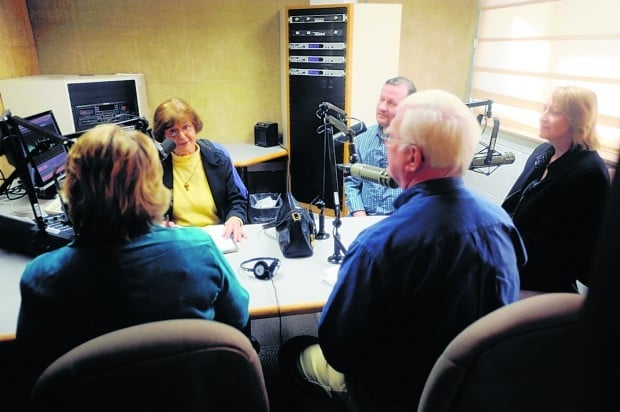 RACINE - For 25 years the Conflict Resolution Center has been helping people resolve disagreements outside of a courtroom, and in a way that allows them to have their voices heard.
Whether it's a dispute over an eviction or a small claims suit between former friends, volunteer mediators have help hundreds of people come to a formal, confidential agreement both sides can agree on.
"It allows people to solve everyday problems so they don't escalate," said Sister Lois Aceto, one of the founders of the center.
The center helps people with disputes over small claims, between merchants and consumers, evictions, car accidents and business-to-business disagreements.
Many of the volunteer mediators, identified in the program only by their first names, say those involved in the mediation often leave satisfied.
"They can vent with a mediator," said Laura, a volunteer mediator for two years. "They are given a chance they wouldn't have through the court system."
In a court case, a court commissioner or a judge can only settle matters to the letter of the law, she said. But in mediation, the mediator doesn't make the agreement, the parties do, Sister Aceto said.
For example, landlord and tenant mediations are very common. "It can be very difficult," said a mediator named David.
But conflict resolution can also be very helpful to both landlords and tenants, said Laura. She said many times the mediation can lead to landlords getting some of their rent money, tenants being given more time to pay and find another home, and can result in a rental property not being damaged when the tenant does leave.
"It protects both parties," Laura said.
The Conflict Resolution Center was opened Nov. 2, 1984. Sister Aceto was a jail chaplain at the time. She attended a conference where she learned about the conflict resolution program that had been set up by the Wisconsin Correctional Center System. Sister Aceto brought the idea back to Racine and with the help of several local judges and community activists, the Conflict Resolution Center - then called the Dispute Settlement Center - was founded.
Five years ago, the center became a program of Neighborhood Watch and is located at the city annex building at 800 Center St. It is funded by grants and donations.
Those involved in a dispute are often referred to the center by the court system. In other cases, one of the people involved calls the center on their own.
Terri Justman, the center's program director, said she then calls the other person involved to try and set up mediation.
All involved with the center said it just makes sense for some disagreements to be settled out of court.
"It's saving the County of Racine's taxpayers' money," Justman said. "It takes the case off the court calendar. It's making a difference."
It also saves the parties involved court fees, because the mediation is a free service.
Over the past year the center has seen an increase in people using mediation. According to Justman, the center is taking on about 45 to 50 cases each month. Currently, they have seven volunteer mediators, but are always looking for more.
Those who volunteer with the center say it's rewarding work.
"I couldn't do this without getting something out of it," David said.
It's both challenging and rewarding, according to Laura. "I enjoy it," she said.
Justman remembers one mediation in particular in which two friends were having a dispute over the sale of some property. She got them together. The women really talked to each other for the first time since the disagreement.
"When they left, they hugged and went for coffee," Justman said.