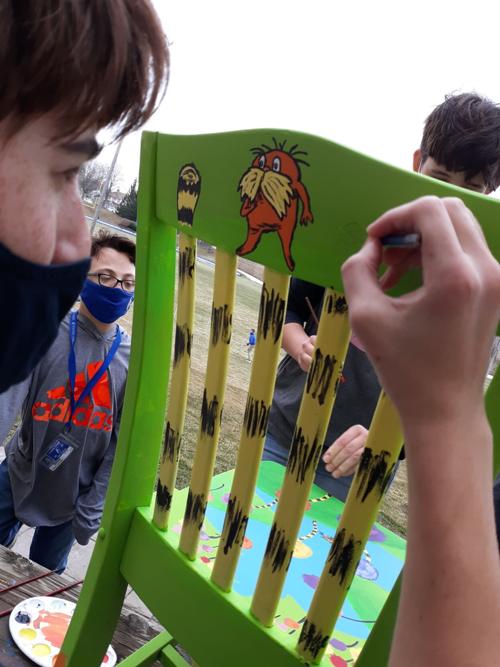 What's Going On is a fundraiser listing published on Saturdays in Community. Events held on a regular basis are not used. Announcements must arrive at The Journal Times by noon Tuesday before the desired Saturday publication date. Send information via email to Loreen Mohr at Lmohr@journaltimes.com or mail information to Community, 212 Fourth St., Racine, WI 53403. Events can also be added to the online calendar at journaltimes.com/events. Select the Community/Fundraisers category.
Camp Kinder Fundraiser: Cerebral Palsy Agency of Racine Inc./RADD (Recreational Activities for the Developmentally Disabled) will hold Camp Kinder, an eight-week summer day camp for developmentally disabled youth and adults. The organization is trying to raise $5,000 to help cover the cost of lunches, snacks and beverages. To make a donation, go to https://givebutter.com/radd-cerebral-palsy-agency-of-racine.
Spring Plant Sale: Shepherds College, 1805 15th Ave., Union Grove, through June 12. Sale hours are: 1-5 p.m. Thurs.-Fri., 10 a.m.-2 p.m. Sat. A variety of annuals, perennials, herbs and vegetables are sold. All forms of payment are accepted. Patrons should bring containers to transport plants. Proceeds support the occupational training of students with intellectual and developmental disabilities
Spring Online Auction: Fundraiser for the Caledonia Conservancy to maintain trails, offer new programs and protect community green space, through 7 p.m. June 13. A variety of items will be up for bid from works of art to a hanging basket with zinnias, golf certificates, housewares, jewelry, kayak adventures, designer handbags, a weekend at a cabin up north and horse items. To register, go to https://auctria.events/CaledoniaConservancySpring2021.
Garden Bench & Chair Auction: Sponsored by the Burlington Area Chamber of Commerce at Gooseberries Fresh Food Market, 690 W. State St., Burlington. Bids will be accepted there through June 20.
Benches were built by Burlington High School students in the Architecture, Construction and Engineering Academy. They were decorated by students from Catholic Central High School and area artists. Bidding began in May at area businesses. BAAC uses the proceeds for annual scholarships, and community marketing and tourism projects. Call 262-763-6044 for more information.
EAA Chapter 838 Pancake Breakfast & Young Eagle Rally: Batten International Airport, 3333 N. Green Bay Road, 8 a.m.-noon Saturday, June 12. The cost for breakfast is $8 and $4 for children 12 and younger. The menu includes pancakes, eggs, sausage, coffee and juice. Music will be provided by Cheryl McCrary and her band.
The Chapter 838 Museum will be open to view aircraft displays and free plane rides for youth ages 8-17 will be offered during a Young Eagle Rally. Youth must register in advance at youngeaglesday.com. A required waiver signed by a parent or guardian can be printed.
AAUW Racine Summer ½ Price Book Sale: CVS Pharmacy lower level, 1122 West Blvd., 10 a.m.-6 p.m. Wednesday through Saturday, June 16-19. This sale includes a huge assortment of fiction books, all sorted by author. Nonfiction categories include history, religion, biography, cookbooks, gardening, hobbies and more. The classic literature section is full, and the children's books are overflowing. The old book section has many special and collectible items. Everything will be half-price with the exception of "hallway books" which will be nominally priced or free. Also overflowing are the CDs and DVDs which are priced at 50 cents each.
Payment is by cash or check. Shoppers are requested to wear a mask and social distance. Proceeds from the sale are used for higher education for women.
Roar & Pour: Racine Zoo, 2131 N. Main St., 6-8 p.m. Wednesday, June 23. Tickets cost $30 or $20 for a nondrinker. Featuring beer samplings from The Explorium Brewpub, hors d'oeuvres, animal ambassador encounter and Racine Zoo beer glass souvenir. Go to racinezoo.org.
Tri-County Riders Poker Run: Ride begins and ends at Great Lakes Dragaway, 18411 First St., Union Grove, Saturday, June 26. Registration, 8:30-10 a.m; kickstands up at 10 a.m. Tickets cost $20 each or $30 for a couple. Best three hands payout; games at every stop. Proceeds benefit the Love Inc. Christmas program.
Small Plates Big Hearts: A fundraiser for BeLeaf Survivors/Sexual Assault Services featuring a food crawl in Downtown Racine, 1:30-4:30 p.m. Saturday, July 31. Participants will sample diverse foods offered by eight local restaurants. Tickets cost $50 each or $90 for a couple and will be on sale until July 24. Go to beleafsurvivors.org or call Karen Fetherston at 262-664-3543.
Maple Syrup Sale: Hawthorn Hollow, 880 Green Bay Road, Somers, is selling maple syrup that they make from their trees. Light, medium and dark bottles of syrup are available for $12. To place an order, call 262-552-8196 or email Lsmith@hawthornhollow.org.
Caledonia Conservancy Cookie Collection Recipe Book: The Caledonia Conservancy is selling a recipe book featuring recipes of cookies usually served at the annual holiday party. The book contain more than 115 cookie recipes, family-favorites submitted by Caledonia Conservancy supporters, and even includes a few recipes for four-legged friends (horses, dogs, goats and donkeys). The cost is $15. Go to caledoniaconservancy.org/product-page/cookie-recipe-book.
Nesquik Sale: The Burlington Area Chamber of Commerce is holding a Nesquik sale at Reineman's True Value and Gooseberries Fresh Food Market in Burlington. A case of 12, 10-ounce canisters costs $25. Individual 10-ounce canisters cost two for $4.