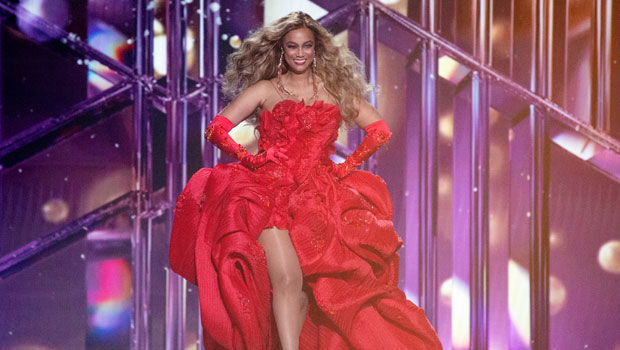 You have questions. I have answers. And Tyra Banks is still on the hot seat.
In a recent column I noted viewer complaints about Banks as the new host of "Dancing with the Stars," and my own agreement. She is not a good fit, the show is too much about her (which it was not when Tom Bergeron and Erin Andrews hosted) and oh, mercy, the costumes. And my mail since then has been filled with more letters. Such as:
Q: Tyra Banks is self-indulging and is not going to go well with myself. The outfits she wears clearly compete with the dancers and the judges. I now record the show, and fast forward to delete Tyra completely. I really do not care what she has to say.
My sisters and I agree wholeheartedly with you about Tyra Banks. She is not right as the host at all. Very hard to watch. She is truly bringing the show down. They jumped the shark with this one.
Her hair is totally disastrous. Either she stops doing her own hair or stops directing the hair stylists.
Her costumes, themes or not, are awful. Someone must help her pick out less outrageous outfits.
And she seems to buttinsky too much. Premise of show is the spotlight is on the dancers, not her.
And one more (from many others):
I like Tyra on other shows, but this is not for her. It seems she is trying to place more emphasis on herself more than the dancers. She is not right for this hosting job. I know Disney/ABC are trying to get younger viewers, but they need to remember some of their loyal viewers are older (I'm in my early 70s). I'm just glad I DVR the show since I like to watch it when convenient for me, but now I can skip the parts where there is Tyra and any nonsense going on with her.
A: And what do we do with all this? The ratings for "DWTS" are not what they once were (as is the case with most broadcast shows), but it has been competitive in the pandemic-fractured prime-time landscape. Banks may be drawing in some viewers, at least for time-delayed viewing for incidents like the elimination foul-up on Oct. 5, or to see her occasional struggles with a live format.
And, as I've said before, the idea of the show as a dance competition slips when you look at the glammed-up routines, the pushing of personalities over dancing skill, and other elements. (One reader's long-standing complaint is about the use of non-Latin music with Latin dances when the type of music "is so important to how the dance is executed.") We'll just have to see if ABC still thinks this change was necessary or recognizes its mistake.
Q: I know there was a children's show back in the late '50s or possibly early '60s that aired on Saturday mornings. The star was a little girl named Susan. She had a dog named Rusty. If I remember correctly, Susan and Rusty would sail off to another land and meet their friends. What was the name of that show and how long did it run? Susan also had a pretty singing voice.
A: That was "Susan's Show," a weekly half-hour starring Susan Heinkel, which aired in 1957-58. According to Total Television, Susan and her terrier Rusty would travel to a place called Wonderville with help from a magic chair in Susan's kitchen. "Wonderville was populated by stuffed animals," says Total Television, "led by Caesar P. Penguin and a flying, talking table named Mr. Pegasus."
Q: When a series ending with a cliffhanger is canceled, is there some reason why a popular culture columnist couldn't ask the producers how they had envisioned resolving the cliffhanger?
A: There's no rule. The question does get asked. Sometimes you do find interviews where producers talk about what might have been. One producer, having left her main character shot and bleeding in the first-season finale, tersely said that since the show was canceled, the character was dead. But other times the producers may hold back because they hope their show will still get picked up somewhere and they want to keep the story going. And I know of at least one case where the writers on the show had not yet figured out a key plot point because they thought they would have more episodes to work it out. Then they didn't.
Do you have a question or comment about entertainment past, present and future? Write to Rich Heldenfels, P.O. Box 417, Mogadore, OH 44260, or brenfels@gmail.com. Letters may be edited. Individual replies are not guaranteed.
Be the first to know
Get local news delivered to your inbox!