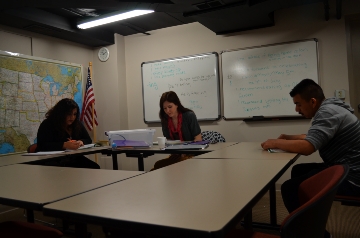 The Racine Literacy Council recently launched a new business in its facilities at 734 Lake Ave. Called the Lakeshore Language Center, the new language school offers classes in accent reduction, ACT test preparation, Spanish language instruction and other custom-designed curriculums.
Unlike the Literacy Council — a nonprofit, volunteer-based organization that provides adult literacy programs — the Language Center is a fee-for-services enterprise business that will also offer interpretation, translation and transcription services in English and Spanish, for individuals and businesses. And, while providing unique, fee-based educational opportunities for southeastern Wisconsin, the center will also generate income to help support the Literacy Council's free tutoring programs, according to Kay Gregor, executive director of the RLC.
Modeled after traditional language schools, the Lakeshore Language Center was developed in response to years of inquiries, from both employers and individuals in search of short-term instruction for improving English skills or learning Spanish, Gregor said. The concept of creating the center as a social enterprise initiative, administered by the RLC, grew out of several workshops Gregor attended over the past 10 years. And, when the Literacy Council was awarded a $10,000 Capacity Building Grant last year through the University of Wisconsin-Parkside, to develop a business plan for an enterprise source of income, the Lakeshore Language Center really began to take shape.
"The idea of forming a school had been on my mind for a while," Gregor said.
The majority of LLC classes will be offered at the Literacy Council's office on evenings and weekends, with some work-site instruction available, according to Gregor. Center staff will be able to translate many kinds of text, including business, entertainment, finance government, human resources, insurance legal, medical and travel, she said. "We will also target curriculums to the specific needs of employers."
Initially, Spanish will be the only language taught at the center, but Gregor said organizers are open to the idea of offering instruction in other languages, as dictated by demand. Instruction is available both as one-to-one tutoring and in small group settings. Fees will vary according to the length and type of services provided. Instructors are paid staff, and additional contracted instructors will be recruited as needed, Gregor said.
The social enterprise business model of the Lakeshore Language Center is a good fit for the Literacy Council, said Geeta Jensen, an RLC board member and president of Jensen Metal Products in Caledonia. With funding for nonprofit agencies everywhere being cut today, non-profits have to look elsewhere for funding sources, she said.
"Life has changed, and these agencies have to go right along with what is happening in the rest of the world," Jensen said. "If they can help themselves and raise money with a separate business to offset any loss of funding, why not?" she said.
Similar business models have proven successful for organizations such as Habitat for Humanity, which earns money for its projects through Habitat ReStore outlets, as well as smaller operations such as Lutheran High School's Thrift Shops, Jensen said. There is also a definite need for the kinds of services offered through the LLC, in today's worldwide business environment, she said. "And, who better than the Literacy Council to provide such services?"
For more information about the Lakeshore Language Center, call (262) 632-9495.