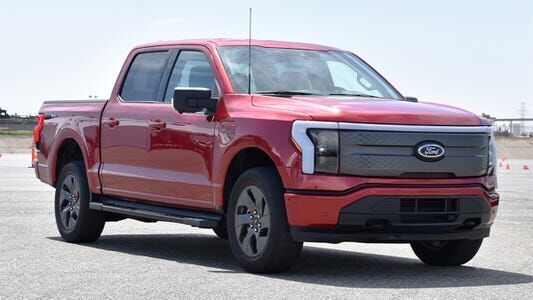 Ford resurrected the F-150 Lightning nameplate earlier this year as an all-new electric pickup that will be one of the first globally mass-produced trucks powered only by battery. More than a novelty or a purpose-built implement, the Lightning hopes to segue traditional pickup owners into the EV future with little or no compromise and reasonable price.
But many questions remain. Consumers already are wondering if the forthcoming Lightning EV will offer enough range for truck owners, especially given the prospect of lengthy charge times. Ford estimates the Lightning will travel 230 miles on a full charge when equipped with the Standard battery and 300 miles with the Extended Range.
Hooking up to a DC Fast Charger yields the fastest top-off times for both batteries (around 40 mins), but 240-volt Level 2 charging is 10 hours for the Standard and 13 for the Extended. Ford has not announced the truck's battery size, but Forbes Wheels believes the Standard battery measurements will be between 110 and 130 kWh and the Extended Range will fall between 150 to 180 kWh.
Forbes Wheels got an early look at the 2022 F-150 Lightning to learn more about how Ford aims to convert skeptical truck drivers into electric believers. The automaker used Auto Club Speedway in Fontana, California to stage a demonstration of the electric truck's impressive performance and the available onboard tech that could provide solutions to potential sticking points.
The few hand-built pre-production Lightnings at the speedway had hastily completed interiors as well as fit and finish issues and did not accurately represent the final production designs or trim levels.
Instead, Ford's goal was to show off the newest F-150's battery capabilities, both for performance and daily utility. A spiderweb of extension cords running from the truck powered multiple TV screens, sound systems, tools and box fans throughout three massive tents during the event. The setup was a good indicator of the Lightning's ability to offer more usable power and outlets than any other current EV.
Electric Powertrain Recap
Ford plans to build Standard and Extended Range battery options and all four trim levels—XLT, Pro, Lariat and Platinum. For now, the popular SuperCrew (the largest cab) paired with a short 5.5-foot bed is the only available configuration, though the Ford hinted at future two-door and long-bed layouts.
Both versions of the F-150 Lightning employ a pair of three-phase, fixed-magnet, brushless AC motors with internal transaxles. Torque output for both the Standard and Extended Range is identical: 775 pound-feet. The Standard maxes out at 426 horsepower (or 318 kilowatts) and the Extended can reach 563 horsepower (or 420 kW).
The rest of the four-wheel-drive powertrain consists of an electronically locking rear differential and the choice between three wheel sizes: 18 and 20-inchers that allow for both all-season and all-terrain tires or 22-inch wheels shod in all-seasons only. Every Lightning also gets a full-sized spare at the rear.
Ford claims the Lightning chassis is built out of the thickest steel it's ever used, required to house the 1,800-pound-plus battery while supporting those massive torque figures and, in a first for the F-Series, independent rear suspension. The Standard F-150 Lightning will tip the scales around 6,500 pounds, depending on options, while the Extended Range adds a few hundred more pounds. As a baseline, consider that a 2021 F-150 SuperCrew 4×4 with a 5.5-foot bed and the popular 5.0-liter V8 engine weighs 4912 pounds, according to Ford.
The suspension for both variants is identical, despite the Extended Range's additional battery cells. The more powerful, more expensive Lightning receives a lower payload rating of only 1,800 pounds—compared with the Standard's 2,000—despite a higher target tow rating of 7,700 pounds. The Extended Range can haul up to 10,000 pounds thanks in part to a trailer brake controller, smart hitch, 360-degree camera and a suite of trailer tech like Ford's Backup Assist and Trailer Reverse Guidance systems.
The traditional internal combustion F-150 still holds a slight edge in towing, a few models maxing out at 13,900 pounds. But the Lightning EV is still in its infancy, and changes in the EV world tend to occur with surprising frequency and urgency; in twelve months the roles could be reversed.
Zero to 60 Sprints
After an extensive briefing on the F-150 Lightning's power potential, the Ford team granted media access to the trucks for a performance demo.
Strapping into the passenger seat, I knew to expect instant torque and brutal acceleration. Questions on traction control, body roll and handling challenges due to the big truck's weight and upright profile remained—until the first blast off the line.
Ford claims a five-second zero-to-60 time for the Standard Lightning and hopes to achieve a mid-four-second sprint for the more powerful Extended Range. But the dual motors, low center of gravity, impressive traction and, possibly, the lack of a boisterous exhaust note accompaniment, made the launch feel even faster, the rear tires only chirping for a split second before the Lightning hooked up and pulled away without a lull to shift gears.
Further through the ride-along, the Lightning's handling moved center stage. The low-slung chassis, independent rear suspension and 50-50 front-to-rear weight distribution allowed for light, playful four-wheel drifts around tight corners, without even a hint of instability that an internal combustion F-150 might suffer in the same situation.
After the quick laps ended, I felt eager to experience the Lightning's steering feel and regenerative braking for myself. Not to mention how the suspension handles rougher terrain and heavy loads.
Exterior Styling and Onboard Tech
Visually, Ford differentiates the Lightning from internal-combustion F-150 variants with an opaque light bar up front, a distinctive waterfall grille and plenty of badging. The frunk (front trunk) significantly increases secure onboard cargo storage. It also houses 120-volt power outlets capable of cranking out 2.4 kW, in addition to the truck bed's 7.2 kW worth of outlets.
Ford also insists the interior will largely resemble other models of the F-150, though final design details remain a work in progress. Expect a push-button start and a console shifter rather than a column shifter, with either a 12-inch Sync 4 touchscreen on the XLT and Pro or the new 15-inch Sync 4A touchscreen for Lariat and Platinum.
Both systems include industry standards like wireless smartphone connectivity, voice recognition and over-the-air updates, while the more advanced card-based Sync 4A can recognize driver profiles, allow for remote vehicle set-up and predict common interactions like who to call, where to go, and what audio to play. And yes, there are more outlets inside, too.
Other fun details that should attract buyers include an onboard scale system for measuring payload and towing, exterior zone lighting and the FordPass app that controls everything from remote start to the amount of battery charge to reserve for driving while powering other devices. And much like using a remote start to warm up a diesel engine, the Lightning allows for battery pre-conditioning to ensure optimal operating temperatures for improved range, efficiency, and battery life.
Ford also says its "Intelligent Range" figure is extremely accurate and will take into account everything from remaining charge to payload and towing weight, current and upcoming terrain, traffic, weather and driver behavior.
Lots of Early Interest
Ford plans to build the Lightning entirely in America. Its new Ford Ion Park in Romulus, Michigan, will play a leading role in the research, design and production of lithium-ion and solid-state battery cells and arrays in partnership with SK Innovations (much like the Mach-E).
Totaling up a massive charging network of over 63,000 plugs, the host of apps and connectivity features in the Lightning itself, plus the cost to build the manufacturing facilities that will build the actual trucks, Ford currently plans to invest $30 billion in EVs by 2025.
The Lightning's relatively low price tag will also help stoke wider adoption of electric vehicles, with the Standard starting at $39,974 before federal and state incentives. The Extended Range costs about $10,000 more. Over 120,000 hand-raisers have already placed $100 pre-order reservations. Because Ford plans to mass-produce all the various Lightning configurations simultaneously, early reservation holders could begin building their trucks by the end of 2021, with dealer deliveries optimistically slated for the summer of 2022.