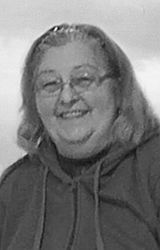 February 7, 1950 — November 23, 2019
MOUNT PLEASANT — Sandra "Sandy" Lou (nee: Hesse) Hess, age 69, passed away unexpectedly at Ascension All Saints Hospital, surrounded with the love of her family, on Saturday, November 23, 2019.
Sandy was born in Chicago, IL on February 7, 1950. A 1968 graduate of JI Case High School, she went on to attend UW-Whitewater. On May 15, 1971 in First Presbyterian Church, Sandy was united in marriage with the love of her life, Bruce H. Hess. Sandy was a longtime employee in the insurance industry, retiring from Johnson Insurance in 2017.
Sandy was a longtime, proud, active & faithful member of Racine Assembly of God where she enjoyed volunteering, especially in the office, in the annual Living Christmas Tree Pageant, and as a Sunday School teacher – as she had a special place in her heart for children. Although she enjoyed crafts as a hobby, Sandy's favorite thing in the world was spending time with her entire family — especially her grandchildren; they were her everything!
Surviving are her loving husband of 48 years, Bruce; their children, Paul (Jodie) Hess and April (Tim) Otto; grandchildren, Josh & Austin Hess; Jon (Kathleen), Ben (Michaela) and Collin Otto; great-grandchildren, Brennan, Parker & Noelle Otto; brothers, Jack Hesse & Robert (Nancy) Hesse Jr.; sister, Robin Luccasen; brother-in-law, Brian (Jan) Hess; sisters-in-law, Joy (Norv) Thompson & Paulette (Bob) Berg; many special nieces, nephews, other relatives, church family & friends.
You have free articles remaining.
Sandy was preceded in death by her mother, Charlotte (nee: Luke) Hesse; father, Robert "Bob" Hesse Sr.; step-mother, Betty Jane (nee: Luccasen) Hesse; Bruce's parents, Harvey "Sparky" Hess & Ruth (Paul Jr.) Kugel; and brother-in-law, Brad Hess.
Funeral services celebrating Sandy's life will be held on Saturday, November 30, 2019 at 11:00 a.m. in Racine Assembly of God (1325 Airline Road) with Rev. Ed Walker & Rev. Weena Villarreal officiating. A memorial luncheon will follow. Visitation will be in Racine Assembly of God on Saturday from 9:00 – 11:00 a.m. Private interment, with close family, will take place at a later date. In honor of Sandy's love for children, memorials to Racine Assembly of God for the "Royal Family Kids" program (a camp that reaches out to children in the foster care program to show them the love of God).
A heartfelt note of thanks to South Shore Fire & Rescue, Mt. Pleasant Police, Ascension All Saints Hospital & Rev. Ed Walker & Rev. Weena Villarreal for the compassionate care & support given in Sandy's time of need. May God bless all of you!
DRAEGER-LANGENDORF FUNERAL HOME & CREMATORY