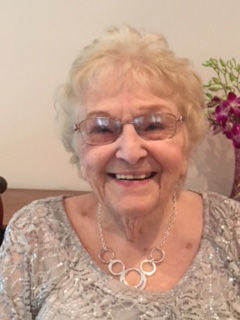 Mrs. Elaine Klemm-Grau of 4835 Richmond Drive celebrated her 95th birthday at home at a celebration in her honor with her children.
The former Elaine Richards was born on July 15, 1923, in Lansing, Mich. She came to Racine in 1967.
She married Robert "Bob" Klemm on Oct. 4, 1942, in St. Joseph, Mich. He died on Dec. 29, 1972.
Elaine married Wallace "Wally" Grau on Jan. 9, 1982, in Racine. He died on April 11, 2015.
You have free articles remaining.
Klemm-Grau earned her master's degree in psychiatric social work from the University of Wisconsin-Milwaukee and counseled children, families, individuals and couples from 1975 to 1998. After her retirement she earned her degree in spiritual direction from the Sacred Heart School of Theology and provided spiritual direction and eucharistic ministry to others.
While raising her children, Klemm-Grau sewed dresses for her daughters and knit mittens, scarves and sweaters for her family. She is described as an excellent cook and passed her expertise on to her children. Klemm-Grau fostered a teenage girl in 1975. She currently loves reading, watching the Green Bay Packers and Milwaukee Brewers on television, and visiting with family and friends.
Klemm-Grau has a live-in caregiver named Myla and is a member of Sacred Heart Catholic Church.
She has six children: David (Karen) of Hudsonville, Mich.; Douglas (Sheila) of Jenison, Mich.; Steve (Marge) of Mount Pleasant; Colleen (Craig) Martin of Whitefish Bay; Amy (Richard) Verbos of Mukwonago; and Julianne (Brian) Smith of Mount Pleasant. She has four step-children from her marriage to Grau: Chuck (Michelle) Grau of Bedford, N.H.; Greg (Kim) Grau of Wausau; Bruce (Bonnie) Grau of Wausau; and Bryan (Hilda) Grau of Madison. Klemm-Grau has 26 grandchildren and 16 great grandchildren.
Klemm-Grau is famous for saying "raising my kids was the best thing I ever did" and "love everyone with all your heart."