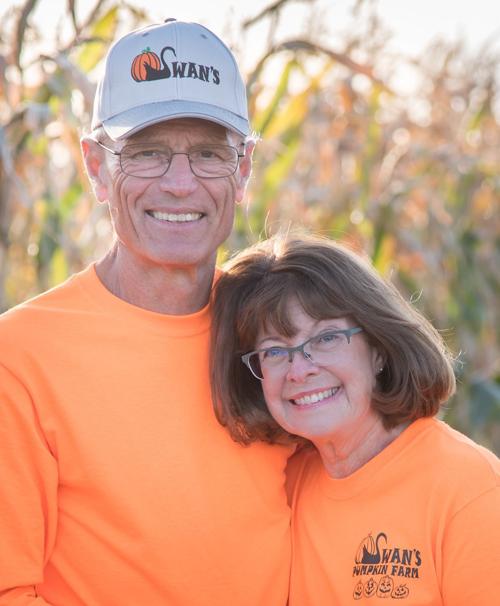 Mr. and Mrs. Kenneth Swan of 5930 Highway H, Caledonia (Franksville area), will celebrate their 50th wedding anniversary with friends and family this summer at Swan's Pumpkin Farm. On Jan. 18, the couple will enjoy a gathering at their home with immediate family.
Swan and the former Jolynn Brauhn were married on Jan. 18, 1969, at Grand View Avenue Methodist Church in Dubuque, Iowa.
Swan, a Franksville native, is a farmer and small business owner of Swan's Pumpkin Farm. He and his wife have lived on the property since 1969.
Swan enjoys researching genealogy of the Swan family, which has included multiple trips to upstate New York. He collects folk art, specifically pieces by Charles Wysocki, and also has a large collection of exaggerated postcards.
You have free articles remaining.
Swan volunteered on the Board of Directors at the Racine Visitors and Convention Bureau for approximately 15 years, beginning in the mid 1990s, and held various offices during his commitment. He enjoys outdoor activities, such as starting his own crops from seed in his greenhouse. During his early years of marriage, Swan had a passion for biking and, in 1969, biked across the state of Wisconsin (Lacrosse to Kenosha) with a group of friends.
Mrs. Swan was a teacher at Raymond Elementary School for 43 years, retiring in June 2013. During her teaching career, Mrs. Swan was a member of the Union Grove Area Education Association and held various leadership roles in the organization throughout her 43 years. She was also an active member in the PTO.
Mrs. Swan enjoys singing as a member of the Choral Arts Society, which she joined in 2013. She was also a member of the Caledonia Garden Club for 35 years. In her free time, Mrs. Swan finds joy in reading, baking, cooking, gardening, swimming at the YMCA and being outdoors.
The Swans are members of Faithbridge United Methodist Church of Franksville and love spending time with their five grandchildren.
The couple has two children: Kelsy (Mark) Dieckhoff of Cottage Grove, and Kaleena Vasil of Franksville.