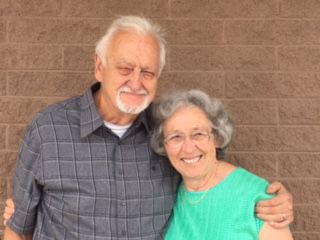 Mr. and Mrs. Bill Hoff of Racine will celebrate their 55th wedding anniversary during a cruise in May 2019 through the Panama Canal to Vancouver.
Hoff and the former Judy Collins were married on Sept. 1, 1963, in First Methodist Church in Marshfield. The couple has lived in Racine since Sept. 2, 1963.
Hoff served in the U.S. Marine Corps from 1956 to 1959.
He was a seventh-grade social studies and English teacher at Jerstad-Agerholm Middle School for 33 years, and later substituted as a principal for four years. Hoff was principal at Julian Thomas Elementary School for a short time and a substitute principal at many different schools.
You have free articles remaining.
He volunteered with Habitat for Humanity, was a big brother, drove for the American Red Cross and currently volunteers at the Northside Food Pantry. Hoff played city softball for many years and is known for his beautiful zinnias.
Mrs. Hoff taught for the Racine Unified School District several years and was a substitute teacher for six years.
She is a member of the American Association of University Women and Beta Sigma Phi sorority. Mrs. Hoff was on the Monument Square Art Fair board for more than 20 years and has been a member of the church choir for 54 years.
Both were active in sports for many years including bowling, curling, cross-country skiing, canoeing and golf. They went tent camping for many years and still enjoy fishing and gardening.
The couple have been members of Trinity United Methodist Church (now North Pointe United Methodist Church) since May of 1964. Both have held many positions in the church.
They have many nieces and nephews they considered their "children."