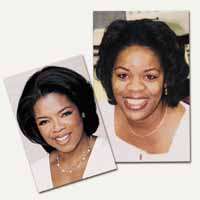 For a sure-fire conversation starter, here's an idea.
First, look like someone famous. OK, so it's not easy, but it works. Just ask Kathie Heineck, a receptionist at Great Lakes Dermatology in Racine. A few times a day, new patients or acquaintances remark that she looks like actress Helen Hunt, who won an Oscar for her performance in "As Good as it Gets" and co-starred on the NBC sitcom "Mad About You."
"It's really a good conversation piece," said Heineck, 38. "… It gets people going a little bit."
But those who have a famously familiar face said it can be a little unnerving. "I used to wonder why people were staring at me," Heineck said. "I was starting to get a complex about it."
Now she is used to it. When she sees that certain look in a stranger's eyes, she knows what's coming: the familiar refrain, "You know who you look like?"
Sometimes the reaction goes further. While Heineck was working in retail, one regular customer was convinced that Heineck and Hunt were long-lost sisters. "(She) was positive that Helen Hunt's family gave me up for adoption."
Few of us ever will know real fame -- Andy Warhol's maxim about 15 minutes of fame notwithstanding. However, there are those who know what it feels like to look like a celebrity.
"When I go into the store, I hear it all the time," said Sonya Visor, sales coordinator at Kranz in Racine. "It" is her likeness to the queen of day-time talk shows, Oprah Winfrey.
"Here at work it's a common joke: What's my talk show today?" Visor said. "It's fun, because I like her. I just get double looks."
In fact, Visor, 34, almost parlayed the physical similarity into an appearance on "Oprah." Winfrey had planned a show based on the theme of look-alikes and asked viewers for photos. Those plans were shelved, but Visor was told the Oprah-like photo she sent will be saved in case the idea is revived.
Not everyone thinks having a celebrity look-alike is fun. College student Kimberly Corbett, a native of Burlington, said it's a pain in the backside.
For her it was actress Drew Barrymore -- especially around the time of the release of the movie hit "ET the Extra-Terrestrial."
Although the resemblance has faded somewhat as Corbett has aged, she said, "I've gotten it all my life."
Jacqueline Young of Racine often is told she looks like Whoopi Goldberg, an actress with a regular gig on the TV show "Hollywood Squares."
Young would like to meet Goldberg -- but not for the reason one might expect. She said, "I wish I could meet her and she would say, 'I need a vacation. Would you stand in for me?' "
Gary Vanden Berg, director of grounds at Miller Park, has a bit of a likeness that's positively presidential. He doesn't hear it often, but for at least one day of his life, Vanden Berg's resemblance to President George W. Bush was striking.
You have free articles remaining.
That was Opening Day 2001 at Miller Park, the inaugural game, when Bush tossed out the first baseball. Vanden Berg said his wife saw Bush from behind and thought he was her husband.
Vanden Berg also had his photo taken with the commander-in-chief. "Afterward, someone said, 'You could be the guy going out there throwing the first pitch, and no one would know the difference.' "
People can react oddly to fame, as Robert Prill, 34, of Union Grove has learned. Prill often is said to resemble actor Lou Diamond Phillips.
Prill told of a time that he stopped along Interstate 94 for fast food.
"The woman at the counter was standing there in amazement." He wasn't sure yet what was going on.
While Prill was in the bathroom, the counter clerk asked his then-wife "how it felt to be married to a movie star."
She also asked if Prill/Phillips would autograph his jacket and give it to her.
Jerry Hansche has had similar reactions, although no such brazen requests. Hansche, a staff technologist at SC Johnson, has long been told he resembles actor Clint Eastwood.
"The first time I realized it was getting out of hand, we had just gotten off of a Wisconsin Dells boat trip." An older woman stopped him and insisted Hansche was the "Dirty Harry" star.
"I thought my sister or wife had put this woman up to this," said Hansche. "I look in the mirror, and I don't see any resemblance."
But others do. One time, Hansche was making his way across the infield at the Indianapolis 500 race, searching for the bathrooms, when an employee invited him into an area labeled Celebrity Grandstands.
Puzzled, Hansche asked the man what he meant, and the man replied, "You can come in here, Mr. Eastwood."
Hansche declined to impersonate the actor.
Another time, in a Gatlinburg, Tenn., restaurant, "There was a buzz over in the corner," Hansche recalled. The waitresses were whispering and looking his way.
When his waitress asked if he was Eastwood, "I said, 'No, ma'am, I assure you I'm not.' "
But real celebrities who are seeking privacy sometimes deny their identity. And this particular waitress wasn't swallowing Hansche's disavowal.
In the end -- like Dirty Harry -- Hansche decided to make her day. He left a generous tip with the note, "Thanks, Clint."
She probably has that note framed. Sometimes a look-alike can be as good as the real thing.