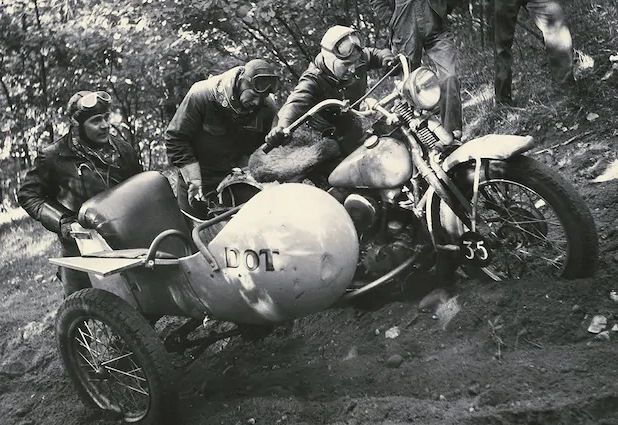 MILWAUKEE — With a new exhibit and new ways to explore — including the all-new annual pass — the Harley-Davidson Museum, 400 W. Canal St., is now open.
In the decades before America paved its highways, early riders had to be prepared for all sorts of terrain — sand, clay or dirt — and wandering those makeshift byways were Harley-Davidson motorcycles. Today, it's called off-road or adventure touring; back then it was just called riding. Since 1903, Harley-Davidson motorcycles proved their toughness by riding over wooded hills, through stone-choked creek beds and up mountain sides.
The new exhibit, "Off-road Harley-Davidson," tells the history of motorcycles designed for rough roads, the people who rode them and the adventures they shared.
Another exhibit, "Building a Milwaukee Icon: Harley-Davidson's Juneau Avenue Factory," features a recently recovered cache of architectural drawings that includes plans for the original Juneau Avenue facility. The pencil drawings, along with archival photographs, demonstrate the whirlwind pace of the company's early growth.
While building an international business — going from producing just over 1,000 motorcycles in 1909 to manufacturing 27,000 motorcycles in 1920 — the company's Milwaukee factory experienced near-constant expansion. Construction through this relatively brief period created the buildings that today, a century later, are still the proud home of Harley-Davidson.
"Building a Milwaukee Icon" provides a snapshot of Harley-Davidson's formative years and illustrates a chapter of Milwaukee history when the city was known as the "Machine Shop to the World."
Safety plans
This is the first step of phased reopening, and City of Milwaukee health officials have approved safety plans for the H-D Museum. Reinforced protocols to support healthy and safe environments for visitors and staff include enhanced cleaning procedures, hand sanitizing stations, and online ticketing to ensure social distancing and limiting of capacity levels. Staff and visitors will be required to wear face coverings.
Annual pass
Looking for interesting things to do and ways to fully enjoy the museum's programs and exhibits? The Harley-Davidson Museum's new annual pass offers individual, family and VIP options. Perks include admission discounts, virtual gallery talks, free admission for children 17 and younger, merchandise discounts at The Shop and dining discounts at Motor Bar & Restaurant. For details, go to H-Dmuseum.com.