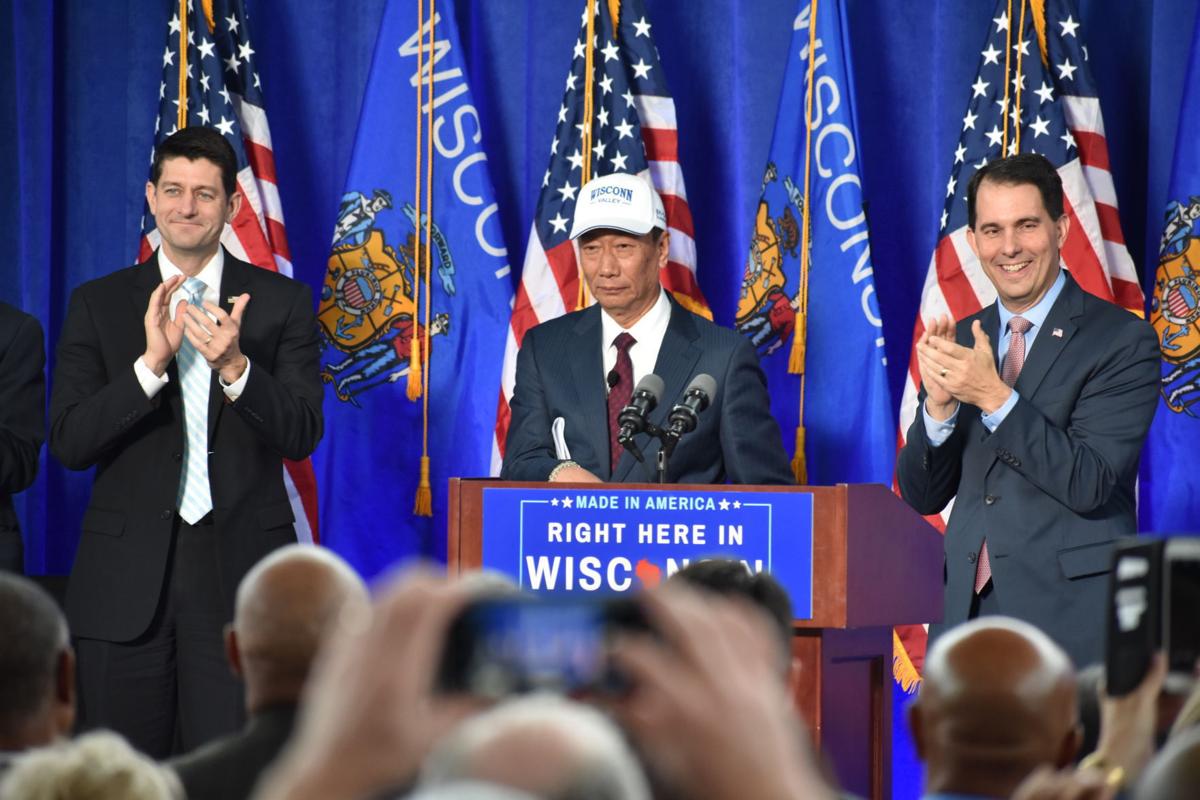 Foxconn wants to pump out an average of 7 million gallons of Lake Michigan water per day for its proposed LCD screen factory in Racine County, the state Department of Natural Resources said Monday.
The sprawling manufacturing facility would return most of the water to the lake, but 2.7 million gallons per day would be consumed -- either evaporated or incorporated into a product, the DNR said.
The Racine Water Utility withdrew 16.9 million gallons daily in 2016 and it already has capacity to handle the additional supply for Foxconn.
The water usage amount was included in an application for an exception to a ban on water withdrawals by communities that straddle the boundary between the Great Lakes and Mississippi River basins.
The city of Racine submitted the application as the public water system operator that would be pumping water to the proposed Foxconn site in Mount Pleasant, which straddles the basin boundary.
The manufacture of liquid crystal display panels for televisions and other electronic devices requires very large amounts of water to clean each layer of circuitry as it is fabricated. Under state law, the water would need to be treated for it was pumped back into the lakes.
A portion of the land Foxconn plans to use drains into Lake Michigan. Most of the 2.7 million gallons a day Foxconn may be consumed on the part of the property that is within the lake drainage basin. The city said the company should be allowed flexibility in its final plant design.
Compact members could perform a nonbinding review Foxconn's water use if it failed to return an average of 5 million gallons per day over a 90-day period. 
Pumping water to a community entirely outside the basin would require approval by governors of the other compact states, but the DNR has authority to decide when the community includes at least some land in the Great Lakes Basin.
Growth and political clout in arid states inspired the states to negotiate the pact to prevent raids on the Great Lakes, which hold 95 percent of the nation's fresh surface water.
Despite fears it would set a precedent that would encourage others to line up with their own pipeline proposals, the eight governors in 2016 approved a diversion to Waukesha, which is entirely outside the basin.
The DNR will determine whether the application meets compact requirements after it conducts a public hearing and accepts written public comment for a period of time. 
The DNR said it will try to conclude its review within 90 days. Details will be posted on a DNR webpage, the department said.
The Legislature and Gov. Scott Walker approved $4.5 billion in taxpayer subsidies for the Taiwan-based company. Foxconn hopes to build a $10 billion complex including LCD and assembly plants employing as many as 13,000 employees.