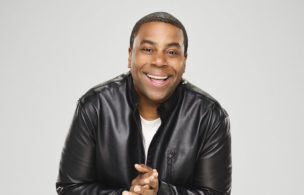 There's a new guest judge at the table for the second week of live shows on America's Got Talent Season 15.
Thompson has been part of the sketch comedy series Saturday Night Live since 2003 and was nominated for an Emmy this year for Outstanding Supporting Actor in a Comedy Series. He also has Kenan, a new scripted comedy series coming to NBC, in which he'll be playing a recently widowed host of Atlanta's #2 morning show trying to balance work and raising his daughters (with help from his father-in-law and brother/assistant/manager/house guest).
AGT has entered the quarterfinals of Season 15. Over four weeks, 44 acts perform for America's vote every Tuesday. On Wednesday, the five acts continuing on to the semifinals are announced. Those who come in fourth, fifth, and sixth place in overnight voting compete for one spot via the Dunkin' Save. The judges then choose one of the two not selected to advance as well.
See Also
Plus, who moved on via the Dunkin' Save and judges' vote?