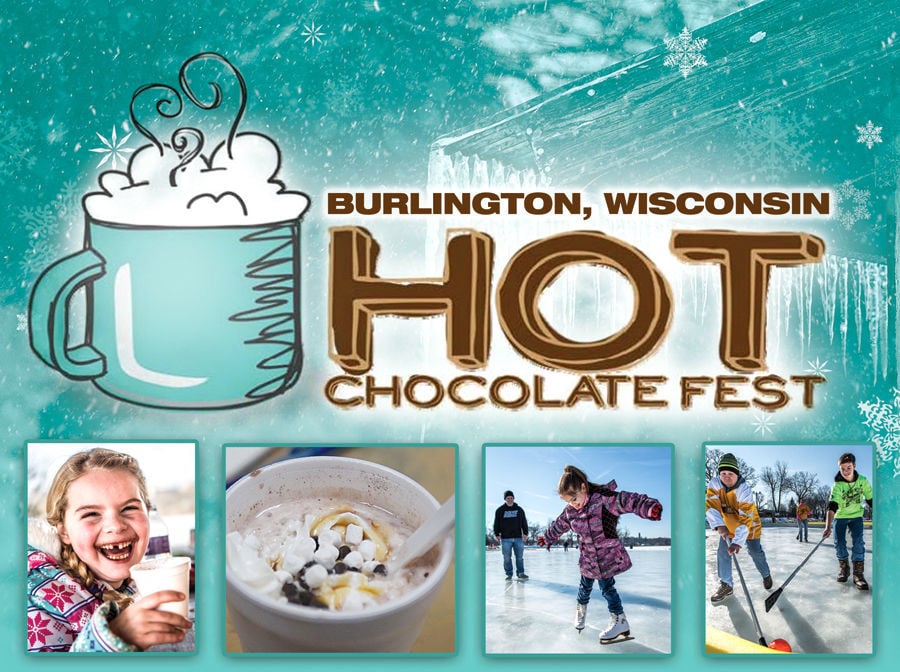 BURLINGTON — Snow falls, cold winds blow and families huddle together in front of the fire indoors. This pretty much sums up winter in Wisconsin for a lot of people.
If you aren't snowmobiling, skiing or ice fishing, it sometimes feels like there isn't anything else going on, but the residents of the City of Burlington aim to change that. One January weekend, the Downtown and parks of Burlington virtually turn into a kaleidoscope of activity during the annual Hot ChocolateFest.
From Friday through Sunday, Jan. 17-19, Burlington will transform from just another winter Wisconsin town to a destination for families from all around the area. With everything from a vintage artisan market, to a snowman decorating contest, to dueling pianos there's really something for all members of the family, and most events are free.
Glide into the fun on Friday night with a free skate under the lights on the patio at Veterans Terrace, 589 Milwaukee Ave., and enjoy food, bonfires, s'mores, storytelling and music from 5 to 9 p.m. Those who want to warm up can move inside to enjoy two shows. Un-Hitch'd will perform from 6:30 to 8 p.m. and then the New Piano Guys will present a dueling piano show from 8:30 to 11 p.m. Drinks will be available.
Come back on Saturday to see everything Hot ChocolateFest has to offer. The morning kicks off at 10 a.m. Downtown with a hot chocolate and chocolate treat contest between the local businesses. There is also a snowman decorating contest with no snow required from 10 a.m. to noon. Those who need a break from hot chocolate and snowmen can head down to the Plaza Theater, 448 Milwaukee Ave., at 11 a.m. for a free showing of "Happy Feet."
You have free articles remaining.
After lunch head back out to some local restaurants to sample their finest chili in the Chili Walk contest from 1 to 4 p.m. This contest is free to enter and the taster tickets for hot chocolate tasting and Chili Walk will be available for pick up at Thrivent, 400 N. Pine St.
Meander over to Mercantile Hall, 425 N. Pine St., for the Vintage Artisan Market, where visitors will find a cornucopia of treasures available for purchase from 11 a.m. to 4 p.m.
Activities from 10 a.m. to 9 p.m. at Veterans Terrace include broomball, bonfires and free skating. Between the events, visitors can enjoy a drink, music, a hot chocolate toppings bar, yard games and s'mores. For those who want to be indoors, concerts on Saturday night include a classic rock and blues performance by the Astro Blues Band from 6:30 to 8 p.m., followed by a show from the Lunch Money Bullies from 8 to 11 p.m.
For all the runners out there, Sunday morning the weekend concludes with the Cabin Fever 5K run. Registration begins at 7:30 a.m. at Veterans Terrace and the run begins at 9 a.m. For all the non-runners out there, Sunday morning the weekend concludes with a pancake and omelet breakfast from 8 to 11 a.m. for $10. Proceeds from the breakfast will be split between the Driven Club at the high school and the Burlington Area Chamber of Commerce.
Hot ChocolateFest is a one-of-a-kind event that provides something for every member of the family. Most events are free but there is a charge for the concerts. A $10 ticket gets a person into all four shows. The ticket also includes a punch card with deals around town in January and February.
Hot ChocolateFest is the perfect reason to get out of the house and enjoy a Wisconsin winter weekend.