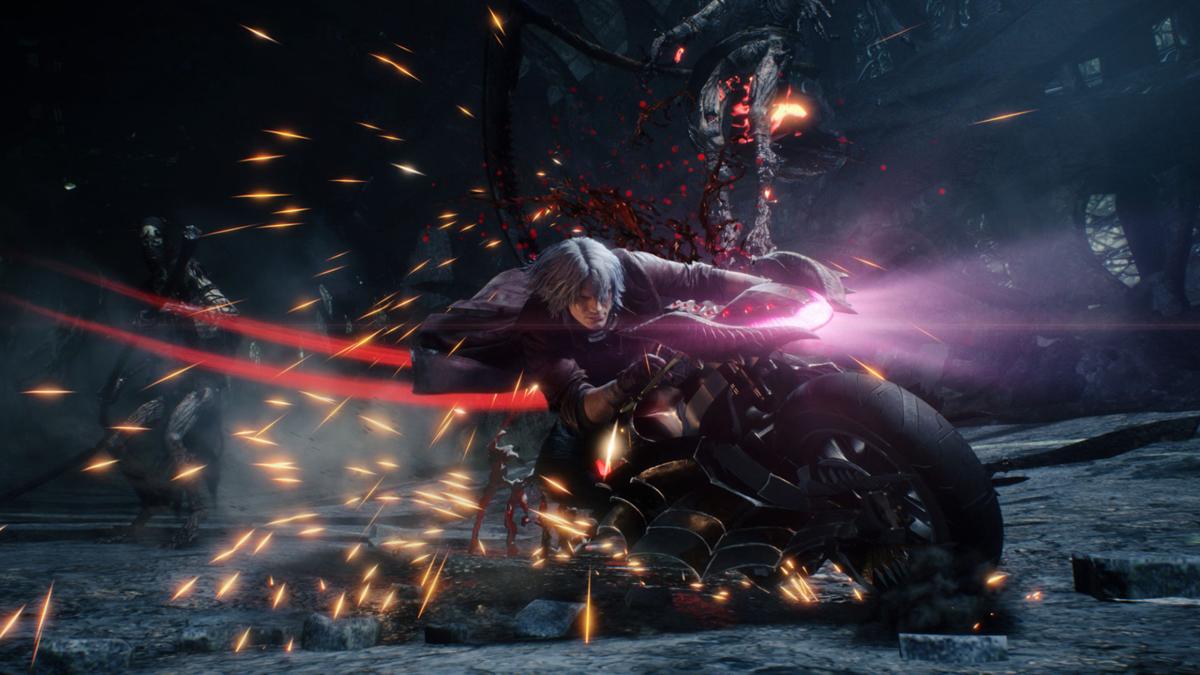 Parents need to know that "Devil May Cry 5" is an action adventure game for the PlayStation 4, Xbox One, and Windows PCs. This is the latest installment of a popular franchise, and presents three anti-heroes as they fight demons both in the world and in a hellish landscape. Characters use swords, guns, magic, and other abilities to destroy creatures, who spray blood when hit. There are also impaled bodies, remains of people, and fountains of blood in cutscenes, as well as characters that are covered in blood as they move through some portals. There's lots of swearing throughout the game, with "s--t," "f--k," and other words frequently stated in dialogue. Female characters are shown wearing revealing clothing, as well as partially nude and covered by slime; their buttocks can be seen. One character frequently smokes a cigarette, although the other characters disapprove, and a disclaimer states that the game doesn't promote smoking or cigarettes. The game has multiple difficulty levels, and while players can button mash their way through some fights, it requires practice to learn and master the skills and fighting styles of each character in battle. That can frustrate some players, especially if they can't master the combos and gameplay necessary to earn the top rank in battle, which provides bonus points.
"Devil May Cry 5" is the latest action adventure game in the popular franchise about demon hunters and the evil threats they face from hellish beings. The gameplay takes place in Red Grave City, where demons have started popping up in the streets and attacking the population. Even worse, a gigantic tree has suddenly erupted from the center of town with dangerous roots and tendrils that skewer nearby citizens. The cause of all of this destruction? A new powerful demon called Urizen, who's using human blood to become the lord of hell. Fortunately, Dante and Nero, two powerful demon hunters, have raced to the city to halt the demon's plans before it destroys the world. Along with a mysterious new figure named V (who seems to control demons of his own), the three figures throw themselves into battle against the hordes.
This mature action adventure game hacks and slashes its way into becoming the best game of the franchise thanks to its deep and varied gameplay. "Devil May Cry 5" builds on the series standard of fast-paced action, grading the kinds of attacks you launch at monsters as well as avoiding incoming strikes. While you could button mash your way through some battles (and the game even features a combo assist for newcomers), the only way to elevate your score from a D for Dismal up to a SSS (for Smokin' Sexy Style) is to learn, practice, and master your attacks and abilities. But instead of focusing on one character, "Devil May Cry 5" breaks the series mold by including three hunters, each with their own combat and play.
Inevitably, players will start to pick their favorite character based on their own play style or preference, but it's incredible just how fresh these characters make combat feel. For the most part, the gameplay is extremely well balanced and designed to keep you playing (and replaying) missions. A few minor hiccups aside, if you're an action fan, this is a great title that will test your skills. "Devil May Cry 5" has style, snark, and plenty of action to keep you coming back for more.
Recommended for ages 18 and older
Positive messages: 1 out of 5
Positive role models: 1 out of 5
Drinking, drugs, and smoking: 2 out of 5
Platforms: PlayStation 4, Windows, Xbox One
Release date: March 8, 2019
ESRB rating: M for blood, partial nudity, strong language, violence
Stay up-to-date on what's happening
Receive the latest in local entertainment news in your inbox weekly!