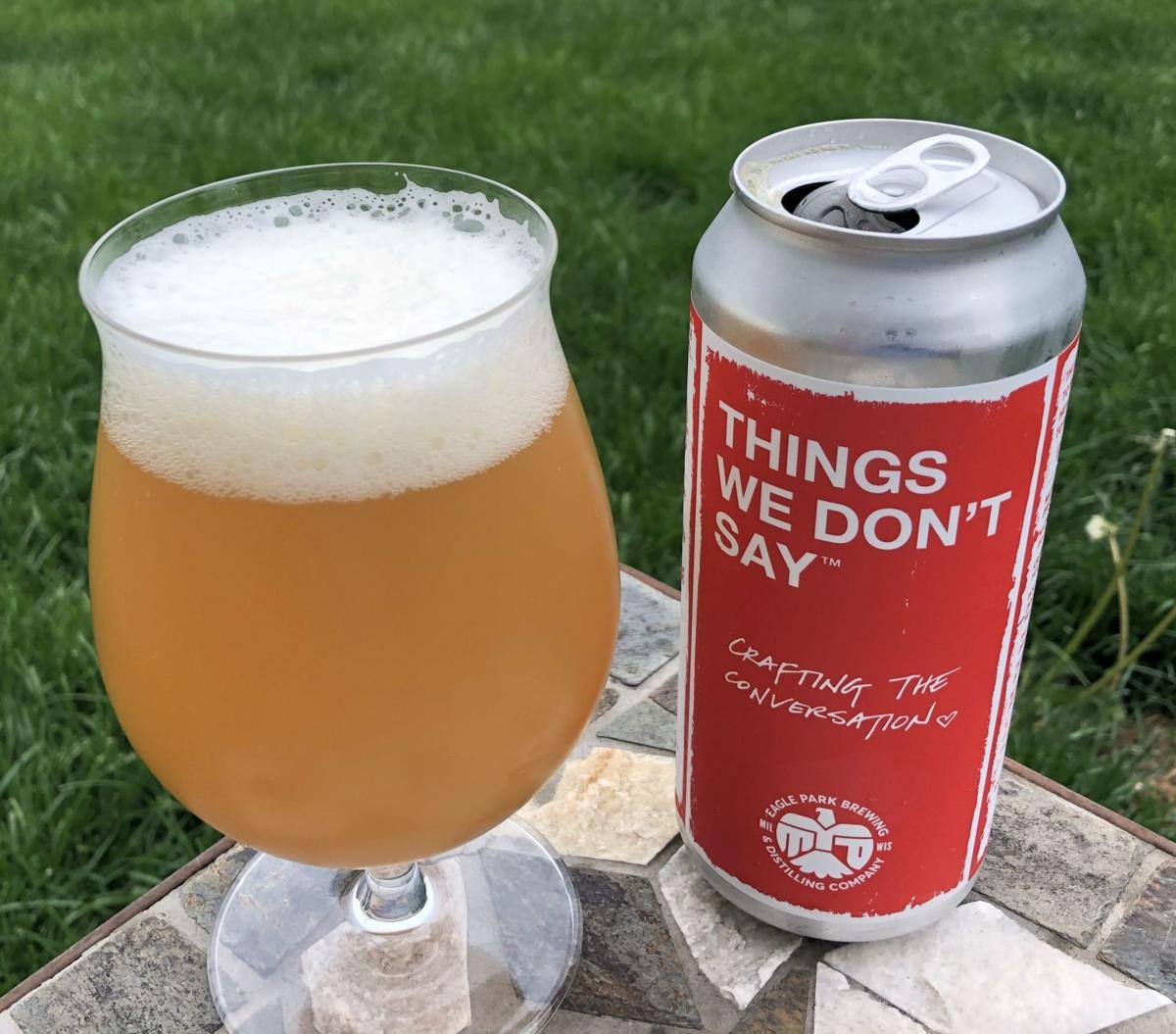 It's been a hard year. Heck, for you, maybe it's been a hard decade.
That's the message of Things We Don't Say, the latest nationwide, cause-driven collaboration beer: Mental health challenges are nothing to be ashamed of, and here are some resources for you to get help.
It's a great message, and this big deal in the beer world — some 190 breweries are making a version of the beer — originated right here in Wisconsin.
It's the brainchild of Nicole Henzel, a sales manager at Milwaukee-based Malteurop Malting Co., who had seen the toll mental health and suicide has taken in the brewing industry and beyond. She connected with Joel Frieders at Hope for the Day, a Chicago-based nonprofit working in proactive suicide prevention and mental health education, about a collaboration.
The discussion led to the successful model demonstrated by recent awareness- and money-raising beer collabs like Black is Beautiful for racial justice and All Together to support pandemic-stricken service industry workers.
Henzel tapped Muskego-based IPA masters Eagle Park Brewing to develop a recipe, while her bosses at Malteurop agreed to discount grains and Hollingbery and Son Hop Co. in Washington did the same for hops. The brewers who sign on pledge to donate a portion of the sales to Hope for the Day, and those beers began trickling out nationwide early in May, National Mental Health Awareness Month.
While the funds are one thing, the message in the name of the beer itself and can label design available to all collaborators is bound to have an impact in and of themselves. Not only is it emblazoned with Hope for the Day's "It's OK not to be OK" mantra, it has phone numbers for a suicide prevention hotline, as well as mental health resources for sexual assault survivors, veterans, LGBTQ youth, trans people and substance abusers.
In a video promoting the Things We Don't Say cause, Mike Willaford, head brewer of Tin Whiskers Brewing in St. Paul, disclosed he has bipolar disorder — true to the name of the beer. "This is the giant elephant in the room in the beer industry — mental health," he said. "The hope is this goes from things we don't say to things we can say, to things we do say — that we normalize talking about mental health in conversations."
At least 10 brewers in Wisconsin joined Eagle Park in brewing Things We Don't Say. Among those with their versions entered in Untappd, a beer social media app, were Working Draft in Madison; Gathering Place, Good City, Company, Component and New Barons in Milwaukee; Brewing Projekt in Eau Claire; McFleshman's in Appleton; 608 in La Crosse; Badger State in Green Bay; and Sawmill in Merrill.
Breweries were free to go their own way by tweaking the recipe or going their own way entirely, and many did. Gathering Place's entry is an India pale lager, and New Barons and Component, which have separate spaces in the same building, worked together on their Things We Don't Say IPL.
But there aren't many hazy IPA recipes I'd trust more than Eagle Park's. They loaded it with Azacca, Cashmere and El Dorado hops, and I'll also nod to Malteurop and note that it contains white wheat and flaked oats.
Let's check out the "host" entry in this outstanding home-grown collaboration.
Things We Don't Say IPA
Style: Hazy/New England IPA
Brewed by: Eagle Park Brewing, Muskego and Milwaukee
What it's like: The hop profile veers Eagle Park's Things We Don't Say away from the intensely tropical and juicy profile common in hazy IPAs (especially Eagle Park's) toward more pith and citrus.
Where, how much: Gathering Place's IPL was the first Things We Don't Say to arrive on some Madison shelves earlier this month, but the EP OG should have arrived late last week or will be dropping early this week. Expect to pay about $15-$16 for a four-pack of tallboys.
Booze factor: It's an IPA, but on the low end of the style's ABV range at 6%.
Up close: TWDS pours an expectedly opaque pale gold with an enduring white head cap. Its bright, lovely aroma speaks of lemon-lime and a touch of honeydew melon. There's a lot going on in the flavor, too, with a little tropical citrus (is that apricot?) here, a little bubblegum there, a little bitterness everywhere. It's far from a typical juicy NEIPA profile — the recipe was designed for broad appeal, not just for IPA lovers — and I like that about it. And that is about the 100th-best thing about this beer and its whole raison d'etre.
Bottom line: 4 stars (out of 5)
The Beer Baron's 10 favorite columns from 10 years of Beer Baronry
If this, my 341st column, were a year, it would be Dec. 7. And by Dec. 7, you probably know what kind of a year it has been. Here are some of the best days