I do not mean this in the metaphorical sense, like "Beer is exploding; there are so many new breweries and interesting, innovative styles."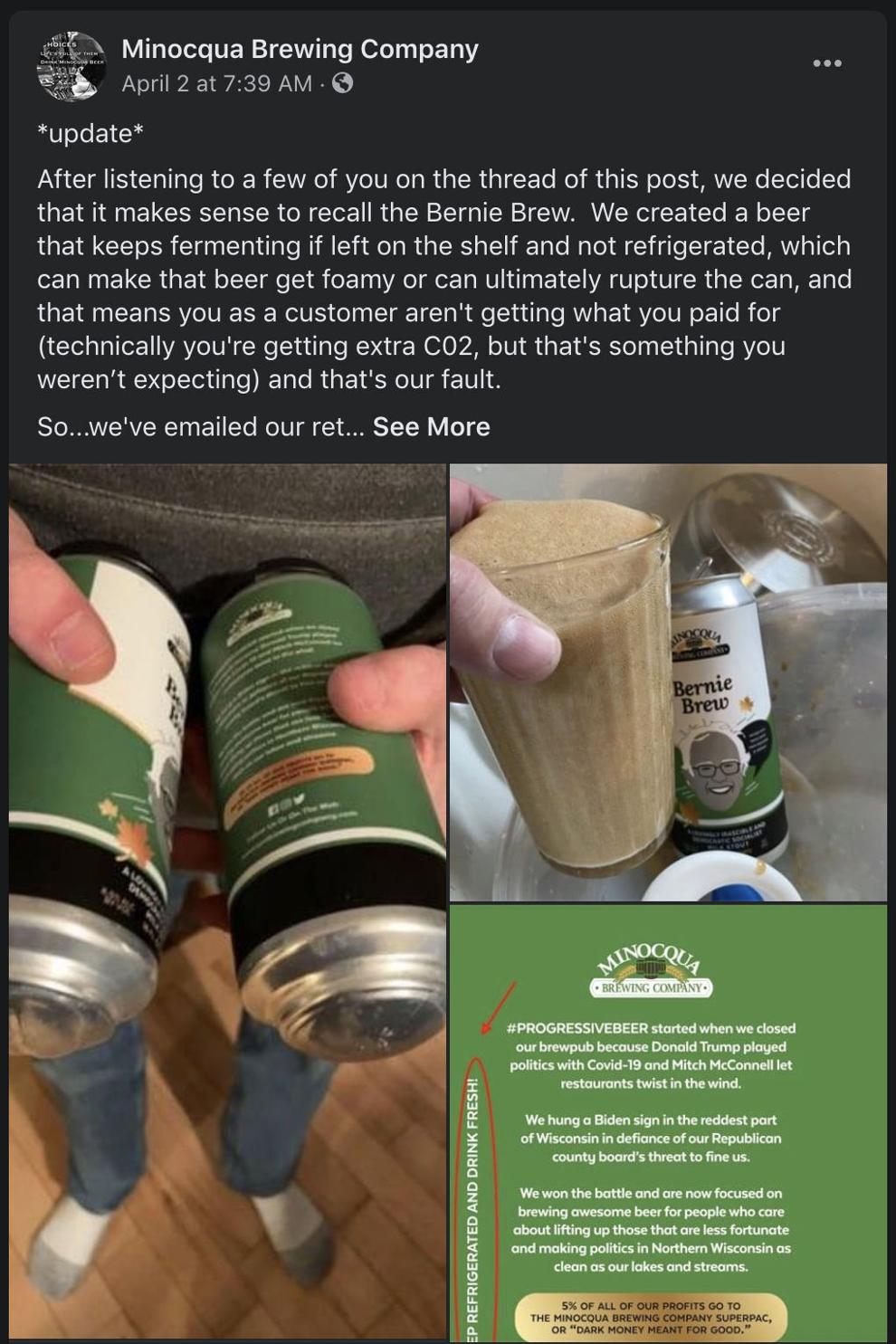 I mean some brewers are producing cans of beer that will explode if handled incorrectly.
This has been a thing for a few years now in the beer scene, and has been a thing across Wisconsin over the past couple of weeks, thanks to one Wisconsin brewery.
Generally, the prevalence of overcarbonated beer is almost entirely due to the rise of certain types of beer that contain a lot of certain types of sugar.
Sugar is an essential component of beer. It comes from beer's malted barley and other grains, released when the grist is steeped in water and boiled. When yeast is added to this sugary liquid, those little microorganisms literally eat that sugar, usually until it's gone. They give off two key byproducts during this process: alcohol (yay!) and carbon dioxide, which gives beer its fizz (though CO2 levels are often artificially boosted).
Beer, then, is literally alive when it's ready to leave those shiny tanks in the brewery. Some of the yeast drops out, but there's always some that remains when the beer is ready for packaging.
Many beers are filtered or centrifuged to remove yeast, and some industrial-scale brewers pasteurize their beer before packaging to keep it more shelf-stable and kill any possible contaminants. But many craft brewers reject pasteurization; the necessary heating to 140 to 160 degrees damages flavor and aroma, as well as requiring expensive equipment.
Most unpasteurized beer is fine as long as it's "fermented through," meaning the yeast is given enough time to consume all of the fermentable sugars. If an underfermented beer is packaged and sent out into the world without pasteurization, it's going to take on more carbonation in that sealed package as the yeast finishes its job. It'll gush when it's opened.
Sugar levels are pretty easy to test for, so this is relatively rare with the vast majority of unpasteurized beer. It's more common when dealing with so-called mixed fermentations that use multiple, sometimes even unknown, strains of yeasts and bacteria.
But these are not the kind of beers that have exploding cans, um, bursting onto the craft beer scene the past few years. It's added sugar.
A handful of styles that are very much in vogue right now — and are often the bailiwick of quite young breweries — load up their beers with sugary ingredients after regular fermentation is complete.
Think overfruited sours, some of which have so much fruit added to them that they get downright chunky, giving rise to the "smoothie beer." All those raspberries or tangerines or mangoes are loaded with fructose, a fermentable sugar.
Think pastry stouts, which aren't problematic on their own — the lactose that is one of the style's defining ingredients is not fermentable — but are often loaded with maple syrup, chocolate or other more outlandish fermentable things.
Think milkshake IPA, which, again, isn't the core problem because lactose and vanilla are not fermentable, but for every regular milkshake IPA it seems like there's five made with strawberry or peach or pineapple ... you get the picture. Fermentable city.
(I'll note here that Waunakee-based Untitled Art brews a lot of these kinds of beers, and I've never heard of any such problem with any of their beers, which are made at the state-of-the-art Octopi Brewing.)
What happens when a can of beer undergoes additional fermentation? Usually it's akin to giving a properly carbonated beer a vigorous shake. That's funny at a lakeside barbecue, but not great when 16 ounces of pastry stout erupts, blasting your nostrils and coating your kitchen ceiling in black, viscous liquid.
It takes a lot of additional fermentation for a can or bottle to break its seal and literally explode, and even then the concern is usually more the mess than an actual hazard.
Some breweries that can these beers count on the consumer to understand fermentation science and realize they've just bought a four-pack of aluminum beer grenades. Labels usually warn, "Keep cold! Live beer!" — a scientifically sound way of slowing fermentation but an ethically questionable way of passing the onus onto the consumer. When the complaints are posted to social media after a messy blowout, the brewery can point to the disclaimer. Caveat emptor.
Northwoods kerfluffle
That's initially what happened with the recent Wisconsin outbreak of exploding cans, which were brewed and packaged by Minocqua Brewing Co., a little Northwoods brewpub that has become a Wisconsin beer darling for its overt left-leaning politics.
The beer in question is Bernie Brew, a pastry stout honoring U.S. Sen. Bernie Sanders that was brewed with Vermont maple syrup and delivered to outlets around the state March 24-26. Minocqua Brewing's "progressive beer" has been selling out quickly — as many as dozens of cases in as little as a few hours — since the brewery began delivering it to more left-leaning markets of Madison and Milwaukee following Joe Biden's inauguration. It sold for about $20 a four-pack.
The morning of April 2, MBC posted a warning on Facebook that it had received reports of bulging cans, unacceptably foamy beer and even one can that "literally blew up" in someone's kitchen cabinet, the post said. Twice in the lengthy post, which outlined the basics of residual sugars and fermentation, the brewery advised customers to "Keep this beer refrigerated at all times!"
To MBC's credit, by that afternoon, the brewery decided to recall the beer, saying it had heard the sharp questions and criticism in the comments of the post.
That those comments were largely met with hostility by people defending the brewery — some directly invoking MBC's politics — speaks to what Minocqua has cultivated in Wisconsin and a unique vulnerability to this kind of crisis.
From the start, MBC's self-distributed drops of "progressive beer" in Madison had the ring of a gimmick. The brewery was selling $17 four-packs of Biden Beer with the image of a new president — one who famously does not drink alcohol — along with the promise of donating $5 from each four-pack to MBC owner Kirk Bangstad's political action committee.
I think it's safe to say that a healthy majority of MBC's customers in Madison and Milwaukee, 200 miles from its brewpub, were more motivated by the labels, the PAC and/or the political zeitgeist it captured than by the beer inside the cans.
There may have been some beer aficionados among them who know that "KEEP REFRIGERATED AND DRINK FRESH" is as much a warning as a serving suggestion, but I'm guessing they were a MAGA-in-Madison-scale minority at best. Most of them didn't know better, and I think it's foolish that MBC expected them to.
Be responsible
I believe it's irresponsible for any brewery to knowingly put out cans of beer containing unfermented sugar unless, maybe, it's being sold on site at the brewery, with a warning to every customer who takes a four-pack home.
For nearly four years, Collin McDonnell of HenHouse Brewing in Petaluma, California, has been preaching this gospel on Twitter, constantly retweeting his own, simple message to fellow brewers: "Take responsibility for your beer." It's a message that applies to a surprisingly wide range of situations, and I understand that it's not always easy to follow its lead.
Minocqua Brewing ultimately did take responsibility for its beer, and it says its next iteration of Bernie Brew will not be a pastry stout. But it shouldn't have taken exploding cans for that to happen.