Parades can be a feast for the eyes of any young child, but for Sarah Zajicek they represented a goal to be reached. When she was 4 years old she saw a group of cloggers performing in a parade and knew she wanted to be one of them someday.
She made that aspiration a reality when she joined the Cripple Creek Cloggers, Wisconsin's oldest clogging club, in 2003.
Cripple Creek Cloggers, which serves the Madison area, was founded in 1982.
Since joining the club, Zajicek has held a variety of leadership roles, but she is currently the organization's spokesperson, which means she leads practices, chooses songs and organizes the troupe of dancers.
Zajicek is, quite literally, the voice of the organization since she calls out the dance steps during practice.
She leads alongside club president Roslyn Thomas.
According to Cloggers member Christine Ray, who has been in the club since 2009, clogging is an American folk dance made up of several different dances. Among the influential dance styles are Irish, African-American, Native American and more.
"The creation of it and naming it 'clogging' truly started in the Appalachian Mountains," she said. "... It's known as a step dance. Clogging is focused on making music with your feet."
Dancers wear shoes, similar to a tap shoe, that have two taps instead of just one. The two taps make the shoes louder since it's metal on metal and the dancers' stepping creates the rhythmic tapping.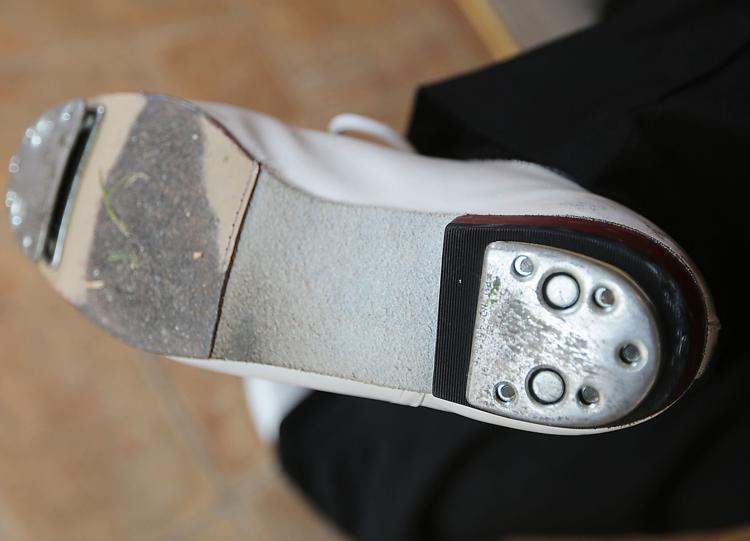 The troupe performs a variety of different musical genres from traditional folk music to country, pop or even classical rock.
Zajicek said they have even performed "Livin' on a Prayer" and "Don't Stop Believin' ".
Cripple Creek Cloggers is named after the song "Cripple Creek" — the first song to which the group performed.
Clogging choreography is created through a series of clogging-specific dance steps, named in a way that cloggers most anywhere could decipher them. Although the names can change slightly depending on where the dancers are, new dancers must learn the stepping terms.
"Rocking chairs," "Joeys," "over the log" and "jazz box" are among the steps used in dancer Erin Lambert's favorite song of the parade season this year.
Erin Bowman's "Good Time Good Life" is a fun song to perform, Lambert said.
Lambert has performed with the cloggers for the past four or five years after having searched for a tap dancing organization to join for adults and finding none.
"(Clogging) is fun because you can do it until you're a little old lady — or a little old man," she said, adding the last part teasingly toward her son Marek.
If Marek Lambert-Conohan decided to keep clogging until he's a "little old man," he'll have a lengthy dancing career. At 10, he is currently one of the youngest members of the cloggers.
He is also the only boy in the performance troupe.
Lambert-Conohan was inspired to join the Cripple Creek Cloggers after seeing his mother perform.
"I just really saw my mom doing it and I've liked dancing my entire life," he said. "I thought clogging would be a new experience and it turned out to be really fun."
This summer will be Lambert-Conohan's first parade season performing with the other exhibition dancers. He took two semesters of clogging lessons with Cripple Creek Cloggers before qualifying to join the performers.
Anyone can take clogging lessons and they don't have to join the performance troupe.
Being a newcomer to the performance troupe, Lambert-Conohan knows how intimidating the thought of performing on a moving flatbed truck can be.
"The first time you hear about (dancing on the flatbed) it sounds scary, but when you start doing it it's not so bad," he said.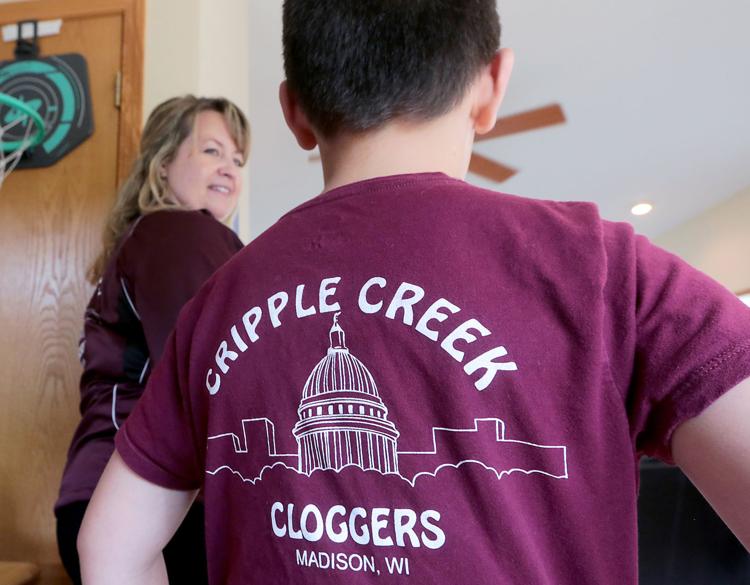 Lambert said it's understandable if that's not something people want to do, but they should still feel welcome to take classes if they want to.
There are about 30 dancers taking lessons and 22 who do parades or shows, Zajicek said.
Cripple Creek Cloggers will be participating in roughly 22 performances this summer at parades, festivals, local fairs or even private engagements at nursing homes.
While some members have come and gone in the club's 35-year history, those who have stayed echoed the sentiment that they do so because clogging is an enjoyable experience with some remarkable people.
"Fun" was the go-to word for members.
"It's just such fun," Lambert said. "Sarah, the instructor, makes everybody feel happy and fun and know that they can do it. You don't feel judged when you're here."
Thomas, who has been a club member for 18 years, said the organization is a great way to make friends, get some exercise and have some fun.
As the age of cloggers in the club skews away from kids, Lambert-Conohan encourages others his age to give the dancing style a try. Although being one of only two child performers in the troupe took some getting used to, it's well worth the initial trepidation.
"Once you are at a few practices and you get used to the other cloggers it gets less scary and more fun," he said.
"The first time you hear about (dancing on the flatbed) it sounds scary, but when you start doing it it's not so bad." Marek Lambert-Conohan