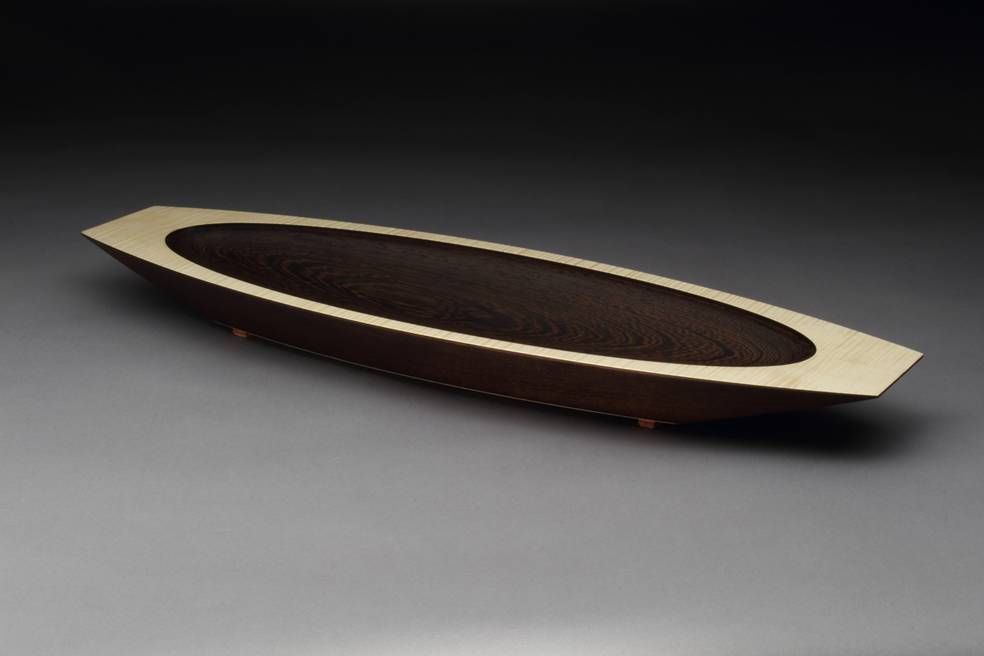 Ray Bock of Viroqua has been a woodworker for well over 20 years, but this is his first time heading to Washington, D.C., to exhibit at the Smithsonian Craft Show.
"I don't have a bucket list, but now I've got to create one and put this on it," said Bock, 63. "It's probably the best show in the country. I've managed to get into all the other ones, but this is the last one."
"Most of the shows have a couple of hundred exhibitors, and they pull from a pool of a thousand-plus applicants," said Bock, who said being selected by the Smithsonian jury was "humbling."
"The Smithsonian show has only 120 exhibitors, so that narrows it down even further."
Bock specializes in elliptical- shaped bowls and architecture-inspired tabletop boxes.
Each jewelry-type box is made with fine woods and unusual shapes, such as his pyramid "Wedding Cake Box." Bock's bowls are cut by router and band saw, rather than on a lathe, and are wrapped in a veneer that contrasts with the solid wood.
"Although I traditionally use a lot of solid woods, I'm moving more and more to veneer," he said. "Some of it is tropical wood, and veneers are a very efficient way to use that wood. Veneers are very, very thin, and so much can be gotten out of a log. And they're just so beautiful."
Bock, who grew up in the Chicago area, attended design school in the architectural college at the Illinois Institute of Technology. He majored in photography, and worked in that field until 1992.
In college "I also did a lot of time in the shop," he said. "They had a fully equipped architectural design model shop, and I just loved being there."
In 1992, he and his wife moved to Viroqua and Bock made the switch to woodworking.
"We just stumbled on it," Bock said of his hobby farm in southwestern Wisconsin. "We loved the area, and the piece of property we picked happened to be in Viroqua. In retrospect, it was dumb luck. We were very fortunate to wind up here, because it's a really nice little community."
Bock has his shop in an old barn he's refurbished. He favors pieces he can turn around and sell at shows and in galleries, at prices from $95 to $950, rather than the custom furniture he used to make.
"I used to spend a couple of months building a piece of furniture. It didn't leave me a lot of options to experiment and do different things," he said.
"The small pieces allow me to experiment with other ideas."
Stay up-to-date on what's happening
Receive the latest in local entertainment news in your inbox weekly!