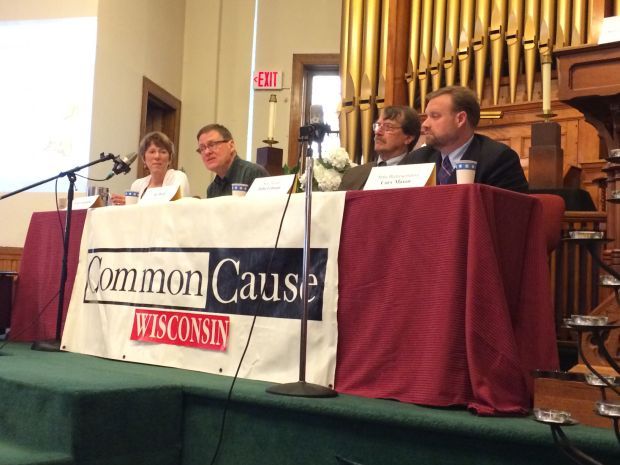 RACINE — Money in politics, voting rights and redistricting were in the crosshairs at a political forum Thursday night at Olympia Brown Unitarian Universalist Church, 625 College Ave.
The forum, attended by about 75 people, was the 37th put on in the last seven years by Common Cause in Wisconsin, which has pushed for reforms in all three areas. The panel included state Sen. John Lehman, who said redistricting was an especially appropriate topic given the forum's location in Racine, where new election maps greatly changed the makeup of local state Senate districts.
Lehman, D-Racine, decided not to seek re-election to his Senate seat in large part due to redistricting, which turned his once-competitive seat into one that favors Republicans and encompasses conservative-leaning rural areas in western Racine and Kenosha counties.
Lehman said the new maps made him a "picture" of redistricting. The lack of competitive races makes lawmakers' jobs so secure they don't need to listen to concerns from residents, he said.
"When people get to Madison, if they come from very competitive districts or competitive districts, they have to keep both ears open," he said. "They have to listen to both sides."
Lehman is seeking the Democratic nomination for lieutenant governor.
State Rep. Cory Mason, who was also on the panel, said one of Democrats' greatest failings when they were in the majority between 2006 and 2010 was not passing redistricting reform, as Mason had pushed for. At the time, Democratic leaders felt they would hold onto power and didn't want to give away the advantage they would have creating the maps, Mason said.
Instead, Republicans swept into power in 2010, capturing both chambers of the Legislature and the governor's office.
"Karma can come back and bite you hard," said Mason, D-Racine. "Republicans came back with the most compelling, hard-hitting, aggressive, partisan redistricting plan anyone has ever seen."
Panelists also opposed court decisions opening the door for more money in politics and voting bills championed by Walker and top state Republicans, who last session passed bills limiting early voting and banning voting on weekends.
Assembly Speaker Robin Vos, who was invited to the forum but declined due to a scheduling conflict, defended the redistricting process and voting reforms in a phone interview Thursdayafternoon.
Though Common Cause Executive Director Jay Heck and others described the process as secretive and lopsided, Vos said the state constitution dictates that elected officials draw the maps, which were debated and voted on in public.
"It's the exact sameprocess we use to draft any bill," Vos said. "It's just a matter of people not liking the result."
He also defended the voting laws, saying the bills ensure uniform rules throughout Wisconsin and don't make it harder to vote, as opponentshave charged.
"The idea of saying that we want to have the same opportunity to vote in every part of Wisconsin shouldn't be all that controversial," Vos said.