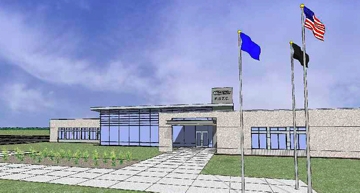 RACINE — On Tuesday, residents across three counties voted down a $49 million funding request from Gateway Technical College for a package of construction projects.
The college will now take a look at which pieces of that package can still be accomplished after the election day defeat of the referendum, according to Gateway president Bryan Albrecht.
"It's disappointing that the referendum didn't go our way but we continue to be strong advocates for Gateway and our students," Albrecht said Tuesday night.
In order to pass, the Gateway referendum needed a majority of votes from Racine, Kenosha and Walworth counties. Unofficial results show that the college was unable to gain a majority in any of the counties.
The referendum received a total of 35,928 votes against and 23,847 votes in support. Racine County had the largest margin between the two, with 17,097 votes against and 9,323 votes in support, unofficial results showed.
The $49 million package would have funded seven renovation and expansion projects at the college, including a $15.6 million public safety training facility and a $13.5 million expansion and renovation at the Elkhorn campus.
Albrecht said that the referendum's defeat means those projects are no longer a reality for Gateway, which can only approve projects worth $1.5 million without placing an item in front of voters.
Smaller projects like energy-efficiency projects, however, could still be accomplished and will be discussed by school officials beginning today, said Albrecht.
Racine resident Lee Davis, 57, an ER technician, said Tuesday that he supports the college but now is not the time for a referendum.
"I'm not against them trying to do better," Davis said, "but I think with the economy the way it is right now, I think it's the wrong time to try and use any kind of taxes."
The tax impact for the owner of a home valued at $100,000 would have been $9.73 annually. It would have been in effect for 20 years and not include operating costs.
Taxes also were an issue for Racine resident Chris Simonds, 28, a lawyer, who lives near Gateway's Racine campus.
"My property taxes have gone up almost $1,500 since I moved to this city 2½ years ago — and it's enough," Simonds said. "I spend more on property taxes than I've ever spent purchasing an automobile. For them to get another $50 million is just insane."
According to unofficial results, residents voted against the referendum 9,573 to 8,058 in Kenosha County and 9,258 to 6,466 in Walworth County.
---
Unofficial results on Gateway referendum