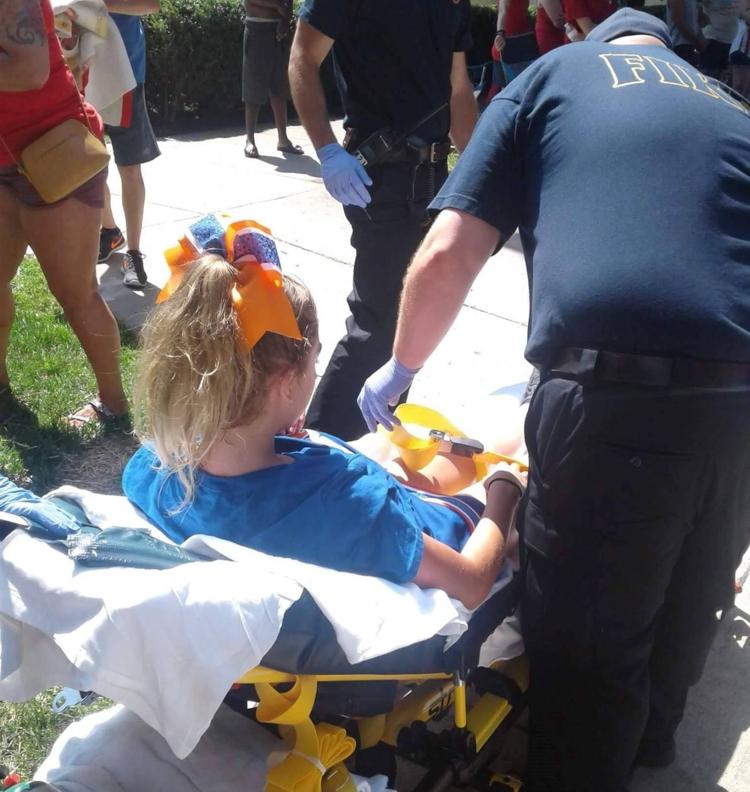 RACINE — A Racine mother is thanking the community for its quick action after her daughter had a seizure during Wednesday's Fourth Fest parade.
Melissa Galipeau, director of human resources for a Kenosha company, said that her 16-year-old daughter, for whom she asked not to be identified in print, has been struggling with seizures since the beginning of the year.
Doctors were unable to find a cause for the teen's sudden bout of seizures, so they decided to change the girl's medications to see if that would prevent the seizures. Galipeau's daughter had not had a seizure since February, and Galipeau was hopeful that the situation was perhaps behind them.
Fast forward to Fourth of July, when Galipeau and her family were attending Racine's Fourth Fest parade with plans to watch her daughter, a Park High School varsity cheerleader, perform in the parade. Galipeau had previously served as her cheer squad coach.
The cheerleaders stopped near 12th and Main streets to perform. Shortly after, Galipeau said her daughter told he fellow cheerleaders she wasn't feeling right. The group made it down the block to 13th and Main streets and that was when Galipeau's daughter began to throw up.
Because a few of her daughter's teammates knew of their squad mate's health issues earlier in the year, they ran to find her mother.
When Galipeau made it to her daughter, she knew was immediately concerned. "She was warm and you could tell something was wrong," Galipeau said. "She always gets a funny look on her face when she is about to have a seizure, so I kind of knew it was coming."
Community response
Galipeau brought her daughter to the ground and she began to seize. She said her daughter was unconscious for a little over a minute. That is when Galipeau said the community sprang into action, helping her daughter at lightning speed.
"Homeowners were bringing stuff out to her, like cold water and ice packs," Galipeau said. "People were holding a blanket over her to block the sun. It was quite amazing."
A passer-by called 911 and paramedics arrived, checking the teenager's blood pressure, heart rate before transferring her to Ascension All Saints hospital.
At the hospital, medical staff stabilized the teen and got her heart rate and blood pressure down, and she was treated and released from the hospital. Galipeau said dehydration was likely the cause of her daughter's recent seizure.
Galipeau said she appreciates the assistance her daughter received from everyone that day, from nearby homeowners, parade goers, paramedics and the nurses at Ascension All Saints hospital.
"It was amazing and overwhelming to see that people will go out of their way and help anybody," Galipeau said. "That's one thing I think about living in Racine. Racine doesn't always have a good reputation, but the people here in the community are good people and are always willing to help."
"Racine doesn't always have a good reputation, but the people here in the community are good people and are always willing to help." Melissa Galipeau