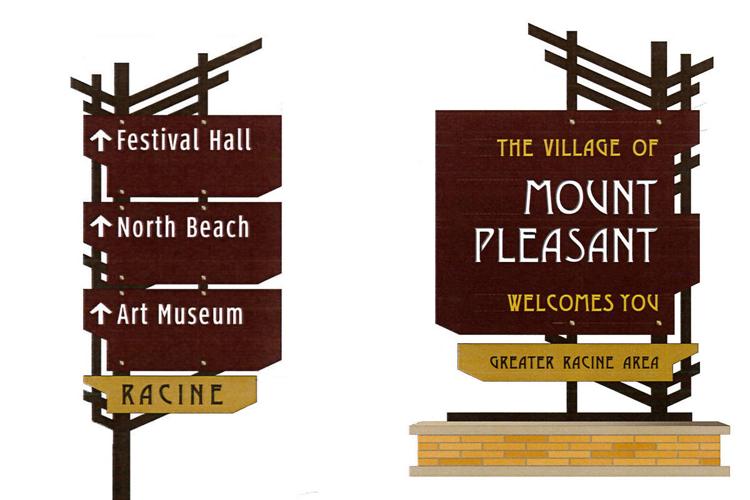 RACINE — Travel industry expert Roger Brooks said he saw a lot of potential in Racine County, especially in Downtown Racine.
"You have nice neighborhoods, you have a downtown that feels intimate, your waterway is only a block from downtown," said Brooks. "And that is really nice — it's a stunning waterfront."
But he also saw a lot of room for improvement. After spending eight days in Racine County visiting Burlington, Waterford and the City of Racine, Brooks offered 70 suggestions for improvement.
"If they implement those you will have the best Main Street in the state of Wisconsin," said Brooks. "Hands down."
Maximizing downtown
The first challenge was finding downtown and all of Racine's other attractions. Brooks said that driving into town from Interstate 94, he found himself surrounded by empty warehouses.
"There's nothing that says downtown is ahead. We assumed downtown was dead," he said. "(Tourists) don't even make it to Downtown Racine because they give up and turn around and go to Kenosha or somewhere else."
Brooks said the city council's initiative to purchase wayfinding signs telling people where downtown and other attractions are was "one of the best decisions they could ever make."
Once people arrive downtown, Brooks said the traffic needs to slow down. He recommended reducing Main Street to two lanes, one going each way, with space for a bike lane and angle-in parking. For people in a hurry, he suggested turning Wisconsin Avenue into a two-way street for those wanting to skip downtown.
"Congestion is downtown's very best friend," he said. "The slower people go, the more they notice, the more spending goes up."
To keep bringing people downtown, Brooks thought Monument Square needed to have more activities year-round such as a splash pad, ice rink (which Racine implemented this past winter), exercise equipment, food trucks and street musicians.
Racine Downtown Corporation Executive Director Kelly Kruze said the organization will incorporate Brooks' feedback going forward.
"One of the most important takeaways from the presentation was that we (the DRC) need to invest in place making; not just focusing on single events, but instead have Monument Square programmed with activities at least 250 days per year," Kruze wrote in a statement. "If we can bring the people down, business will thrive, which means the entire community will benefit."
The future of downtowns, according to Brooks, is being the place people want to go in the evening when they're off work or on the weekend. One problem in downtown Racine (as well as Burlington and Waterford) is that the shops close at 5 or 6 p.m.
"Seventy percent of consumption is after 6 p.m.," he said.
He also had some recommendations for stores that could make downtown a shopping destination, such as shoes, men's and women's clothing and a bookstore. With all of the area's outdoor recreation, he thought an outdoor gear shop such as REI could do well and a marine supply store for people who use the marina. He also thought downtown could support another coffee shop and some more restaurants.
Brooks recommended taking advantage of downtown's amenities he thinks are being underutilized. Festival Hall could have potential as a year-round market with one-third selling fresh produce, one-third selling prepared food and finally one-third of crafts and home décor.
And he believed the city is not doing enough to monetize its waterfront. One of Brooks' frustrations was that while Burlington, Waterford and Racine all have water access points, he only found kayak, canoe or boat rentals in Waterford.
If the city implemented his suggestions, Brooks believed that within three years Racine's downtown could be thriving, which might give the city an edge in trying to attract Foxconn workers to the community.
"For the first time in American history, quality of life is leading economic development," said Brooks. "The goal is to become the place that people say, 'We want to live here and work here.' "
On the west end
The first stop on Brooks trip to Racine County was the city of Burlington, where he also saw a lot of potential, pointing out that the west end's decompressed, country living with beautiful parks and neighborhoods could be a big draw.
However, the west end had some of the same challenges as the city of Racine: shops closing early, lack of wayfinding signs and under-utilization of bodies of water for recreation.
For Burlington, he didn't feel the "Chocolate City" brand fit the community.
"If you want to be about chocolate it needs to be about more than one weekend a year," he said.
Brooks recommended the city either find another brand or embrace the chocolate brand and find a way to make it year-round.
He said downtown could use a wider variety of shops and some shops could do more beautification.
"Some stores don't do anything and you can't tell if they're in business or not," he said. "Seventy percent of first time sales come from curb appeal. When we travel we choose someplace by saying, 'This looks like a nice place to eat.'"
He thought Waterford came across as a nice community with a country feel to it.
When it comes to attracting Foxconn workers, he thought the two communities have an edge over Racine because of the high regard for their school systems.
"If I was going to raise a family somewhere, even if I was going to work in Mount Pleasant, I would take a hard look at that area because their schools were highly rated," he said.
"For the first time in American history, quality of life is leading economic development. The goal is to become the place that people say, 'We want to live here and work here.' " Roger Brooks, travel expert