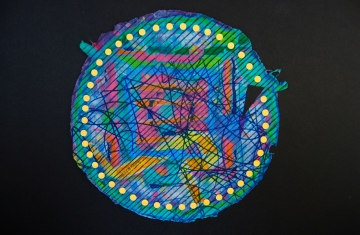 RACINE — Artists Gallery, 401 Main St., will feature member artist Edwin Kalke during the month of November. An opening reception will be held from 6 to 9 p.m. Friday, Nov. 2, during First Friday activities in Downtown Racine. The exhibit will continue through Dec. 2.
Kalke, a professor emeritus of art at Carthage College, is recognized as a master printer and papermaker. While at Carthage, he taught courses in design, papermaking, drawing, printmaking and painting. Currently his studio research involves innovative print making techniques on handmade paper.
According to Kalke, he has always been fascinated by the use of materials and processes. "Intuition and spontaneity play an important role in my handling of wet colored pulp to form sheets of paper," said Kalke." "I use screen printed images to enhance the original colored paper surface. I often use collage, a wax resist batik technique, hand tinting and relief stamping to push the image's development to a completed visual statement."
Kalke has shown his work regionally and nationally. He has led teaching workshops and various conference presentations throughout the country. Kalke's work is in numerous private collections and many regional and national museums.
The evening will also mark the opening of the gallery quarterly changeover with all new works by member artists and presented in a whole new floor plan. Artists Gallery is open from 11 a.m. to 5 p.m. Wednesday through Saturday, and from 1 to 4 p.m. Sunday. For more information, go to www.artistsgallery-racine.com.