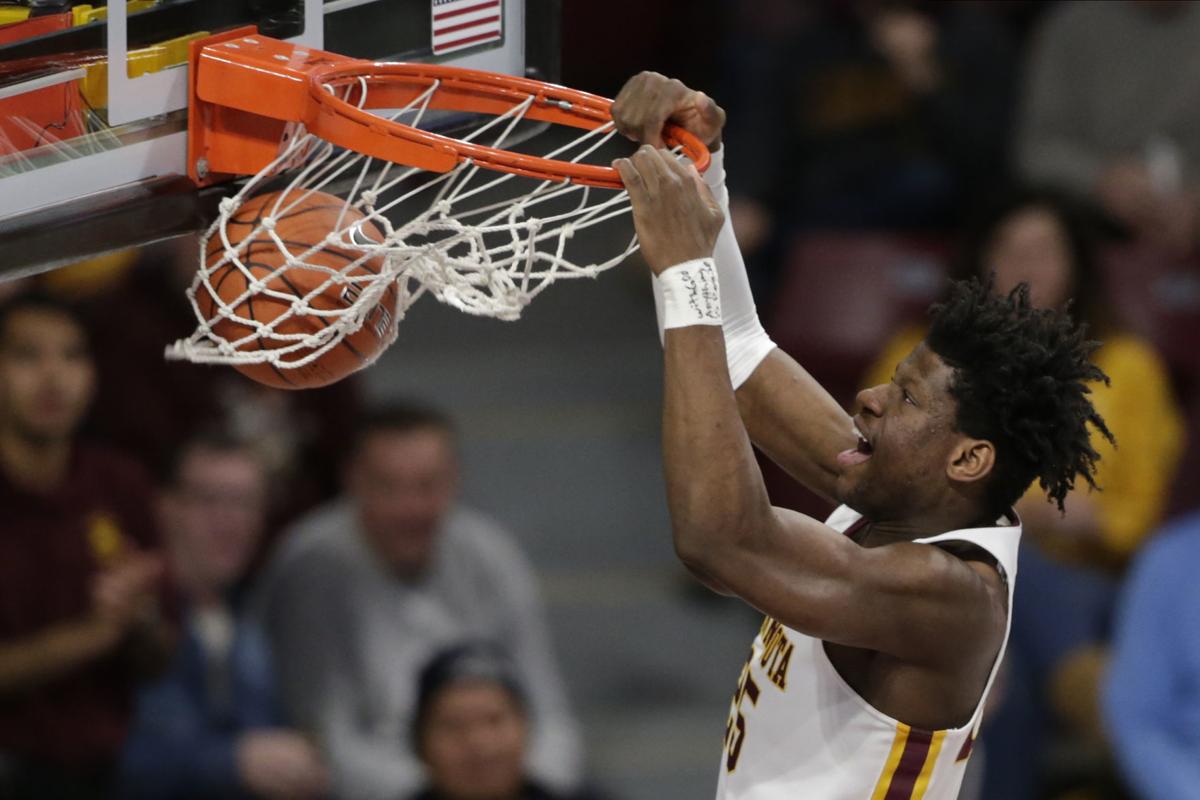 Marcus Carr scored a career-high 24 points plus nine assists and five rebounds, Daniel Oturu scored 21 points in 24 minutes after first-half foul trouble, and Minnesota never trailed in a 78-60 victory over Clemson in the ACC/Big Ten Challenge on Monday.
Gabe Kalscheur added 15 points, making three of five 3-pointers, and the Gophers (4-4) gained a much-needed win after several recent setbacks.
Carr, who sat out last season after playing in 2017-18 for Pittsburgh in the ACC, had only four points on 2-for-9 shooting in the previous game, a loss to DePaul. In the four defeats, including losses to Oklahoma, Butler and Utah, Carr shot 15 for 52 from the floor for 44 points and went just 4 for 20 from 3-point range.
The Gophers jumped out to a 15-4 lead, withstood three fouls on their star center Oturu, and held a 35-29 halftime edge. They created a double-digit advantage after that without much trouble. Kalscheur came off a screen for a catch-and-shoot 3-pointer on the wing for a 43-30 lead, and Michael Hurt's 3-pointer with 12:36 remaining pushed a lead to 69-52 before it grew to 22 points.
Hunter Tyson had 12 points and five rebounds off the bench for the Tigers (5-3), who missed nine of their 11 attempts from 3-point range. Leading scorer Tevin Mack, the graduate transfer who previously played at Texas and Alabama, had only two points on 1-for-4 shooting.
MIAMI 81, ILLINOIS 79: At Champaign, Ill., Chris Lykes scored 28 points and Miami held off a furious second-half comeback to beat Illinois.
Illinois (6-2) trailed 50-31 at the half — at one point down by 27 points — and was outplayed at every level by Miami (5-3) before making adjustments and outscoring the Hurricanes 48-31 in the second half.
Kofi Cockburn scored 23 points to lead Illinois. Trent Frazier scored 14, Ayo Dosunmu had 12 and Andre Feliz added 11 points for the Illini.
SACRED HEART 101, PINE MANOR 57: On Sunday at Fairfield, Conn., Cameron Parker set an NCAA record with 24 assists and Case High School graduate Koreem Ozier had a career-high 30 points as Sacred Heart routed the Division III squad.
Parker, a 6 foot-2 sophomore guard out of Beaverton, Ore., broke the record of 22 held by four players — Oklahoma's Trae Young, Syracuse's Sherman Douglas, Charleston Southern's Tony Fairley and Southern University's Avery Johnson.