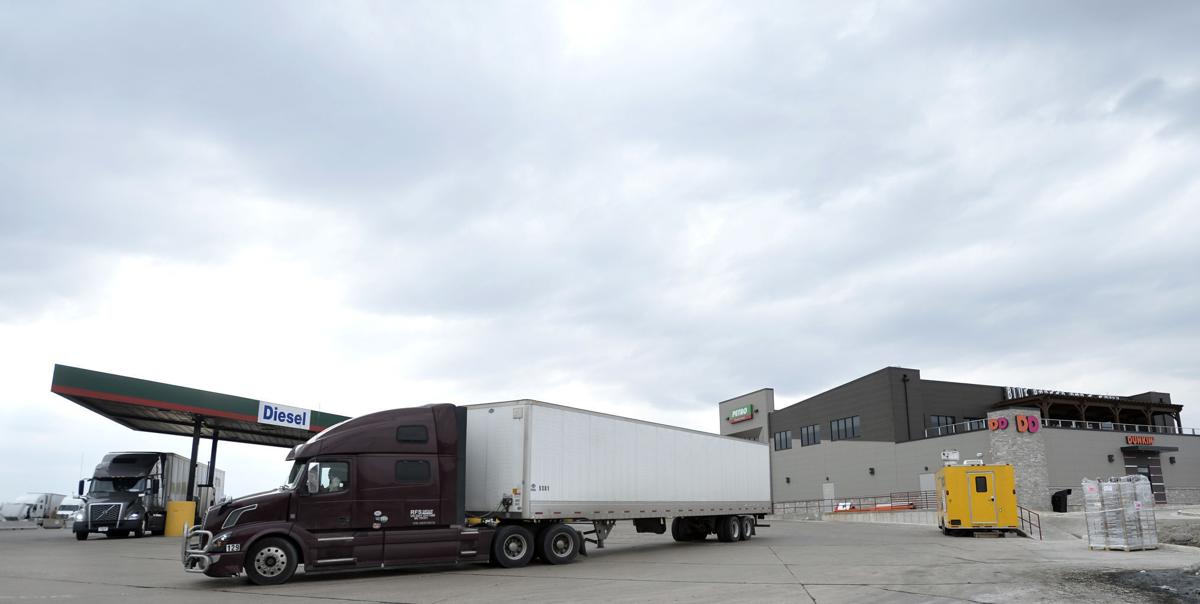 Distribution centers and more distribution centers, trucks, trucks, and more trucks are mushrooming in Kenosha and Racine counties.
Because the coronavirus pandemic has shifted more consumer shopping online, the demands for fast delivery require companies to increase their regional warehouse space and distribution centers to transfer and store these deliveries.
The Interstate 94 corridor that links Chicago and Milwaukee attracted an array of companies. It has attracted food processors, and manufacturers of small technology, pharmaceuticals and medical equipment and supplies.
Growth in those industries has also spurred growth in the logistics: trucking and distribution industries.
Recent upgrades to the Interstate roadway also have greatly helped the logistics industry, providing a smoother transition for companies that move to Wisconsin.
Many of those companies migrated across the border from Illinois locations and as far away as Arkansas, North Carolina and Ohio.
Todd Battle, president of the Kenosha Area Business Alliance, said major firms have large important distribution hubs in the county including Amazon, Meijer, Gordon Food Service, Associated Wholesale Grocers, Uline and Ariens Co., a snow blower manufacturer.
Others include Pfizer, Fresenius Kabi, Ta Chen, Yamaha, Volkswagen, Rust-oleum, SC Johnson, EMCO Chemical Distributors, Geneva Supply and Kroger, which is under construction and scheduled to open.
"Overall, these developments have had a positive impact on Kenosha County," Battle said. "They have generated significant real estate development and construction activity, new employment opportunities and have fueled growth throughout the county.
"So distribution, logistics and supply-chain oriented firms have become and will likely be an important part of the area's economic makeup," Battle said.
Regional centers, trucking increase
As companies come to southeastern Wisconsin, the need for regional distribution centers and trucking has grown. Even long-established companies such as Snap-on Inc. and Rust-oleum have expanded their warehouse capacity. Snap-on Logistics recently purchased a 121,052-square-foot warehouse in Pleasant Prairie for additional storage, and Rust-oleum has space in the former Jelly Belly building in Pleasant Prairie.
With smaller regional distribution centers, larger companies can more efficiently fill online orders. Such centers can be more cost effective to build and operate. Additionally, these warehouses make it easier for companies to contract with local, last-mile delivery services, allowing retailers to get products to their customers even quicker.
Last year, Amazon opened a fulfillment center in Oak Creek and its Amazon Logistics unit operates a 438,309-square-foot "last mile" distribution center in Sturtevant where vans and personal vehicles will deliver to the doorstep. Amazon also announced a delivery hub in Yorkville last year.
For example, Cincinnati-based Kroger is building an automated fulfillment warehouse in Pleasant Prairie. Company spokesman James Hyland said the facility is on track to open in the first quarter of 2022. Regionally, it will service Mariano's and the Roundy's supermarkets Pick 'n Save and Metro Market.
With annual revenue of more than $121 billion, Kroger is the nation's largest supermarket chain and second largest general retailer behind Walmart. It is on a fast-paced plan to build more e-commerce fulfillment centers: its first in Monroe, Ohio, next month and another in Florida soon after. Meanwhile, construction continues on eight additional locations across the country, including the Pleasant Prairie facility.
Trifinity Specialized Distributors, a distributor of cosmetics, vitamins, deodorants and other personal care items, relocated to a 250,000-square-foot facility in Kenosha in early 2020. James Merlo, principal and chief executive officer, said he made the move to 5312 104th Ave., from Waukegan because he needed more space. After only a year in the current location, Trifinity needs more space again. Merlo said he wants to expand to another warehouse of at least 150,000 square feet by mid-to-late April.
He said business increased by 31.6% last year and he expects an impressive boost this year. He attributes growth to the pandemic that had consumers doing more shopping online. Trifinity distributes to pharmacies and other retail outlets.
Trucking contractors on the rise
Distributors without their own truck fleets need trucking contractors. That has created a boom for trucking companies.
With a fleet of 120 trucks and 148 employees, Kutzler Express, 12737 60th St., Kenosha, has benefited.
"We've been busier and demand has been higher," said operations manager Dylan Martin. "Since COVID, it's been booming." Kutzler is a regional carrier that delivers to warehouses and directly to grocery stores, and pharmacies.
He said demand has come from the food, cleaning supply, pharmaceutical and mechanical supply industries. Its clients include SC Johnson, Kroger and Ocean Spray.
Owner Tony Kutzler said business was up 12%. "We could have done more, but we focused on those we had partnerships with. We delivered throughout Chicagoland what people needed the most during the pandemic: food, water, toilet paper and cleaning supplies."
The increased activity for trucking companies has created a greater demand for drivers, dockworkers and repair technicians. Across the region, trucking companies say they have more freight to ship than drivers to deliver it.
Old Dominion Freight Line of Thomasville, N.C., completed construction and is operating in the Midwest Transportation Center, 6824 77th St., Kenosha, between the Canadian Pacific and Union Pacific rail lines. It occupies a 250,000-square-foot terminal.
"Southeastern Wisconsin has grown for us," said Darek Nowak, ODFL's regional vice president of Midwest Region North. He said the company needed more capacity within the corridor because the Milwaukee facility was overloaded. The company is a less-than-truckload carrier.
"Overall, Milwaukee has been the strongest. We've been growing double digits here," Nowak said.
Throughout the region, he said, "we've seen more distribution centers, more manufacturing, more packing, pharmacy and food industries." The company currently needs more drivers and dock workers.Seeking drivers
Finding drivers is a problem for all types of trucking companies.
Quality Carriers Inc., a tank-truck company that hauls paper, bulk chemicals, paints, coatings, beverages, and other liquid cargo, has a special need: drivers licensed and certified to haul hazardous materials and in tankers.
Quality Carriers' employee incentives include a comprehensive insurance package and pension plan bonus contributions. Drivers can earn $55,000 to $100,000, depending on experience and qualifications, according to Bill Mueller, regional director. The company offers a $3,000 referral bonus and a $10,000 sign-on bonus paid in increments.
"I could put on another 40 drivers," he said. "I'd put them in a new truck with automatic transmission." Some trucks now have satellite television, microwave ovens and refrigerators.
"The pandemic impacted everyone's trucking business," Mueller said. "There's more freight to move than there are trucks."
Quality Carriers, 12112 Wilmot Rd., Bristol, serves some of the area's largest volume chemical companies.
Why come here?
Why are companies choosing southeastern Wisconsin?
Proximity to customers, real estate and development costs, availability of a local skilled workforce, taxes, and incentives.
"Our geographic location — on Interstate 94 part way between two major metro areas (Chicago/Milwaukee) — certainly fuels this trend," KABA's Battle said.
"Kenosha County has certainly become a viable location for transportation and logistics in the Midwest," he added.
Warehousing, logistics and transportation are also growing segments in Racine County, according to Laura Million, deputy director of Racine County Economic Development Corp.
Aside from Amazon, Goodwill Industries also opened a warehouse in Yorkville in 2020. Dayton Freight opened its Milwaukee Service Center in Sturtevant in May 2019 to take advantage of the access to I-94.
"Manufacturers considering Racine County are also interested in access to I-94. Access to Chicago and Milwaukee, the broader transportation infrastructure, is important for businesses to connect with their suppliers and get their product to market," Million said. "Proximity to I-94 also can be valuable in attracting workers who live in southeast Wisconsin and northern Illinois."