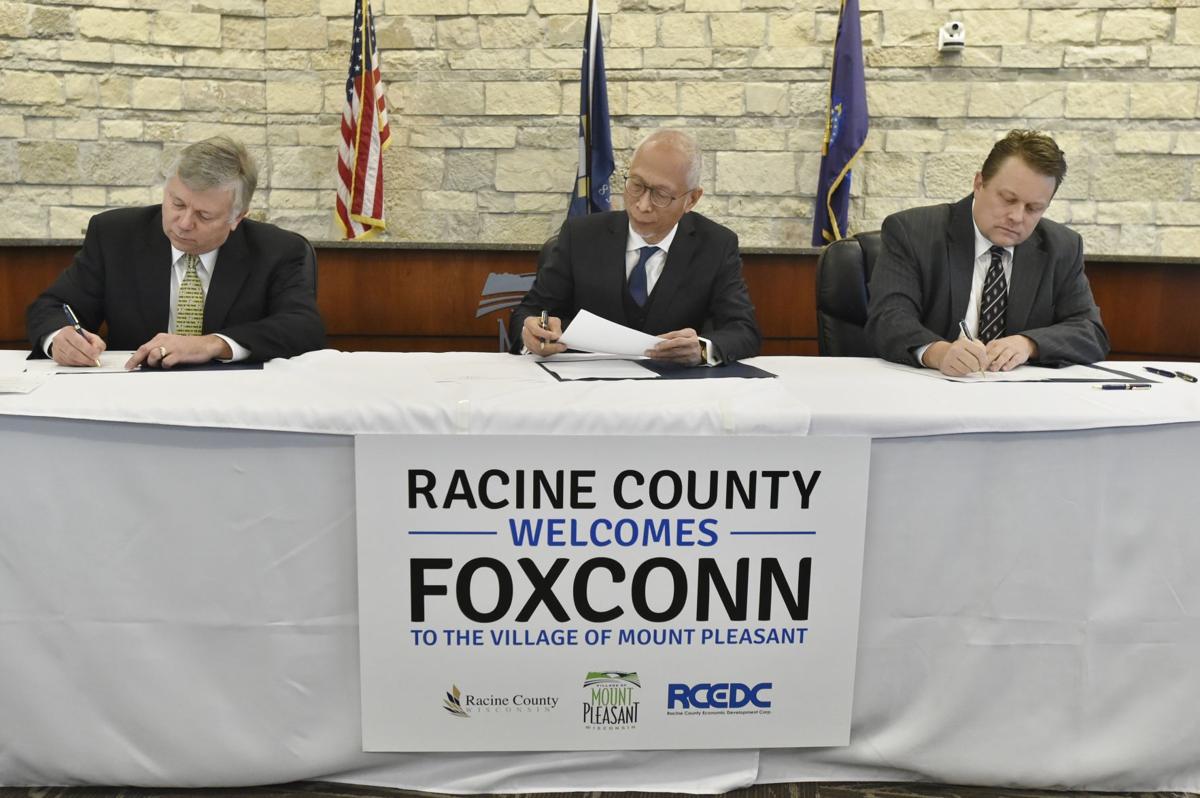 MOUNT PLEASANT — The year 2017, more than anything else, became the year that Foxconn Technology Group said "yes" to Racine County.
The Taiwan-based company dominated the news from about mid-year on. It spawned a new term, Wisconn Valley, to invoke thoughts of California's Silicon Valley world of technology happening in southeastern Wisconsin. It ranked as the top news story in Racine County for 2017 as determined by The Journal Times news staff.
Courted heavily by Gov. Scott Walker, then offered $3 billion in future tax credits and tax breaks, Foxconn set its sights on southeastern Wisconsin and the Chicago-Milwaukee corridor, particularly Racine and Kenosha counties.
The Foxconn finger eventually landed on Mount Pleasant. On Oct. 4, after the City of Kenosha had withdrawn its incentives-package offer to Foxconn, the company announced its chosen location, a zone of 1,198 acres called Area I. There, between Interstate 94, highways H and KR and Braun Road, Foxconn plans to build a state-of-the-art manufacturing campus.
The initial announcement was of a 20-million-square-foot manufacturing campus. But later, at SC Johnson headquarters for the signing of the state incentives package, Foxconn increased that number to an incredible 32 million square feet, roughly equivalent to 15 Lambeau fields.
You have free articles remaining.
When the local development agreement between Mount Pleasant, Racine County and Foxconn was signed on Dec. 1, that meant the project could officially move forward.
Foxconn is the global leader in manufacturing services for the computer, communication and consumer electronics, or "3C" industry. Here, Foxconn plans to manufacture larger LCD screens for many types of devices, from aircraft systems to self-driving cars — as well as finished products such as televisions.
Construction to start soon
Construction is planned to start in early 2018 on infrastructure projects to support construction of the approximately $10 billion Foxconn campus. The company is expected to employ approximately 3,000 people in the year 2020 and up to 13,000 people ultimately. According to signed agreements, at least 6,500 new jobs must be in Racine County, and the jobs must average nearly $54,000 per year in pay.
Foxconn is also expected to create tens of thousands more indirect jobs, according to the Wisconsin Economic Development Corp. In addition, construction of the Foxconn campus is expected to create roughly 10,000 construction jobs and support another jobs 6,000 related to the construction.
The land-acquisition process for the Foxconn project is under way, as are Wisconsin Department of Transportation plans that will drastically change the landscape of roads and highways in that entire area. One section of two-lane Highway KR, nearest I-94, is projected to bulk up to nine lanes.